Golf in Kalamazoo
---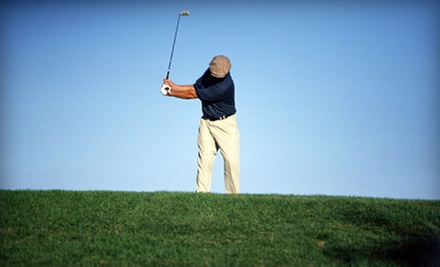 ---
Recommended Golf by Groupon Customers
---
It's difficult to hit a target from far away, which is why holes in one are rare and the Goodyear blimp has never been shot successfully with an arrow. Drive hard with a vengeance, thanks to this Groupon.
$49 for a Golf-Instruction Program with Four Lessons ($99 Value)
Expert instructors Jim Garrett and Tim Holt—a PGA professional—impart the fundamentals of driving and putting during a four-week program. The first three lessons last 1.5 hours, and the final lasts 2.5 hours. Though students may bring their own clubs, all necessary equipment will be provided. Choose from eight different sessions on the program schedule, one of which is ladies only; the first program begins on May 7.
[[m:####Juday Creek Golf Course
Instead of easing into a well-earned retirement after years in the restaurant business, Mike and Linda Rogers decided to embark on a new challenge: building a golf course. In 1989, they opened Juday Creek Golf Course, whose bent-grass fairways strike enough of a balance between challenging and accessible to have won the Indiana Golf Course Owners Association's 2009 award for Indiana Golf Course of the Year.
Now managed by the couple's daughter Michelle Wittig, the course's emerald expanses continue to compel swingers of all stripes to lace up their cleated shoes and argyle garter belts. A journey across the course's thirteen holes brings one face-to-face with manifold water hazards, many of which stand directly in the path to the putting green. There are 56 sand traps that raise the stakes of each game even higher, making for tough shots and partners who would rather build sandcastles instead of continuing on. Before or after games, golfers can take lessons and receive personal feedback from a pair of skilled instructors, one of whom is a PGA professional.
Course at a Glance:
18-hole, par 72 course
Length of 6,940 yards
Course rating of 73.3
Slope rating of 134
Four tee options
See the scorecard and layout:
14770 Lindy Dr.
Granger
Indiana
574-277-4653
The course at Sauganash Golf Club showcases two eras of golf-course design: it features a front nine built in 1924 by A. W. Tillinghast, prolific designer of such legendary courses as Bethpage Black and Baltusrol, and a back nine built 47 years later. This baby of cross-generational construction challenges golfers of all skill levels, as players must try a wide spectrum of golf shots to get through the holes spanning 6,194 yards across the heavily wooded land adjacent to the St. Joseph River. The front nine demand precise drives down tight fairways, and the back nine require a firm handle on distance to avoid penalty strokes for winding up in the river or any one of the Great Lakes.
Course at a Glance:
18-hole, par 72 course

Total length of 6,194 yards from the back tees

Three sets of tees per hole
61270 Lutz Rd.
Three Rivers
Michigan
269-278-7825
Nestled among oak trees and apple orchards, the 18-hole, par 72 course at Deer Run Golf Club hosts weeping willows that have been ducking golf balls for more than four decades. Golfers start out at the course's second-hardest hole, navigating a dogleg left in the last fourth of the fairway and hitting past two bunkers that stand sentry just in front of the green. The second hole, a handicap 18, lets players catch their breath or show off by wearing a diamond-studded blindfold while driving, but the 13th hole—the course's toughest—gives even the most gifted swingers a challenge with a dogleg right and a green guarded by a slither of fairway-bifurcating water.
Before hitting the course, players warm up at one of the driving range's 25 hitting stations or by bench-pressing a golf cart. After, they generally decamp to Deer Run's clubhouse, which complete with a hardwood dance floor and fireplace ready for hosting special occasions. Here, up to 250 guests can party away the night, celebrate weddings and other occasions, or host a conference on turning the state of Indiana into a 1,800-hole championship course.
Course at a Glance:
18-hole, par 72 course

Total length of 6,964 yards from the back tees

Course rating of 74.1 from the back tees

Course slope of 134 from the back tees

Four sets of tees per hole
3955 Cascade Rd. SE
Lowell
Michigan
616-897-8481
Club slinger Kendall Kinsey knows his way to the green. A member of the PGA of America since 1989, he has competed in a number of tournaments and earned a win at the Michigan PGA section of the Schuss Mountain Classic. Only his talent as an instructor trumps his skill with the club. During lessons, he draws upon years of playing experience to help others develop their game and distinguish an 8-iron from an 8-pound club sandwich.
1801 E Grand Ledge Hwy.
Grand Ledge
Michigan
517-599-3135
Grand Prairie Golf Course stretches across the rolling countryside with a nine-hole, 1,710-yard executive layout that features six par 3s and three short par 4s. The course's longest hole measures 287 yards with many shorter designs that cater to beginners and golfers trying to squeeze in a quick round before sunset, when golf carts turn back into pumpkins.
Golf instructor Ann Marie Roschek draws from 10 years of experience to help golfers lower scores in private lessons and group clinics, and the course pro shop keeps clubbers in the latest golf apparel and equipment from brands including Monterey Club, US Kids Golf, and Adams Golf.
Course at a Glance:
9-hole, par 30 executive course

Course rating of 27.4 from the farthest tees

Slope rating of 80 from the farthest tees

Men's and ladies' tee options
3620 Grand Prairie Rd.
Kalamazoo
Michigan
269-388-4447
Tucked away in the shadows of pines and hardwoods that were planted in the late 1940s, Timber Ridge Golf Club's 6,585-yard course roams through dense tree lines, rolling hills, and native marshland to form a scenic, challenging layout. The Club's new golf carts come equipped with internal GPS systems, which tell players the distance they must hit the ball to clear water hazards, the yardage at which a dog-leg fairway begins to curve around the trees, and the whereabouts of every squirrel that has a golf-ball burglary on its record. The 18th hole brings rounds to a dramatic end, as golfers must dial in their approach shot to a green guarded by water on the left side and bunkers to the right.
Golfers can improve their skills with lessons from Class A instructor Greg Beavers, who became the club's head golf pro after a stint at Walt Disney World Golf. In addition, players can fine-tune their swings at the grass-tee driving range or master short-game strokes at the chipping and putting greens. After rounds, burgers, sandwiches, salads, and cold drinks from a full-service bar await at Rubey's Grill.
Course at a Glance:
18-hole, par-72 course

Length of 6,585 yards from the farthest tees

Course rating of 73.0 from the farthest tees

Slope rating of 144 from the farthest tees

Four tee options

Scorecard
16339 Park Lake Rd.
East Lansing
Michigan
517-339-8000
---