Auto Service in Kane'ohe
---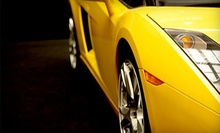 A detailing crew scrubs down car exteriors, infuses shine with carnauba wax, and refreshes interiors with thorough carpet cleanings
---
Recommended Auto Service by Groupon Customers
---
The expert carriage cleaners at Auto Detail Aces return vehicles to road-ready luster with professional washes and detailing services. After vehicles soak in sudsy streams, experienced auto techs tenderly dab droplets with a soft wash mitt and chamois cloth. Spray-wax solutions galvanize shells against hazards including sudden rain showers or drive-by food fights. Doorjambs and trunk hinges swing open squeak-free after de-greasing treatments, and tired treads give up collected highway grime during precision de-gunkings. Inside, vacuums suck dirt and debris from carpets, and interior deodorizers freshen the air, masking the musk of spilled food, mildew, and the deer that just joined your carpool. Roadsters also don shady window tints and daubs of touchup paint to keep interiors cool and exteriors smooth and glossy. When not busy restoring vehicular vigor, Auto Detail Aces donates to the Koko Head Lions Club to support schools and the local community.
98-265 Kamehameha Hwy.
Aiea
Hawaii
808-222-8000
The professional shiners at Auto Detail Masters have polished the ins and outs of more than 10,000 cars, trucks, and SUVs through their checklisted detailing services. Experienced technicians treat each car as if it were their own, doting on paint jobs with hand buffing and poly-sealant waxes and teaching the car to fetch sponges. Hardworking handyfolk work inside their shop, at the client's home, or in any space with enough room and outlets to cleanse autos inside and out.
1777 Ala Moana Blvd.
Honolulu
Hawaii
808-527-2412
More than 30 years ago, Tony Masamitsu took his passion for cars and turned it into Tony Group Autoplex. These days, Tony's son mans the company and holds true to his father's early ambitions to provide first-class service by treating customers as friends while providing them with new or used cars or executing maintenance services. Located just a short drive or long potato-sack race from Honolulu, the autoplex showcases a huge selection of cars, trucks, and SUVs from the likes of Honda, Volkswagen, and Nissan. In order to provide complete car care, the center also offers complimentary, eco-friendly car washes with each service.
94-1299 Ka Uka Blvd.
Waipahu
Hawaii
808-679-3420
The following manuscript was recently discovered in Westminster among the personal effects of Samuel Pepys, a 17th-century English gentleman, diarist, and chief secretary of the admiralty. It is thought to be the first written evidence of the existence of tinted windows.
Thursday, 14 June 1667
Up very betimes with the great brightness of the sun, and so to meet with Sir Carteret¹, who come to speak to me on the horrible newes such as we shall hear shortly of: that for the want of boats, our Navy has been routed by the Flemings on the waters of Medway², that our sailors refuse to mount their vessels, and that want of money causes prevents Parliament from sending out a fleete for a proper answer. Then go we by water to Deptford, and to a good dinner of plain pheasant and much wine.
After dinner, Carteret shewed his new coach, which doth defend the eyes from the fury of the sun with windows painted with pitch. Back to Whitehall by coach, as sundry youths and maidens cry out at the pleasant appearance of our noble hoopty. Though without, summer heat doth oppress and sweat the rabble, I remain undisturbed, despite my seventeen 17 stone of cloth finery, powder, jewellry, and wigs. I do understand but little of it, but welcome any respite from Apollo's rays. So to supper, and then to bed, with thoughts of vexation and jealousy for Sir Carteret's good fortune.
¹ Sir George Carteret, member of the Privy Council and staunch Tory
² Pepys refers to the Raid on the Medway, a decisive Dutch victory in the Second Anglo–Dutch War, in which the Dutch fleet launched a surprise attack on the docks at Chatham, towing away more than a dozen English ships as well as the Royal Navy mascot—a hardtack biscuit with pasted-on googly eyes named the Rt. Hon. Captain Crisp.
2847 Awaawaloa St.
Honolulu
Hawaii
808-845-0770
The experienced technicians at Stadium Detail meticulously wash, wax, and vacuum vehicles from 7 a.m. to 7 p.m. each day. They also offer mobile services, traveling to homes and offices to leave cars and trucks spotless, and dress tires for sashays down asphalt-covered fashion runways.
805 Pohukaina St.
Honolulu
Hawaii
808-354-4640
---