Auto Repair in Kannapolis
---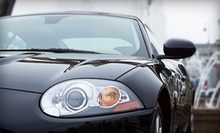 Technicians fix glass chips with factory-approved adhesives, restore cloudy headlight lenses, and replace cracked windshields
---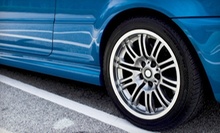 Four-wheel alignment and fuel-injection service from experienced mechanics who belong to a nationally recognized service network
---
Recommended Auto Repair by Groupon Customers
---
Brothers' Auto Tech reaches out to cars with promises of tender loving maintenance and woos waiting drivers with the gifts of free WiFi and shuttle service. The ASE-certified technicians tend to vehicles dating back to 1930 in the 5,300-square-foot facility, performing everything from basic oil and lube services to in-depth engine and transmission work. Brothers' Auto Tech's shock and strut replacements help forge a stronger symbiosis between wheels and pavement, and brake and electrical diagnostic services help keep both lone-ranging cars and massive company fleets humming melodiously. Headlight restoration focuses on improving visibility at night and improving the look of a vehicle by removing the hazy layer from the outer surface of the headlights. When not focused on automotive performance, staff members offer fuel-economy advice and maintenance tips.
1046 Regent Parkway
Fort Mill
South Carolina
803-547-8600
Auto aficionados James Inman and Avalin Inman ensure their team of car-care professionals employ a friendly style of service while repairing and maintaining all manner of rides. Technicians dive under hoods to perform any number of basic car surgeries, including oil changes, tune-ups, and tire rotations, as well as more significant procedures such as transmission services or fender jobs. The friendly staffers keep their prices low and competitive, and offer payment plans to get clients back on the road as soon as possible. In memory of their father, James Groome Inman Sr., and his love of animals, the current owners fundraise and work with local animal rescue groups to find homes or low-rent condos for pets.
4703 High Point Rd.
Greensboro
North Carolina
336-587-4296
Speed Styles, Inc. enhances automobiles inside a spacious garage and stocks its showroom with wheels, tinting films, body mods, custom lighting, and performance parts. The waiting area hums with the soothing transmissions of complimentary WiFi and cable TV as mechanics ready cars for car prom with engine dress-ups, racing wings, sport shocks, and fog lights. Using Acuity Architectural Films, they prevent heat and UV rays from cooking innocent refrigerators in homes and businesses, and protect the interior of cars—including the ones parked at local Ford, Jaguar, and Cadillac dealerships—with SunTek films.
1000 Van Buren Ave., Suite A
Indian Trail
North Carolina
704-882-0333
The staff at Cascade Auto Glass fits car frames with a meticulous process perfected during more than 750,000 windshield replacements, all adhering to Auto Glass Safety Council standards. Cascade's choice of top-quality urethane adhesives allows drivers to get back on the road sooner without sacrificing a reliable grip, and OEM-quality glass shares an identical structure, density, and love of parking-permit stickers as cars' factory-installed glass. A nationwide warranty stands behind the quality materials and workmanship of each service, and Cascade deals directly with insurance companies.
132 E Trade St.
Charlotte
North Carolina
Staffed by National Windshield Repair Association technicians, TNT Auto Glass restores scathed windshields with their lifetime-guaranteed glass-repair services. The crew welcome vehicles into their garages in Mooresville, Concord, and Denver to dole out free estimates, patch up small chips and cracks, and replace entire windows and windshields. They also travel directly to driveways for vehicles that, like a teenage girl after a breakup, are too damaged to move.
8111 Concord Mills Blvd
Concord
North Carolina
704-498-4828
At High Performance Vision, safety and image are one in the same. By removing blemishes from auto glass and grime from lights, the technicians are restoring full visibility while simultaneously upgrading the car's cosmetic value. The NWRA-certified mobile technicians travel to roadsides or parking spaces to fill in windshield chips with high-quality resins, which restore the glass' durability and prevent the chips from spreading into large-scale cracks or multiplying to mimic a favorite Seurat painting. The techs also perform a suite of headlight-restoration services, which vary from quick grime removal to full-scale sanding of scratches, helping ensure each lamp's full spectrum can penetrate the darkness and keep roads well lit.
Winston Salem
North Carolina
---