Kannapolis Gyms and Fitness
---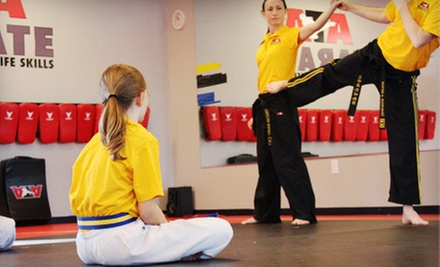 ---
Gym, Exercise, Weightloss Deals
---
Recommended Gym, Exercise, Weightloss by Groupon Customers
---
As an 11-year-old, Jill Hinson lay in a hospital bed and wondered why her hip wouldn't work properly. It was the absence of any diagnosis for her chronic pain that sparked a lifelong fascination with the human body, especially its moving parts and bone that can tell jokes. Years later, Jill occupied herself with performing and training dance, and, as she realized her desire to take on rehabilitative work, sought opportunities to teach those with special needs. It wasn't until after she had given birth to her second child that she found her calling in Pilates—an exercise system that combines the grace of dance with the healing potential of motion.
Today, Jill and her team of instructors occupy the second floor of The English Building in downtown Monroe. They have filled the historic studio—whose exposed brick walls, archway, and complete lack of eccentric billionaire subletters project the vibes of a private loft—with a slew of core-building equipment, from yoga mats to reformer apparatuses. As they lead non-competitive classes, the team members follow the principles of Stott Pilates, which mixes the tenets of modern physical therapy with classic Pilates maneuvers.
218 N Main St.
Monroe
North Carolina
704-288-3898
Inside Melting Point's sultry studio, woodblock Buddha prints smile serenely upon students as they smoothly transition through a series of body-strengthening poses. The temperature hovers between 100 and 105 degrees, ensuring that beginning and advanced practitioners can attain deep stretches, detoxification, and bowls of soup not quite warm enough to be enjoyable. Wide-blade ceiling fans and bamboo-hardwood floors evoke a tropical bungalow, and wide windows carry a flood of natural light into the studio space. Because of the high temperature, towels are mandatory during classes; students can bring their own or rent towels and mats from the studio. After class, students can capitalize on their primed and supple muscles with a Swedish or neuromuscular massage from a licensed massage therapist.
9525 Birkdale Crossing Drive, Suite 208
Huntersville
North Carolina
704-999-2474
Certified personal trainer Thor Colberg refuses to define the word challenge, as he's found through experience that one person's molehill is another's Mt. Everest. In any given boot-camp session, he might have to work with a new mother, a competitive athlete, and a first-time exerciser at the same time. To accommodate all of these men and women of differing ages and experience levels, he adjusts his regimens to fit each individual and makes doubly sure that no camper is ever left behind on a run or forced to act as a bridge on an obstacle course. During these 45-minute sessions, he leads calisthenics and light weightlifting routines that simultaneously accommodate and test his students. Drawing on extensive summer camp-counseling experience, he also leads boot-camp sessions for kids.
All of Colberg's services tend to include a nutritional aspect, as he is also a certified nutrition consultant who endorses a holistic approach to health.
11720 Verhoeff Dr.
Huntersville
North Carolina
704-918-7239
Though CrossFit Huntersville's certified trainers come from diverse competitive backgrounds, including Olympic weightlifting, professional motorsports, and tennis, they all have one thing in common: a passion for the CrossFit program's blend of varied, functional movements. Workouts change from day to day, but often incorporate running, jumping, pressing objects over the head, deadlifting, and rowing—all deemed "functional" exercises because they focus on movements that the body does naturally. Each workout of the day (WOD) is scalable to suit any level of fitness.
The family-owned CrossFit affiliate is free of mirrors to thwart self-judgment. Barbells, pull-up bars, kettlebells, and plyo boxes take the place of typical gym staples such as cardio machines and cardboard cutouts of Mr. T.
14125 Statesville Rd.
Huntersville
North Carolina
704-756-5887
As a former ATP Tour professional and the first junior player to ever make the Davis Cup team for his home country of Nigeria, Surma passes on his wealth of international tennis experience to new generations of players through his namesake company. Since 1989, he has overseen a team of certified tennis professionals that imparts the principles of hard work, proper technique, and competitive spirit to their students, all within an environment that promotes sportsmanship and fun. Players of all skill levels can improve their play, from beginners working on fundamentals to advanced players looking for skilled hitting partners. Likewise, intermediate players can take their skills to the next level as they learn strategies that are far more effective than grunting incessantly before the match begins.
7700 Arboretum Dr.
Charlotte
North Carolina
704-701-8723
Not long after she learned to walk, Jen Babb was learning how to swing a tennis racket. This early introduction made a profound impact, and she eventually got a USPTA certification to share her passion for the sport with others. Today, she teaches both kids and adults during private and group lessons, which she separates by age group to foster camaraderie and fair competition. Up to 10 students fill each class, so students get individual attention without having to balance rackets on their chins. Jen specializes in teaching the foundational aspects of tennis, making her a good coach for beginning and intermediate players.
3801 Lake Park Rd.
Matthews
North Carolina
704-910-7115
---