Kansas City, KS Health and Fitness
---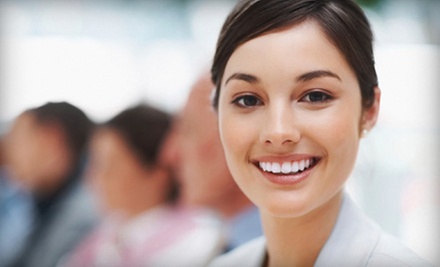 ---
Recommended Health & Fitness by Groupon Customers
---
If your eyes are the windows to your soul, your teeth are the white-picket fence-posts that protect the soul from oversized bites of corn-o-cob. Strengthen your defenses against attacks on the soul with today's Groupon to examinate, clean, x-ray, and healthify your teeth at Flintlock Dental for $59 (a $168 value). Chomp through the excuses that have kept your teeth frownfully dirty, and brighten them for a new year.
8672 Flintlock Rd.
Kansas City
Missouri
US
Since he started practicing dentistry in 1989, Dr. Bill Busch has obtained a slew of posts with renowned dental organizations, such as the 3M Council of Innovative Dentistry, and won accolades including the Mastership Award from the Academy of General Dentistry. Dr. Busch draws on his years of experience and expertise as he and a team of hygienists perform a full slate of dental services at North Kansas City Dental Group. The office uses a number of high-tech, paperless innovations, including all-electronic graphing and digital x-rays. These technologies are more accurate than older methods and easier on the environment—an eco-friendliness that extends to the use of nonmercury fillings and solar-powered dental floss. Cutting-edge technology is also used during cosmetic services such as teeth whitening and porcelain veneers and advanced procedures, including crowns and dentures.
2000 Swift Ave.
North Kansas City
Missouri
816-471-2911
Each Plaza Dental Care session begins with a thorough exam that assesses one's dental health and locates any tumbleweeds lodged in the molars, while x-rays search the head-cave for signs of cavities and trapped miners. An expertly performed cleaning clears the tusks of plaque and clingy barnacles, improving oral health and preventing diseases such as tooth decay, gingivitis, and mumps. Patients will benefit from the expertise of Steven Williams, D.D.S., who utilizes sophisticated diagnostic equipment and impressively steady hands to provide the best possible dental services tailored to each individual. Patients will also be welcomed by a friendly, knowledgeable staff and enjoy in-room DVD movies during their visit, except for Marathon Man.
4620 J C Nichols Pkwy., Suite 511
Kansas City
Missouri
816-531-1648
Guided by the philosophies of traditional Chinese medicine, Missouri Acupuncture offers treatments that help to reduce numerous physical unpleasantries, such as muscle and joint pain, migraines, anxiety, and digestive disorders. Initial visits vary in duration, sometimes lasting up to 90 minutes, but all start with a consultation with one of the clinic's licensed practitioners, who will discuss the patient's medical history and develop a healing plan.
215 Southwest Blvd.
Kansas City
Missouri
Doctor of Chiropractic Jessica Taylor and licensed massage therapist Ryan Newton team up to loosen achy human hinges and cultivate relief from a wide array of symptoms. During a 60-minute massage, Newton can employ the long, flowing strokes of a Swedish style massage to promote blood circulation, or call on deep-tissue bodywork to improve range of motion in struggling muscles, or range of emotion in soulless robots.
1520 Walnut St.
Kansas City
Missouri
816-471-7330
For Doctor of Chiropractic Steve Anderson, treating patients is a family business. He first learned about chiropractic care from his father, a Doctor of Chiropractic himself, and today brings a personal approach to treating back, spine, and body pain. From manual and activator adjustments to massage and muscle stimulation, he combines different chiropractic techniques in order to best get at the root of health problems instead of simply alleviating their symptoms. As the official chiropractor for the Park University athletic department, Dr. Anderson also specializes in working with athletes dealing with injuries and water coolers suffering from strained spouts.
Whatever the bodily need, patients can relax while receiving care in Active Chiropractic's recently remodeled private treatment rooms. Neutral tones promote peace of mind, and wall decals of bamboo stalks provide an elegant touch while deterring curious pandas.
5819 NW Barry Rd.
Kansas City
Missouri
US
816-436-8200
---