Kansas City, KS Outdoor Activities
---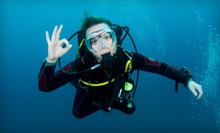 Use Tuesday 11:00am - 4:30pm
---
Recommended Outdoor Activities by Groupon Customers
---
Witness high-flying college teams making it rain from three-point range while defending shots with their armbrellas. Established in 1937, the inaugural NAIA Tournament has called Kansas City home for 74 years. Featuring 32 teams pivoting and sprinting atop a lustrous hardwood battlefield, it has grown to be known as the longest-running collegiate national championship tournament in the country, not counting the infamous Skull and Bones Underground Cavern Games that took George Washington's real teeth. This year's tourney will feature several trophy-hungry NAIA teams, such as potential participants Martin Methodist College, Texas Wesleyan University, and NAIA top-ranked Mountain State. Behold a flurry of high-flying buzzer beaters and frustrating defensive schemes at the Kansas City tradition that has featured such big names as John Wooden, Dennis Rodman, and Terry Porter.
201 West 13th Street
Kansas City
Missouri
Prompted by the nod of the lifeguard's head, the intrepid swimmer takes a deep breath, closes his eyes, and bravely flings his body into the dark confines of the Barracuda Blast. The slide's gushing flume speeds its intrepid passenger down covered loops and twists until it spits him out unceremoniously into the warm waters of the pool below.
Boasting a host of aquatic activities, along with nearly 1,000 feet of water slides including the fearsome Barracuda, CoCo Key unleashes the inner merpeople of guests of all ages. Stationed along the pool and at each attraction, licensed lifeguards keep their eagle eyes peeled to ensure the safety of their guests as they play water basketball or engage in leisurely floats down Adventure River. Nearby, a zero-depth-entry kiddie pool serves as a merrymaking haven for children or recently unbottled miniature ships less than 48 inches tall, and a sun-drenched outdoor tanning deck enables visitors to bask in skin-browning rays. To prevent growling stomachs from interrupting watery romps, crews of chefs bustle about CoCo Key's dining facilities, whipping up culinary sustenance for hungry swimmers.
9103 E 39th St.
Kansas City
Missouri
MVPs, Gold Gloves, and a World Series title pepper more than 40 years of Kansas City Royals history, replete with powerful pitches and bat-cracking home runs. The recently renovated Kauffman Stadium treats visitors to a giant high-definition video board, which wears a 40-foot crown and waves a scepter made of massive glow sticks. During breaks in the action, fans can visit concessions stands, play mini golf in the kids' area, or count each of the stadium's 37,903 seats. Open until the top of the eighth inning, a 7,000-square-foot Hall of Fame guides guests through a maze of memorabilia, including photos of Royals past and future.
1 Royal Way
Kansas City
Missouri
800-676-9257
Recreational splashers and serious swimmers can find aquatic common ground at the city-owned Bay Water Park. A six-lane lap pool facilitates low-impact workouts and a water playground and family slide let kids splash to their hearts' content. Guests can grab a tube or absurdly large piece of penne pasta and ride down two different tube slides or twist and twirl along the swirl-bowl ride.
The cardio-centric River Walking program takes advantage of the gentle tide of the park's lazy river, as participants stroll leisurely to sharpen balance and become strong enough to water ski without a boat. Both kids and adults can also take swim lessons at the park, while programs such as the Water Safety Awareness Clinic teach proper use of life jackets, rescue equipment, and general water safety.
9400 N Congress Ave.
Kansas City
Missouri
816-880-0279
A staff of PGA professionals oversees the improvement of all-around games as juniors and adults refine their skills on Heart of America Golf Academy's extensive grounds. Encompassing sprawling practice facilities and three golf courses, the facility gives players multiple amenities for working on their form. Golfers can play a nine-hole round at the River Course or practice short-game touch at the par 3 Rock Course; beginners can make a smooth foray into the game at the Hill, a three-hole junior learning center. Players can also head to the 36-station driving range, where grass tees mimic fairway conditions and double as smoothie enhancers for budding golfers.
7501 Blue River Road
Kansas City
Missouri
US
816-513-8940
Your choice of Segway tours are:
30 West Pershing Rd., Suite 100
Kansas City
Missouri
---