Things to Do in Kansas City
---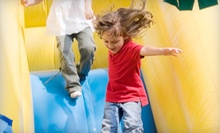 Unlimited play on inflatable spaceship, obstacle course with slide, giant bounce house, and with Xbox 360 Kinect
---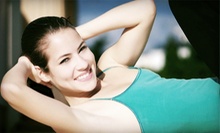 Certified martial artists train students in the mental and physical workouts of jujitsu, yoga, boxing, and muay thai
---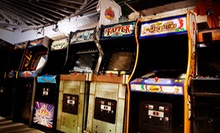 Use Sunday 4:00pm - 9:00pm
---
Recommended Things to Do by Groupon Customers
---
Captained by extensively experienced staffers, The Plaza Tennis Center invites racquets to swing in private and group lessons, tennis leagues, and tournaments. Private sessions for adults and children home in on individual skills customized around student goals and styles of play, while group classes pit pairs of friends and prefriends in calorie-burning drills emphasizing repetition and situational point play. Meanwhile, leagues pair similarly matched players in social beginner pairings, coed World Team Tennis formations, or Flex groups, which use the Tencap Tennis system to sort players by both skill level and the speed at which they knit a tennis net. The Plaza Tennis Center also hosts an array of tournaments on its 14 outdoor courts—each recently resurfaced, lighted, and tinted in U.S. Open colors—where players of all ages and levels of experience face off over the net.
4747 J.C Nichols Pkwy.
Kansas City
Missouri
816-784-5100
Wonderscope's interactive exhibits aim to instill a lifelong fascination with learning in kids aged 10 and younger through hands-on play that mixes education with fun. Elements of art, science, and literature are on display throughout as kids explore themed environments such as TinkerSpace, an otherworldly sanctuary for building structures and contraptions. Raceways explores elements of physics, such as motion and combing your hair like Einstein, whereas H2Oh! moisturizes young minds with interactive lessons on the properties of water. At Wonderscope's newest exhibit, _Ready Vet Go!, children can step into the roles of veterinarian, trainer, and pet owner as they learn the importance of animal ownership and care. Over at the Baby Nursery, kids can assume the role of doctor and learn how to take care of a newborn child.
5700 King St.
Shawnee
Kansas
913-287-8888
Your choice of Segway tours are:
30 West Pershing Rd., Suite 100
Kansas City
Missouri
Amid 20 acres of pastures and trails, the three barns and century-old home of Linden Hill Stables perch in the shade of mature trees, granting an idyllic setting for horse-riding lessons, birthday parties, and children's day camps. Property owner Lisa Hillmer tends to the horses each day, calling upon a lifetime of experience in training and showing American saddlebred horses. Through individually tailored riding lessons, Lisa helps students achieve personal goals, such as riding comfortably for enjoyment or participating in competitions. Her helpful staff also assists in boarding horses and monitoring kids at day camp. Students are required to wear long pants and closed-toe shoes while atop one of Linden Hills' well-trained steeds, their own horse, or a 1,000-pound housecat.
11601 92 Hwy.
Kearney
Missouri
816-628-3333
Veteran reporter Johnny Rowlands is known not only for his real-time traffic reports, but also his immaculate flying record as a news-copter pilot. With more than 20,000 hours of incident-free flying under his belt, he opened KC Copters with a "flying smart" mentality that emphasizes risk management and enhanced safety protocol. Using Johnny's safety-oriented methodology, professional pilots lead tours, lessons, and discovery flights in Robinson R22 and R44 helicopters. When they're not cutting through the air over Kansas City, KC Copters' helicopters and saddled griffins return to a climate-controlled hangar at Johnson County Executive Airport equipped with white epoxy floors and a passengers' lounge.
1001 NW Lou Holland Dr.
Kansas City
Missouri
913-440-9499
The professional pilots at Timberview Helicopters ferry passengers high into the clouds aboard a sky-scraping whirlybird during flight tours through Destin, Kansas City, and Key West. Having chartered flights for National Geographic and the Travel Channel, these pilots expertly navigate planes toward sweeping, picturesque views, allowing sightseers to steal glances of Fort Walton Beach, downtown Kansas City, and Key West's ocean views from a perspective normally reserved for birds and astronauts with binoculars. Additionally, their high-definition videos grant guests a lasting commemoration of their in-flight experience. When they're not chartering tours, they teach budding pilots the gravity-defying tricks of their trade through pilot training and lug precious shipments from port to port with their cargo-lifting services.
500 NW Richards Rd.
Kansas City
Missouri
---