Kansas City, MO Indoor Activities
---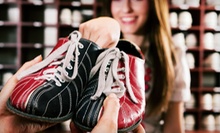 Retro-inspired alley lines its synthetic lanes with pop-up bumpers so that the whole family can play together
Use Saturday 10:00am - 5:30pm
---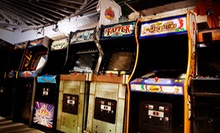 Use Sunday 4:00pm - 9:00pm
---
Recommended Indoor Activities by Groupon Customers
---
In an age of stringent airport security and fewer flights to Narnia, theater remains the easiest and most rewarding way to be transported to new worlds while seated in a row of cushioned chairs. Today's Groupon invites you to one of 24 performances of Green Whales at Unicorn Theatre. For $15, you get one ticket to a Friday- or Saturday-night show at 8 p.m. (a $32.50 value). You can also get a ticket to a Sunday matinee at 3 p.m.; a Tuesday-, Wednesday-, or Thursday-night show at 7:30 p.m.; or the one-time Saturday matinee on March 6 at 3 p.m. for $12 (a $27.50 value). Shows start with the previews on March 3 and 4 and run through closing day on March 28. Once you receive your Groupon, call the theater's box office to schedule the date you would like to attend.
3828 Main St.
Kansas City
Missouri
Associate conductor Steven Jarvi channels the combined melodious might of the Kansas City Symphony and Symphony Chorus, KC Brass, Allegro Children's Choir, and Rezound Handbell Ensemble through an all-new holiday celebration of sound. Mobs of merry musicians, rumored to include 12 drummers drumming and a possible 11 pipers piping, will feed hungry ossicles symphonic arrangements of Christmas traditions. Families coasting on waves of Yuletide joy will yearn to sing along with timeless carols perfected by years of door-to-door focus testing. To complete each holly-jolly evening, Santa Claus himself will make an appearance to play a 30-minute free jazz solo on his signature fur-fringed soprano saxophone.
1020 Central St.
Kansas City
Missouri
The wellness professionals at Serenity on the Square remove the obstacles that inhibit personal growth. They do this by ushering patrons on an inward journey—a journey that challenges the individual to look inside, just past the spleen, and confront the emotional limitations that block success. They also foster growth by healing the body, believing that "when you feel your best, you are your best, and you expect the best." This mission statement points to the center's services, which include massage therapy, yoga, reiki, and holistic nutritional counseling.
14 E Franklin St.
Liberty
Missouri
Wonderscope's interactive exhibits aim to instill a lifelong fascination with learning in kids aged 10 and younger through hands-on play that mixes education with fun. Elements of art, science, and literature are on display throughout as kids explore themed environments such as TinkerSpace, an otherworldly sanctuary for building structures and contraptions. Raceways explores elements of physics, such as motion and combing your hair like Einstein, whereas H2Oh! moisturizes young minds with interactive lessons on the properties of water. At Wonderscope's newest exhibit, _Ready Vet Go!, children can step into the roles of veterinarian, trainer, and pet owner as they learn the importance of animal ownership and care. Over at the Baby Nursery, kids can assume the role of doctor and learn how to take care of a newborn child.
5700 King St.
Shawnee
Kansas
913-287-8888
A glass bridge is suspended above a field of 9,000 red poppies, each flower representing 1,000 soldiers who died in the Great War. This living symbol is one of the many powerful exhibits within the National World War I Museum at Liberty Memorial, the only museum in the US dedicated exclusively to World War I and dedicated by Congress as the nation's official WWI museum in 2004.
Designed by Ralph Appelbaum, who also lent his expertise to such landmarks as the United States Holocaust Memorial Museum, the National World War I Museum integrates first-person accounts into a narrative that flows through its permanent and visiting exhibitions. The museum's collection comprises WWI artifacts such as field artillery, a 1917 Harley Davidson motorcycle, and unopened cigarette packs from a 1914 Princess Mary Christmas Box. Beyond the exhibitions, the museum extends to Over There Café and a gift shop.
100 West 26th Street
Kansas City
Missouri
Fine Arts Theatres' four venues surround moviegoers with classic silver-screen ambiance as they present the latest independent and mainstream film offerings. Lovingly refurbished neighborhood movie palaces such as the early-20th-century Rio Theatre now boast surround-sound digital audio, high-backed rocker seats with arm-mounted cup holders, and movie trailers acted out by gregarious ticket takers. In addition to flicks opening each week, Fine Arts Theatres hosts screenings for the annual Kansas International Film Festival, voted the Best Local Film Festival by readers of The Pitch in 2011. The group also holds a Jewish Film Festival each spring and a Latin American Film Festival every September.
7204 W 80th St.
Overland Park
Kansas
913-383-8500
---