Restaurants in Kansas City
---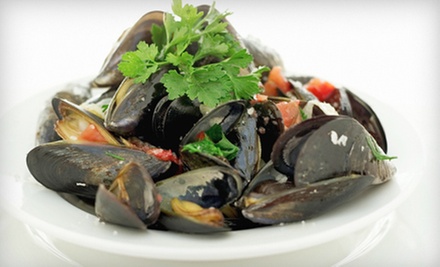 ---
Kansas City Restaurant Guide
Whether looking for restaurants that are fast and casual or formal dinners that are 'food experiences', dining in Kansas City has many options to offer. Casual dining is considered a setting usually associated with parents, children, or large family gatherings. These types of Kansas City restaurants offer menus that are quick and easy, and most importantly, kid friendly. Depending on the type of restaurant, adults can select from a variety of choices, and most of the kids meals include favorites like chicken nuggets, mac and cheese, and cheeseburgers and fries. For a more formal affair, patrons can dine at the Majestic Restaurant near the downtown loop. They offer steaks and seafood along with an assortment of appetizers to start with and desserts to complete the meal.
Another setting for Kansas City food is nightlife dining. These restaurants offer great food and adult beverages for those who are out for a night on the town. One of these places, called The Drop, offers a music video jukebox, bottled wine specials, and for the more adventurous guests, they can enjoy an evening of karaoke.
There are also many ethnic dining possibilities in Kansas City. Some of these restaurants are Argentinian which serve a variety of wines and South American Cuisine. Chinese restaurants have many rice and noodle dishes to choose from with some restaurants offering sushi. If Italian is what that is being craved, most selections include pizza, different pastas, and breadsticks. Kansas City also has Mexican eateries which can offer mild or spicy salsa and flour or corn tortillas along the traditional favorites. One could travel the world by sampling the food at all of the different restaurant options in Kansas City. Whether a person is into family fun atmosphere or romantic dinners for two, Kansas City has options for all types of palettes .
They offer steaks and seafood along with an assortment of appetizers to start with and desserts to complete the meal.
Recommended Restaurants by Groupon Customers
---
Featured on Food Network's Heat Seekers for its fiery pad thai chicken, Zagat-rated Thai Place Restaurant has been bathing traditional family recipes in spices ranging from mild to sweltering hot for more than two decades. A kaleidoscope of succulent seafood such as squid, scallops, and catfish spangle fried-rice and stir-fried dishes as ribbons of rice noodles interlace with traditional napa cabbage, chinese broccoli, and bok choy. Coconut-milk-infused curries come in red, yellow, and green varieties like a traffic light on a spice trade route, suffusing ample slices of chicken, beef, or tofu.
4130 Pennsylvania Ave.
Kansas City
Missouri
816-753-8424
Opera House Coffee & Food Emporium serves piping-hot coffee, espresso drinks, and smoothies from Classic Rock Coffee Co., whose specialty white chocolate coffee called Dirty White Boy is available. The Opera House space plays host to a diverse selection of eats that also includes breakfast dishes, such as the Bake Haus's cinnamon rolls and muffins, and the Paleo Grill's burgers and sandwiches. Speaking to The Pitch, co-owner David Anderson expressed his hopes that the upscale food court will make people feel "comfortable and at home." This sentiment is reflected in the decor, with art that embodies Americana lining the walls and a telescope pointed toward the sky.
500 Walnut St.
Kansas City
Missouri
US
816-888-4858
Located inside Hikari Japanese Steakhouse, Joy Luck Chinese Restaurant's chefs look across the East China Sea for inspiration in crafting a menu of Chinese cuisine. Entrees include seafood dishes such as cashew shrimp and a seafood bird nest, mixed in with fusion meals including teriyaki filet mignon. Nodding to their host, the chefs whip up sushi rolls, including the Spider Roll—which wraps up tempura soft-shell crab—and the Yummy Roll—which pairs tempura shrimp with crabmeat, drizzled in eel sauce. The restaurant also feeds large groups with catering services, which churn out platters to accommodate company gatherings, family reunions, or pandas' first dates.
9058 Metcalf Ave., Suite A
Overland Park
Kansas
913-894-2888
Welcome to Groupon Kansas City! For our inaugural deal, $7 gets you $15 worth of grub and guzzle at Woodyard Bar-B-Que, an unassuming brick shack that serves melt-in-your-mouth meaty meals.
3001 Merriam Ln.
Kansas City
Kansas
US
Break from the rapid beating of seasonal gingerbread batters and take refuge in a European-style café that has a variety of Thanksgiving meal-ending stomach-pleasers. For $8, today's Groupon gets you $16 worth of freshly baked bakery bites at Jay WaLe's Bakery-Bistro, named 2009's Best Bakery by The Pitch, and, unlike most bakeries, it's not also the headquarters of a cookie-gang.Follow @Groupon_Says on Twitter.
503 N 6th St.
Kansas City
Kansas
US
Doctors have long recommended that over-partied, undernourished Americans consume a fourth meal after midnight to receive their daily recommended dosage of fried nutrients, Edward Hopper tableaux, and hard-boiled dialogue. Today's Groupon helps you follow doctor's orders with $10 worth of late-night bites at Chubby's on Broadway for $5. This 24-hour home of hot sandwiches, omelettes, and more has been called Kansas City's Best Place to Eat After Midnight. Chubby's is open 24 hours a day, except on Monday, when it closes at 2 p.m. and reopens at 6 a.m. on Tuesday.
3756 Broadway St.
Kansas City
Missouri
US
---