Things to Do in Katy
---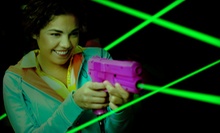 Pizza and soft drinks fuel sessions of video gaming and glow-in-the-dark laser tag with a jungle theme or black-light mini golf
---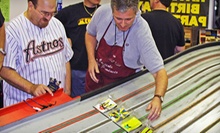 Use Saturday 11:00am - 9:00pm
---
Recommended Things to Do by Groupon Customers
---
With the sound of fast-approaching engines roaring in your ear, you jam your foot down even harder on the gas pedal and narrow your eyes at the upcoming left-hand turn, determined not to let up even for an instant. If you do, there's a good chance that your new view will consist of your competition gloating triumphantly while they zip past you on the track. You may only be driving a GT-5 Sodikart, and not a tricked-out racecar, but you absolutely refuse to let any of the other adult or—gulp—junior drivers beat you.
Track 21 lets speed-demons careen around one of three indoor go-kart tracks at speeds of up to 40 mph as they try to edge past other karts, competing with fellow birthday partiers or coworkers to reach the finish line before it decides to become a finish wall. In case competition gets too fierce, the karts are surrounded by heavy nylon bumpers and rubber blocks designed to absorb impact from all sides.
Friendly rivalries continue on foot inside Area 21, a two-story laser-tag battleground beset with fog, obstacles, and space-age scenery. Sharpshooters zap each other's targets in pursuit of a grander mission, such as capturing the opposing base or stealing the enemy's supply of light, before matches end and scores are tallied on a stats sheet. Glowing decor also illuminates a jungle-themed nine-hole mini-golf course, where gorilla and lion statues bask in the black lights. Track 21's arcade demands timing and button-smashing dexterity from gamers, and a track-side casino sets up rounds of blackjack, poker, and craps.
4815 Hwy. 6 N
Houston
Texas
281-200-2600
The veteran submerged seafarers at Sea Sports Scuba can instruct any landlubber on the basics of underwater breathing in a safe, welcoming environment. At each lesson, a wise, PADI-certified instructor will dish the fundamental tenets of the dive and marine astronomy. Students will dive into the provided gear and equipment before diving into a heated indoor pool for practice. In one 60- to 120-minute session, submariners will be primed to move on to more-advanced sunken adventures and confidently curse humanoid ancestors for voting to phase out gills.
2004 South Mason Road
Katy
Texas
281-392-3483
Tank's Paintball Park ensures safe battles for beginner and advanced gunsmiths with referees certified by the World Paintball Federation, safety briefings, netting around the fields, and thorough marker testing before each round. After snipers strap on protective gear, Tank's constantly evolving fields host play with frequent upgrades that generate new experiences for returning clientele and prevent debilitating battle flashbacks. A covered staging area accommodates more than 100 visitors between sessions with comfy chairs and benches as well as concessions and a snow cone stand for pregame or postgame energy boosts. Back at the headquarters, Tank's pro shop stocks players' arsenals with paintball essentials such as goggles and vests that allow fearless ambushes and midbattle fashion shows.
899 Westgreen Blvd.
Katy
Texas
281-492-2301
---