Keansburg Gyms and Fitness
---
Gym, Exercise, Weightloss Deals
---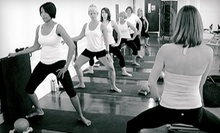 75-minute class builds upon compassionate environment of yoga basics to foster breath control while connecting movements from pose to pose
Use Tuesday 6:30am - 9:30am
---
Recommended Gym, Exercise, Weightloss by Groupon Customers
---
Dolphin Fitness Clubs' forest of humming and clanking exercise equipment is overseen by knowledgeable staff who are eager to dole out instruction on playing nicely with the machines and to pass along workout tips. Professional cardio- and strength-training equipment, from top manufacturers such as Cybex, Streamline, and Hammer, abounds as the certified trainers lead clients through customized workouts that are supplemented by nutritional counseling. The trainers also conduct group fitness classes—such as Zumba—in their expansive studios. Hordes of flat-screens line the gym walls, regaling fitness-seekers with distractions in the form of TV shows and movies such as Babe, a pig in the city who overcame all odds to run his first marathon.
3295 Amboy Rd., Suite 5
Staten Island
New York
718-987-0400
In 1976, Joan Barnes—a California mom frustrated with the lack of spaces where she could take her kids for safe and age-appropriate play time—took matters into her own hands and founded Gymboree Play and Music. In the decades since Gymboree's founding, Joan's vision of a safe place where youngsters could build confidence and creativity has come to fruition and spread to 30 countries around the globe. Staffed by attentive and expertly trained instructors, each Gymboree outpost adheres to a curriculum of activities designed by experts to foster the development of children's cognitive, physical, and social skills through structured play and close readings of Goodnight Moon. The staffers also conduct entertaining classes for parents, newborns, and children under 1 year that cover subjects ranging from music to sports, imparting valuable lessons of imagination and physical activity to developing minds. To further set apart her business, Barnes employed nationally renowned playground designer Jay Beckwith to design the proprietary play equipment at her centers.
869 W Park Ave.
Ocean
New Jersey
732-493-1993
At New York Fencing Academy, expert instructors tutor sword swingers of all levels, aiming to help them develop both technical skill and physical fitness. A silver medalist at the Ukrainian national championship in 2005, head coach Misha Mokretsov helms a staff that has already launched several students to national fencing ranks. Prodding protégés can take a stab at a variety of classes that range from beginner sessions all the way up to a competition class, which prepares seasoned duelers for national events and experimental bouts on the floor of the Hudson River. Additionally, the academy fosters future jousters with its renowned youth and cadet epée programs. Free parking and a spectator area complete with WiFi, a TV, and murals by Ian King make the facility accessible for both cars and family members alike.
2896 W 12 St.
Brooklyn
New York
718-996-0426
Within a vibrant, yellow-and-blue-walled workout space, a fleet of free weights, treadmills, stationary bikes, and elliptical trainers populate the floor. Group workouts take solo regimes a step further, cultivating a sense of community as students perform step aerobics, kickboxing moves, or deeply held yoga poses in a heated studio. Additionally, personal-training sessions allow clients to work with a fitness guru who will custom build a workout that incorporates functional-training tools such as jump ropes, medicine balls, and dip bars, as well as motivating tools such as encouraging words of wisdom and large gentlemen with chainsaws standing behind the treadmills. Guests can drop tots off at the childcare center, which welcomes kids with games, toys, and a television. After workouts, grownups can replenish energy reserves with fresh-fruit smoothies at the adjacent café, where they can also play chess or surf the Internet between weight-lifting sessions. To promote wellness inside and out, they can visit an onsite spa or stop and see the resident chiropractor, who can treat their sports injuries and chronic pain with a range of holistic therapies.
570 Rte. 35 S
Red Bank
New Jersey
732-796-1155
Hands-on learning and playtime in two of JW Tumbles's interactive classes—along with the lifetime membership, which gets you discounts on JW Tumbles's open gyms, parties, and camps—helps children explore the far reaches of their cranial caverns. Parents with toddlers younger than 3 years old can enroll in parent-participation classes such as My Big Messy Art Class or Wobblers Class, where baby bodybuilders 11- to 18-months-old practice tumbling and balance to increase motor skills and decrease the need for sippy-cup creatine shakes. Ages 3 and up can fly solo (parents can watch from the sidelines if they wish) during age-appropriate and highly interactive independent classes. The Winners Class teaches 7- to 9-year-olds sporting skills, and 3- to 4.5-year-olds prep for kindergarten in the Stompers Class.
6264 Amboy Road
Staten Island
New York
US
718-948-2978
Green walls surround students as they breathe deeply while moving through yoga poses in a heated studio. Atop sleek hardwood floors, instructors lead 90-minute classes designed to improve their students' posture, balance, and concentration. Hot-yoga classes preheat muscles to prevent injuries caused by stretching, help bodies detox by increasing sweat production, and restore athletes energy so they are more likely to be compared to battery-powered bunny drummers.
181 Beach 116th St., Floor 2
Rockaway Park
New York
718-945-9642
---