Museums & Galleries in Keene
---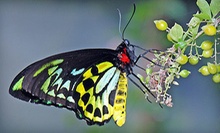 Get up-close views of colorful butterflies as they flutter and sip nectar from the vibrant plants growing throughout the indoor atrium
---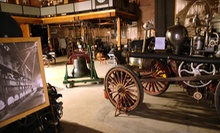 Guests explore interactive exhibits tracing America's industrial history back to 1812; also good for annual model engineering show
---
Recommended Museums & Galleries by Groupon Customers
---
The Isabella Stewart Gardner Museum has been a bastion of art and culture since it was founded in 1903. The building, inspired by and designed after a 15th-century Venetian palace, contains three floors of galleries surrounding a garden courtyard that remains verdant with plant life from the dawn of spring through the darkest, most subatomic depths of winter. Gardner, who founded the museum, spent her life curating and encouraging the art collection, which contains more than 2,500 objects, including paintings, sculpture, textiles, illuminated manuscripts, and rare books lifted everywhere from ancient Rome to 19th-century France. While visiting this citadel of scintillating visions, witness landscapes by Whistler, Renaissance-era Flemish tapestries, and religious wood sculptures from 16th-century Germany. Exhibitions provide specific, detailed glimpses into varied subject matter; an exhibit on terracotta sculpture of the Italian Renaissance runs until May 23.
280 The Fenway
Boston
Massachusetts
A comprehensive compendium of the world's art, the MFA lets guests take a gander at the earliest art of ancient Egypt, musical instruments from every celestial sphere, and the Impressionist art of Claude Monet, Edgar Degas, and Paul Gauguin, to name just a few 19th-century masters. Additionally, be sure to see the beautifully restored ceiling mural by John Singer Sargent above the palatial upper rotunda.
465 Huntington Ave.
Boston
Massachusetts
Founded in 1866, the Peabody Museum is one of the oldest anthropological museums in the world, with an in-depth collection of artifacts spanning prehistory to present. You'll learn about the evolution of cultures through a variety of current exhibits. Head into the Pacific Islands Hall to find carvings, shields, and shadow puppets from Hawaii, Micronesia, and other islands, and get a dose of colonial life in the early Harvard Yard with Digging Veritas, where you can scope out framed papyrus LSAT scores. The Wiyohpiyata display treats guests to distinct scents, motions, ambient sounds, and more to evoke the character of original 19th-century Lakota drawings collected at Little Big Horn. Your Groupon also affords you admission to the nearby Harvard Museum of National History, where muzzled opera singers can get a glimpse of the famed Glass Flowers exhibit, a collection of more than 3,000 highly realistic glass-blown models of flowers and plants.
11 Divinity Ave.
Cambridge
Massachusetts
The Amherst College–owned Emily Dickinson Museum preserves the memory and work of the poet and hyphen master by maintaining the estate where she lived and composed many of her nearly 1,800 poems. The museum includes The Homestead, her birthplace and longtime residence, which stands near The Evergreens, where her brother, Austin, lived with his family. Emily and her siblings were all avid gardeners, cultivating flowers and hedges throughout their 3-acre estate. Emily herself maintained a conservatory for her collection of exotic plants, and she drew endless inspiration from her natural surroundings for her work.
The Emily Dickinson Museum welcomes field trips for groups of students and schedules events throughout the year to celebrate her poetry and role in American literary history. Interactive poetry discussion groups meet at various Amherst locations, keeping Dickinson's style relevant by communicating only in rhyming quatrains.
280 Main St.
Amherst
Massachusetts
Celebrating more than 100 years of basketball history, the halls and exhibits of the Naismith Memorial Basketball Hall of Fame honor the players, coaches, referees, and others who helped the game grow to an internationally beloved sport. There are shrines dedicated to more than 300 Hall of Famers, and the 40,000-square-foot basketball megaplex also houses more than 70 interactive exhibits with audio and video components, limited-run tributes to standout teams and players, and special events. The Hall of Fame provides an outlet for freshly inspired visitors to emulate the giants of the sport: a full-size center court, where they can practice alley-oops and half-court slam dunks or attend clinics taught by players and coaches. On the way back to the car, many guests pause for a photograph next to the towering silver sphere that punctuates the buildings' exterior.
Named for James A. Naismith, the inventor of the sport, the Hall of Fame stands just "a midrange jump shot" from the site of the original game. Played on December 21, 1891, the first contest tallied a final score of one basket to zero, prompting Dr. Naismith to remove the bee's nests from the backboards.
1000 Hall of Fame Ave.
Springfield
Massachusetts
413-781-6500
In 1843, Charles Lane and Amos Bronson Alcott—father to writer Louisa May Alcott—founded a utopian and transcendentalist community in the fields of Harvard. More than 70 years later, visionary Clara Endicott Sears was so moved by their experiment that she decided to establish a museum on the same site to preserve its history. Today, the Fruitlands Farmhouse stands as a testament to the original settlers' ingenuity, which surfaced in their trailblazing thoughts on veganism, sustainable living, and harnessing moon beams to power home stereo equipment.
Clara has incorporated the Shakers' original office into Fruitlands, where it now shows off Shaker artwork and artifacts, many of which were donated by the Shakers themselves. Since then, the museum has also collected a curated assortment of more than 1,000 Native American artifacts, as well as a longhouse, dugout canoe, and traditional garden.
The brains behind the museum are still innovating today, curating permanent additions such as an art gallery with Hudson River School Landscapes. In addition to organizing school field trips, the staff also hires experts to teach classes and workshops on sketching scenes from nature, painting watercolor landscapes, and constructing 3D sculptures.
102 Prospect Hill Rd.
Harvard
Massachusetts
978-456-3924 x292
---