Theme & Amusement Parks in Keene
---
Theme & Amusement Park Deals
---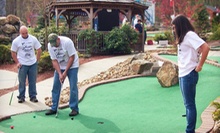 Miniature links surrounded by trees with nine water features, 12,000 square feet of new carpets, and a 201-foot-long 13th hole
---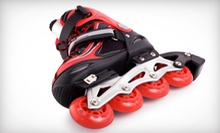 Top-40 hits play at the roller-skating rink; 10-minute laser-tag games amid obstacles and hideouts; slushies or fried dough refuel
---
Recommended Theme & Amusement Parks by Groupon Customers
---
Buckle into the transformative vests and prepare to be transported into another dimension. Laser tag is an affordable way to live out video-game dreams, work out tensions with your roommate, or live out your fantasy of starting a ragtag militia of space marines with Erik from accounting. Instead of cartoon re-runs, treat the kids you babysit or your actual kids to a more active adventure for the imagination. Get a small group together and make it a social excursion—laser tag is great for double dates, office outings, or post-dental cleaning parties.
330 N Main St.
Randolph
Massachusetts
Tires squeal and a 15-horsepower engine hums as its driver cuts through a narrow turn, shaving fractions of a second off the lap. Below the track, a colorful golf ball winds through faux island trees, avoiding walls and stops on its way to an awaiting hole. It's another day at Tri-State Speedway, a multileveled family entertainment center littered with motorized fun for patrons of any age. The upstairs, 22,000-square-foot go-kart track hosts competitive races with karts calibrated for speeds of up to 25 miles per hour. A walk downstairs leads to the island-themed, 18-hole mini-golf course nestled among a large video-game arcade, bowling lanes, bumper cars, and billiard tables. When fun gives way to hunger, Drafters Sports Cafe's servers and cooks serve finger-friendly pub bites, ice-cold beer, and paper napkins fashioned from losing basketball brackets.
35 Chase Ave.
Dudley
Massachusetts
508-671-9053
Jump Trax's menagerie of inflatables plays host to kids of all ages for parties and open-play sessions. Sock-footed youngsters can explore two climate-controlled arenas filled with bounceable attractions, such as Spongebob's pineapple house and a prehistoric obstacle course overseen by a tyrannosaurus rex. Other activities abound, such as tyke-sized push cars, a slide shaped like the Batmobile, or an inflatable Scooby Doo Mystery Machine. To prevent the inflatables from becoming vitamin D deficient, Jump Trax's location is used for block parties, barbecues, and birthday parties. Their menu consists of pizza and sodas, as well as goodie bags. Check out their FAQ for more info.
1245 General Edwards Hwy.
Sharon
Massachusetts
781-793-9500
At the center of The Water Hazard Mini Golf's three-acre course, a 35-foot geyser erupts, knocking away incoming golf balls and sprinkling sun-baked putters with a refreshing mist. The expansive course owes many of its obstacles to the natural layout of the Holliston landscape. Flourishing bushes sit between holes and three large ponds break up the terrain while giving golfers glimpses of the sunbathing turtles and soft-shoeing frogs dotting its banks. A waterfall system nearly 500 feet in length also meanders throughout the property. Rolling hills, ridges, and a grand 120-foot slope also challenge golfers. The Water Hazard Mini Golf also features a full-service concession stand, which serves hot dogs, hamburgers, and homemade ice cream from Bliss Dairy.
750 Concord St.
Holiston
Massachusetts
508-740-0014
In his first design for 5 Wits, Mathew DuPlessie channeled the fedora-wearing, whip-cracking swagger of Indiana Jones. Called Tomb, this interactive entertainment experience threw its participants into ancient Egypt to solve riddles and clues from a supernatural pharaoh. Since then, DuPlessie, a graduate of MIT and Harvard Business School, has opened up two new adventures that combine the immersive special effects of a Hollywood movie with the interactive role-play of a video game. "It's hands-on entertainment," the former designer for Disney World and Universal Studios told the Patriot Ledger, "that forces people to get off their rear end."
Thus far, all of his adventures have worked to immerse the mind and the senses—the Shakespearean origins of the company's name. Taken from Much Ado About Nothing, "five wits" refers to the Bard's nod to memory, imagination, fantasy, common sense, and estimation. Though the scenarios are meant to thrill and challenge players, none are meant to frighten, nor are they designed to be beyond the reach of those with average physical ability and psychic powers.
202 Patriot Pl.
Foxborough
Massachusetts
508-698-1600
With three haunted houses, a spooky hayride, and a bustling carnival, Witch's Woods is a Halloween theme park that rises from the mist for only one month a year. Ferried along by a sputtering tractor, Haunted Hayride passengers cower for 20 grueling minutes as they are assailed from all sides by zombies, werewolves, ghouls, and cows trying to nibble the hay. At the end of the ride, three paths lead to additional attractions, including Castle Morbid, in which medieval spirits chase interlopers through the halls and into the depths of the keep, where it becomes increasingly apparent that the weapons that once kept intruders out are now employed to keep them in. Nightmare Mansion is inhabited by a cursed family whose eternal life has left them as withered husks driven insane with rage at visitors who still possess the ability to die. The final path leads to the 3-D Keeper's Crypt, where the undead shamble and scream as they pursue their prey, and where the walls themselves seem to be closing in.
A creepy carnival awaits survivors with rides, games, and more attractions. The Horror wood Chamber of Chills puts favorite Halloween and horror-movie characters on display, including such icons as Frankenstein, Freddy Krueger, and Mary Shelley's original version of Shrek. Meanwhile, the Jack O' Lantern Jamboree displays rows upon rows of professional carved pumpkins, eerily glowing at self-guided passersby.
79 Powers Rd.
Westford
Massachusetts
---