Keizer, OR Health and Fitness
---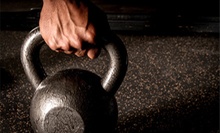 Kettlebell classes led by passionate, experienced trainers help clients build muscle tone, burn fat, and boost endurance
---
Recommended Health & Fitness by Groupon Customers
---
Sculpted into the one-time family farm of former Oregon Governor and U.S. Senator Charles McNary, McNary Golf Club encompasses diverse trees and rippling waterways into an 18-hole layout that spans 150 acres of rolling meadows. A mixed assemblage of oaks, firs, pines, and redwood trees mingle on the course's emerald sidelines, watching over each towering drive and bickering about squirrel housing arrangements. Claggett Creek comes into play on four holes, including the signature 18th, where its rippling waters snake in front of the enormous green, shaking its hydraulic fists at well-struck balls as they somersault onto the putting surface. A staff of resident aces roam the pristine grounds, showering guests and unsuspecting flagsticks with nuggets of golf wisdom.
Course at a Glance:
18-hole, par 71 course
Length of 6,239 yards from the farthest tees
Course rating of 69.5 from the farthest tees
Slope rating of 126 from the farthest tees
Four tee options
Link to scorecard
155 McNary Estates Dr. N
Keizer
Oregon
503-393-4653
At Oregon Center of Cosmetic Dentistry, dentist L. Emery Karst combine their artistic skills with the latest technology to create beautiful smiles. Dr. Karst, who has been practicing dentistry for more than 25 years, pioneered cosmetic techniques such as porcelain laminate veneers, and helped innovate new endodontic and restoration methods. An avid digital photographer, he uses computer imaging to give patients a preview of their future smile.
Upon arriving to the office for services such as Zoom! teeth whitening or immediate-function Nobel dental implants, patients may wonder if they've accidentally stepped into a spa. To ensure they stay comfortable, guests receive a complimentary massage, along with warm, scented face towels and heated blankets that can help ensure they stay relaxed during the treatment and that their complimentary pot of cheese fondue remains at the ideal dipping temperature.
2510 SE 12th St.
Salem
Oregon
Under the high ceilings of a warehouse dating back to the 1970's, the Salem Classical Fencing team leads training sessions and competitions for its members and guests. A nonprofit organization, Salem Classical Fencing aims to share the honor, chivalry, and respect integral to this historic sport with its community. To that end, they provide classes for various skill levels and organize children's day camps, filling them with lessons, crafts, games, and campfires, during which students are trained to fight the urge to toast marshmallows on their épées. Though the facility is decades old, the sparring space has been updated to include virtual scoring, overhead reel-less systems, and floor cords.
354 Belmont St. NE
Salem
Oregon
503-375-9209
Writer Ralph Waldo Emerson once said, "Nothing great was ever achieved without enthusiasm." This sentiment inspires Evan McDaniel, the certified personal trainer who own Fitness Inspired Training Studios. To propel clients toward their goals both inside and outside the gym, he infuses small-group workouts with a hearty dose of motivation, encouragement, and excitement. McDaniel draws upon fitness-oriented bachelor's degrees and experience working for WebMD to devise an ever-changing lineup of workouts that challenge patrons with bodyweight exercises, cardio challenges, and a variety of functional training tools.
His signature boot camp, Total Training, zeroes in on participants' goals, from slimming down for weddings to gearing up for marathons or thumb-wrestling tournaments. During these 30-minute sessions, exercisers of all levels feed on the moral support of their classmates to heave sandbags, swing kettlebells, jump onto sturdy boxes, and stretch resistance bands. In addition to absorbing fitness and safety tips from the trainers, exercisers receive nutrition coaching, which teaches them how to make healthful food choices and to differentiate between a banana and a Twinkie.
2990 Pringle Rd. SE
Salem
Oregon
541-513-1655
For more than 35 years, guests of Courthouse Athletic Club have conquered every hindrance to personal health, taking advantage of a multilayered approach that addresses fitness, diet, and broader facets of well being. Beyond basic features such as weight training, cardiovascular equipment, and immobile floors that force walking, membership grants access to more than 320 group fitness classes that populate each week's schedule, integrating practices such as Pilates and yoga along with aqua Zumba and Jazzercise. Courthouse Athletic Club's personal trainers follow the philosophy that being fit means being empowered to embark on any kind of adventure you want. A core tenet within that philosophy is the belief in fun. The staff does not emphasize a rating system or hierarchy, instead evaluating progress in terms of whether clients become more able to experience an enjoyably active life. Onsite childcare providers take care of young ones while parents work out, and many youth activities also keep kids busy, including swimming and special-needs dance classes. Courthouse Athletic Club is also part of a network of 70 clubs in the Pacific Northwest; members can work out at those facilities as guests when on the road.
6250 Commercial St.
Salem
Oregon
Fitness enthusiast and salsa dancer Jackie leads groups through energetic workouts that get exercisers amped up with high-energy music. An Aerobics and Fitness Association of America–certified instructor, Jackie helps guests shimmy off excess weight with Zumba variations—including Zumba Toning, Zumba Gold, and ZumbAtomic—which build stamina and set heartbeats racing to the rhythm of Latin tunes. Jackie's kettlebell-fitness sessions help guests tone full bodies with four-week sessions that get students used to heavy lifting and prepare them to rip church bells out of roofs in daring daylight heists.
2707 Maranatha Ct. SE
Turner
Oregon
503-580-2973
---