Things to Do in Keizer
---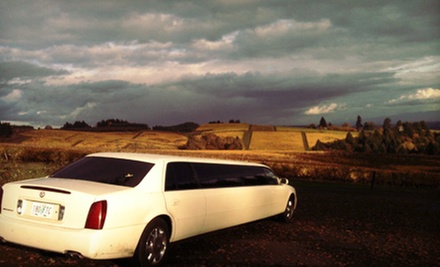 ---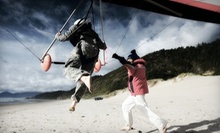 Four-hour ground school covers basics of launching and landing a hang glider with both simulator and actual equipment
---
Recommended Things to Do by Groupon Customers
---
RR Saddle Club helps connect humans without the means to own horses with equine friends and also hopes to rescue horses that are stuck in unsavory situations. Nestled in the heart of the Santiam River Valley, the club's barn houses gentle steeds who carry riders on guided trail rides through the club's 200-acre property, past wildflower-strewn meadows, into the foothills of mountains, and through thickets of fir and maple. Visitors can also schedule pony parties for youngsters or sign up for lessons to learn the basics of riding and how to signal horses to trot, canter, and fly.
765 N Pershing St., Suite 3
Mt. Angel
Oregon
503-884-3921
Diamond Hill Paintball's two outdoor fields evoke historical battlegrounds for tournament-style and recreational play. A net encloses the regulation NPPL speedball course, whose symmetrical layout of inflatable bunkers is designed for intense competition. The rec-ball field's mounds and muddy foxholes help conceal casual players as they advance and protect feral canvases from the Technicolor volley. A unit of paintball veterans ensures safe, fun play at all levels, and distributes safety gear to accompany Tippmann 98 rental markers.
23721 Peoria Rd.
Harrisburg
Oregon
541-285-0073
The acrobatic arm of the River Road Park and Recreation District, Gymnastics Northwest offers classes and parties for tumblers aged 18 months to 16 years. Reflex beams, rings, a pommel horse, and an in-ground trampoline await first timers and astronauts-in-training for weekly classes and events. Open-gym sessions run on Fridays for acrobats up to age 8, and Action Nights see junior jumpers aged 6–12 bound on the spring floor and feed the vaulting horse every third Saturday of the month.
30043 Leghorn Rd
Eugene
Oregon
541-688-8955
Since 1990, Kandice Champion's expert tutelage has propelled horses into being victorious in dressage, hunt seat, and Western show rings. Champion Training Center's expansive facility accommodates participants of all ages and skill sets as they enrich their riding prowess atop trained school horses during daytime, evening, and weekend sessions led by Kandice and her squad of qualified teachers. In addition to lessons, Champion Training Center supplies devoted equestrians with horses for sale and equips riders with new and used accoutrements, including saddles, boots, and equine tiaras.
329 SW Stringtown Rd.
Forest Grove
Oregon
503-318-5992
The striking horizontal planes of Frank Lloyd Wright's Gordon House bisect the landscape just beyond the foliaged outskirts of the Oregon Garden, drawing eyes to the architectural marvel like moths to an octogenarian's birthday cake. Guests who tour the stunning abode watch from inside as sunlight falls in squares on the floor, filtered through geometric cutouts in the ceiling. Docents expound on the genius of Wright's design and theories during 45-minute guided tours of the architect's only Oregonian creation.
Groups meander through the kitchen, where skylights light up scarlet countertops, reflecting the undertone of western-red-cedar cabinets. Natural light creates abstract patterns on the floor through a series of perforated wooden window treatments, and an experienced guide imparts factual tidbits regarding the home's history, such as its origin story, its near deconstruction in 2000, and its subsequent rescue by a motherly wolf and her pack. Guided tours are conducted daily from noon to 4 p.m., and reservations are required to view this rare home that was designed in the traditional Frank Lloyd Wright fashion—with a pencil—and also with impressive angles and seamlessly organic landscape integration.
869 W. Main St.
Silverton
Oregon
US
Listed in the National Registry of Historic Places, the McDonald Theatre has enjoyed a long, strange history since its establishment in 1925. Originally a community playhouse equipped with both a stage and a screen, the theater found new life in the 1950s when One Flew Over the Cuckoo's Nest author and psychedelic pioneer Ken Kesey began presenting free cartoons there every Saturday morning. The McDonald spent the next six or so decades as a movie house exclusively, but in 2001, the Kesey family returned, producing concerts and community events under the theater's enormous proscenium arch. Kesey Enterprises finally purchased the time-weighted stage in 2009, and today the building hosts events ranging from high-school proms to reggae concerts to plumbing-fixture lifting contests.
170 High St. SE
Salem
Oregon
503-375-3574
---