Keller, TX Outdoor Activities
---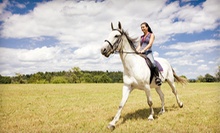 The horseback-riding experience includes instruction in grooming, tacking, and safe riding, followed by exploration of 35 wooded trail acres
---
Recommended Outdoor Activities by Groupon Customers
---
At Rockwood Gokart Track, drivers 4'8" and taller buckle up and burn rubber around the outdoor course's tight twists and serpentine turns. There's 12 colorful, single-seat go-karts to choose from, and parents can ferry their little ones (3'4" or taller) alongside them in one of four double-seat mini speed machines. Serious go-karters can also purchase parts or whole new go-karts at Rockwood Gokart Track, or get their current one running again with repairs and promises of oil sandwiches.
700 N University Drive
Fort Worth
Texas
Total Driving Experience's skilled instructors teach teenagers essential accident-avoidance techniques through simulated real-life driving scenarios. During Day 1 of the Skills Teen Driving School, novice drivers with a valid learner's permit and up spend six hours behind the wheel, practicing challenging maneuvers on a dry obstacle course, skid pad, and rush-hour-themed bouncy castle. Instructors ride with students to offer tips on dealing with tailgaters, handling skidding, and harnessing the stopping power of cars' ABS systems. Each 20- to 30-student session includes a scrumptious lunch and awards participants a certificate of completion that may be used toward discounts with some car-insurance providers or as a makeshift screensaver for a computer monitor.
3545 Lone Star Cir.
Fort Worth
Texas
817-215-8434
Originally a TWA aircraft, the Southern Cross Douglas C-47 was adopted by the Army Air Corps to shuttle troops to the front. The twin-propeller plane survived World War II and in the ensuing years underwent a series of makeovers. Its career includes years spent as a reliable set of wings for Delta Air Lines, a troupe of skydiving enthusiasts, and at least one head of state. The C-47 is now meticulously restored to its original WWII-era condition and in the dutiful care of Greatest Generation Aircraft, a nonprofit organization that introduces 21st-century crowds to the C-47 during rides and aerial shows. Flying out of Fort Worth's Meacham International Airport, the C-47 also shares a hangar with a B-25 bomber and other veteran planes.
4201 N Main, Suite 130G
Fort Worth
Texas
817-659-9249
Within Leapin' Lizards' 20,000-square-foot funscape, kids release pent-up energy as they trample across three rooms of inflatable slides, houses, and boxing rings, as well as an arcade and a rock-climbing wall. Rambunctious, sock-clad tykes crawl through tunnels in a four-story playscape, zip down an 18-foot dual slide, or conquer an obstacle course. In a girls-only room, the staff treat guests like princesses, beautifying hair, nails, and faces amidst dancing, singing, and modeling for photo ops. Elsewhere, younger kids play in a toddler room, and birthday kids call celebrations together in themed party rooms (North Richland Hills location only), bedecked with an enchanted landscape or castle imagery to make the guest of honor feel like a monarch, demanding that each partygoer surrender a portion of their crop yield to the royal family.
7601 Blvd. 26 , Suite 121
North Richland Hills
Texas
817-427-2789
Set to scratch through to a new era as part of the North American Baseball League, the Cats slug and pitch their way into the 2012 season when it opens with an eight-game home stand on May 23. The perennial playoff-contending ball club joins the Southern Division of the NAL after a successful run through the American Association, where they hoisted back-to-back championships in 2006 and 2007. This season, former TCU Horned Frog Shelby Ford dons Cats' colors for the first time. A third-round pick of the Pittsburgh Pirates in 2006, Ford is expected to anchor the middle of the lineup while scooping up any grounders and tumbleweeds that roll his way at shortstop.
301 Northeast 6th St.
Fort Worth
Texas
Boneyard Haunted House has been featured in numerous local media outlets, including in a story on CBS 11 news exploring whether or not the space is actually haunted. Rumors swirl that the large, formerly abandoned building that operator Dan Hall has converted into a haunted house harbors some very real ghosts. To give his guests a proper Halloween fright, Hall has outfitted the building's downstairs area with more than 40,000 square feet of realistic-looking skeleton scenes, elaborate designs, and passageways that reduce one's line of sight to up the surprise factor. But, as Hall told CBS 11, other unintentional things have been happening inside the haunted house. Rolls of receipts have rolled across the floor and trash cans have accelerated across the room, all seemingly of their own volition. The phenomena have even caused paranormal investigators to come in with recording technology to try to contact the spirits of any lingering souls or prolific Ouija boards that might be stuck on the premises.
For guests who have walked through the haunted house in previous years, every season brings new and scary surprises. A writer from the North Dallas Gazette reported on the effort, noting that "each year, the haunt is completely taken down and the team starts fresh building exclusive rooms and new props." The attraction also boasts an indoor festival area with games, music, concessions, and vendors.
2921 E Division St.
Arlington
Texas
---