Theme & Amusement Parks in Keller
---
Theme & Amusement Park Deals
---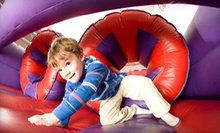 Climate-controlled room filled with inflatable structures, slides, games, and laughing kids
Use Monday 9:30am - 2:00pm
---
Recommended Theme & Amusement Parks by Groupon Customers
---
An excellent resource for children to acquire new hobbies and meet new friends, Adventure Day Camps includes a full day of exciting escapades on the south side of Lake Grapevine at Meadowmere Park. At camp, young ones aged 4–13 can become reacquainted with the outdoors through a diverse assortment of activities, such as kayaking, archery, fishing, swimming, treasure hunts, target shooting, staring contests with intensely focused owls, nature study, and more. Snacks are provided to replenish the kids' depleted energy at 10 a.m. and 3:15 p.m.
1929 Meadowmere Ln.
Grapevine
Texas
972-741-9169
At Rockwood Gokart Track, drivers 4'8" and taller buckle up and burn rubber around the outdoor course's tight twists and serpentine turns. There's 12 colorful, single-seat go-karts to choose from, and parents can ferry their little ones (3'4" or taller) alongside them in one of four double-seat mini speed machines. Serious go-karters can also purchase parts or whole new go-karts at Rockwood Gokart Track, or get their current one running again with repairs and promises of oil sandwiches.
700 N University Drive
Fort Worth
Texas
The legend began in the 1880s, when Hezekiah Jones, the "Hangman," wandered through McDagenville with a bloodstained rope, attempting to cleanse the town of its evil. By his hands, more than 100 people died on the banks of the Trinity River before a lynch mob finally caught up to him. In their hysteria they strung him up to the limb of a rotted oak tree and left him to die. But in the morning, when they came to cut him down, only the frayed end of the rope was dangling from the bough. Now people say that the Hangman still wanders the night, clad in his black hood, searching for his next victim.
Visitors to Hangman's House of Horrors keep an eye out for Jones as they creep up dimly lit stairways, dodge more than 100 souls lurking in the shadows, and seek his advice on tying a proper square knot. The scream center has been featured on the Travel Channel's list of scariest Halloween attractions and named one of north Texas's scariest haunted attractions by NBC 5. Apart from the legend, Hangman's House of Horrors' success is due to the hard work of more than 1,000 annual volunteers who redesign more than half of the house to fit the yearly theme. Their combined efforts have entertained more than half a million patrons and raised more than $1.8 million for local charities, including the American Cancer Society, Rocky Top Therapy Center, and SafeHaven of Tarrant County.
2300 W Freeway
Fort Worth
Texas
Within Leapin' Lizards' 20,000-square-foot funscape, kids release pent-up energy as they trample across three rooms of inflatable slides, houses, and boxing rings, as well as an arcade and a rock-climbing wall. Rambunctious, sock-clad tykes crawl through tunnels in a four-story playscape, zip down an 18-foot dual slide, or conquer an obstacle course. In a girls-only room, the staff treat guests like princesses, beautifying hair, nails, and faces amidst dancing, singing, and modeling for photo ops. Elsewhere, younger kids play in a toddler room, and birthday kids call celebrations together in themed party rooms (North Richland Hills location only), bedecked with an enchanted landscape or castle imagery to make the guest of honor feel like a monarch, demanding that each partygoer surrender a portion of their crop yield to the royal family.
7601 Blvd. 26 , Suite 121
North Richland Hills
Texas
817-427-2789
Just off a straight stretch of the Trinity River, the sounds of laughter and victorious whooping grow louder. A curious look toward the hubbub yields a vision rarely seen in the city—helmet-clad athletes of all ages splash along the water's surface, launching their bodies in what looks like the offspring of waterskiing and snowboarding onto ramps, jumps, and railings that protrude from the water's surface like geometric islands. It's all part of a regular afternoon at Cowtown Wakepark, the watery brainchild of 20-year wakeboarding enthusiast Tommy Fambrough. During the course of three years, Tommy slowly formed the labyrinth of water-bound obstacles that visitors enjoy today, earning acclaim from the Trinity River Vision Authority's revitalization project for his riverside paradise's part in keeping the area an accessible and productive part of the community.
Each wakeboarding run begins when visitors strapped into their Liquid Force boards grab a cable and are pulled from the shore-side wooden platform across the water, cutting through the river's calm surface and pausing only to heckle passing fish. Spectators stick to the shore under covered tents and at picnic tables, or recline on the water's surface inside tented rafts. Onsite instructors can show first-timers the ropes, and also lead summer day camps to instill children aged 7–16 with wakeboarding, kneedboarding, and wakeskating basics.
1301 E Northside Dr.
Fort Worth
Texas
817-717-1384
The jungle would be a safer place if the chin-high grass, towering trees, and wild animals were painted on the walls and everything three-dimensional was inflatable. This dream of a danger-free nature preserve comes to life at Jump N Jungle. Voted the Best Kids' Party Place in the Bay Area Citizen Reader's Choice Awards, the jungle lets kids leap toward the rafters on inflatable jumpers, test the bounds of gravity on giant slides, and navigate an unending labyrinth of mazes and obstacle courses. Both locations play host to weekend birthday gatherings by supplying invitations, plates and plastic cutlery, as well as staff supervision in the party room and play areas. Additionally, its childcare services include an educational curriculum for toddlers and preschoolers, as well as before school and afterschool activities for older children.
375 Commerce St.
Southlake
Texas
US
817-231-0455
---