Shopping in Kelso
---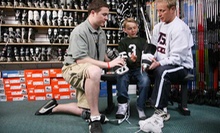 New and used equipment for all manner of sports, including soccer, hockey, swimming, and skiing, as well as at-home fitness
Use Today 10:00am - 6:00pm
---
Recommended Shopping by Groupon Customers
---
Like fancy suits, sofa sets are sewn from the same cut of fabric. These matching sets provide a well-rounded look in living rooms, but near misses tend to clash due to their small differences. At 20 show rooms throughout the western US, Mor Furniture for Less arranges complete-room sets so customers can envision the collections in their own homes. Furniture for living rooms, dining rooms, and children's rooms can be found in each store along with individual lamps, tables, and entertainment centers. The stores also carry complete sets of beds, dressers, and nightstands so that homeowners don't receive criticism from design bloggers in their dreams.
1100 N Hayden Meadows Dr.
Delta Park
California
866-466-7435
At Young Art kids' boutique, staffers fill shelves with designer children's clothing and premium art supplies that encourage creativity and self-expression. BioChalk, for instance, advances chalk beyond the boundaries of the chalkboard: the dust-free sticks leave their mark on walls, whiteboards, windows, mirrors, and invisible friends with easy wipe-up cleaning. Ensuring creativity remains a safe pursuit, Young Art offers versatile supplies with easy cleanup, many of which are AP-certified nontoxic by the Arts and Creative Materials Institute.
Kids use their tools at home to expand on lessons learned during the shop's art classes, where students as young as 4 create masterpieces depicting child-friendly subjects, such as animals and flowers. Some imagination-centric locations also encourage kids to wear their creativity on their backs with a selection of clothing, such as vibrant accessories, colorful dresses with graphic prints, and outerwear.
420 W 8th St.
Vancouver
Washington
360-699-3050
"A single flower can transform someone's day," says Flowerbelle Floral's star florist Anna Pustovit. With this belief in mind, Anna aims to instill emotional resonance into each pedal of her nature-inspired arrangements, which frequently incorporate bark and bonsai-sized tree sprigs alongside fragrant peonies, Asiatic lilies, and brightly colored tulips. Anna's blossom creations instantly draw glances to office desks and reception tables, and her nuptial handiwork graces the hands of brides, the tops of cakes, and the lapels of grooms and tuxedoed, ring-bearing canines alike.
811 NW 17th Ave.
Battle Ground
Washington
360-713-7734
Although most chefs have their own unique style of peeling, dicing, and julienning veggies, they all have one thing in common: they each require precise, sharp knives. At Excalibur Cutlery and Gifts, the staff ensures that tools remain as close to their factory condition as possible. During sharpening services, a water-cooled belt system and buffing wheels restore a piercing blade while removing a minimal amount of steel. They can sharpen kitchen, pocket, and hunting knives, as well as dull scissors and razors.
The shop also stocks premium models of nearly every edge they sharpen. The cutlery department stocks German-made Wusthof and Henckels, Swiss-made Forschner, and Oregon-grown Kershaw knives. Ideal for camping trips, pocket knives come in both blade and multitool varieties. More genteel wares include manicure sets and old-fashioned shaving kits. Excalibur also boasts a collection of swords for the collector or CEO whose business suit needs extra panache.
8700 NE Vancouver Mall, Suite 163
Vancouver
Washington
360-254-6177
---