Pilates in Ken Caryl
---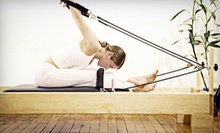 Instructors lead classes on mats or with the aid of Pilates machinery to fortify core muscles and straighten posture
---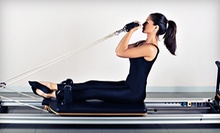 Students bolster core muscles and flexibility on Pilates reformers, cadillacs, and chairs
Use Today 1:30pm - 4:30pm
---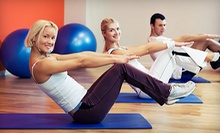 One-hour beginner-oriented courses focus on basic Pilates reformer techniques
Use Monday 6:00am - 9:00am
---
Recommended Pilates by Groupon Customers
---
Get your bank tellers, kayakers, grandpas, and expectant mothers together and get today's Groupon for perfect posture and mad movement skills. For just $45, you get any five classes at The Pilates Movement, a $70 to $115 value depending on the classes you choose. Most deals only offer Pilates mat classes, but with today's flexible offer, you can take any combination of five mat, pole, chair, and equipment group classes for the same low price. Find out how the reformer, a piece of specialized Pilates equipment, got its name, and learn take-home techniques you can practice in your cramped apartment in a mat class. At just $9 per class, this deal is the perfect opportunity to try a few different classes on for size.Lovable Bears lineman William "The Refrigerator" Perry is generally considered the Godfather of American Pilates due to his memorably rapped couplet: "You're lookin' at the Fridge / Pilates focuses on the core to improve strength and posture." The Fridge continued to influence the popularity of Pilates in America when he guest-starred in an episode of the The A-Team, playing the deceased German founder of Pilates, Joseph "The Refrigerator" Pilates. The memorable episode is traditionally run every July 4th to celebrate Independence Day.
2119 Larimer St
Denver
Colorado
US
Boulder-based exercises of yesteryear help build broadsword-wielding strength, but they do little for shimmying into a cramped elevator or scurrying up palm trees at the mall. Founded by Pilates guru extraordinaire Jennifer Reich, Center Strength helps tone bodies into limber life-mobiles. Inside Center Strength's cozy, vividly colored studio, a trained staff of professionals helps shape body putty into core-strengthened stacks of lean muscle. Center Strength's selection of mat Pilates, yoga, and Tai Chi classes will help strengthen the body as well as the mind. Figure-trimming Pilates classes are offered Tuesdays at 4 p.m., Wednesdays at 12 p.m., Thursdays at 7 a.m., and Saturdays at 9 a.m. Find strength and calm in practiced breathing at yoga classes on Tuesdays at 7 p.m. and Saturdays at 10 a.m. or Tai Chi classes on Mondays at 7 p.m. Your five classes may be used interchangeably, just like the gears on a fancy tractor.
1000 South Gaylord Street
Denver
Colorado
303-333-6674
After completing years of training, earning their certifications, and memorizing more than 500 Pilates movements, aspiring instructors still aren't ready for recruitment at Pilates Vita. Owner Patricia A. Robinson looks for one other crucial quality on potential résumés: adaptability. She and her highly trained staff members distinguish their teaching from rote instruction by making personal adjustments for each client. These modifications can be minute or broad, and cater to different fitness levels as well as conditions such as injury or pregnancy. In fact, Patricia specializes in pre- and postnatal workouts, regimens that have been featured on 9 News for their ability to reduce the physical stresses of motherhood. No matter the course, instructors keep a careful eye on their pupils' progress, displaying the keen attention to anatomical detail that helped them win the award for Best Pilates Studio on the 2011 Denver A-List.
The studio keeps its sessions intimate to better tailor its lessons. Reformers by Balanced Body line the brightly lit space, vying for attention with Wunda Chairs and other equipment in addition to a supply of mats, bands, and rollers. The machinery helps tone and strengthen bodies' "powerhouse," or core, relying on springs for resistance as students stretch into adapted Pilates motions. In addition to Pilates courses, such as jump-board and Reformer classes, students can partake in TRX suspension training and indoor cycling. Pilates Vita also acts as a boutique gym, granting members full access to the all equipment as well as three genie wishes that don't involve flying or the ability to eat 12 wedding cakes without getting sick.
1215 E 6th Ave.
Denver
Colorado
303-322-4567
Pilates of Cherry Creek offers a fully equipped studio for fitness seekers looking to firm up and shed pounds in a welcoming and supportive atmosphere. Opened in 2001, Pilates of Cherry Creek uses the tried-and-true Pilates method to strengthen cores and increase dexterity much more effectively than untangling the tedious knots of a Sega Master System's controllers. During the 55-minute one-on-one lesson, students will receive attentive instruction to help overcome weaknesses and reinforce strengths. The Sunday mat class provides a supportive group environment where participants can obtain a challenging yet accessible workout that's much more fun than attending boot-camp sessions with Fristensky, the circus strongman. Additionally, an experienced staff of flexible body benders guides students toward the elusive realm of tip-top form.
3665 Cherry Creek Dr. N, Suite 1
Denver
Colorado
Led by co-owners with backgrounds in professional dance, the experienced instructors at Pilates Studio City cultivate carved torsos with exercises that target the core. During personalized private sessions, pupils to bend into Pilates poses or the shape of their own initials atop a mat and sliding equipment such as the Reformer, Cadillac, and Wunda chair. Teachers also divide their attention among students of all levels during group classes, which range from Level 1 mat sessions to dynamic Nia workouts. Nia blends elements of dance, martial arts, and the healing arts into a series of 52 movements that rotate from session to session to keep muscles from getting bored.
Fitness blooms at three locations, which together host more than 130 classes each week. The Studio City location surrounds exercisers in rustic wooden walls, in contrast with the floor-to-ceiling mirrors and undulating modern lines of the Porter Ranch studio's décor. Mat classes at The Annex stretch and bend beneath a large photo mural of a forest so that students can draw inspiration from branches' ability to hold themselves indefinitely in plank pose.
402 N Tejon St., Suite 109
Colorado Springs
Colorado
US
Kristen Abbott and her troupe of passionate instructors motivate guests through TRX Suspension classes—a rigorous total-body toning system designed by a Navy SEAL—and equipment-based Pilates classes. Upon entering the studio, guests step onto bamboo flooring, which stretches out beneath airy vaulted ceilings, all painted with extra-buff versions of Michelangelo's Sistine Chapel ceiling. The studio—which earned the CityVoter award for Best Pilates Studio from 2008 to 2011—hosts small group classes, leading students through moves that challenge them to use their body weight as resistance in functional exercises. With continued practice, students can evenly tone and develop muscle groups across the entire body, with an emphasis on the posture-supporting core muscles.
402 N Tejon St. , Suite 109
Colorado Springs
Colorado
US
---