Things to Do in Kendall
---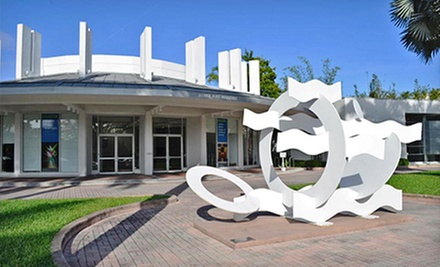 ---
Recommended Things to Do by Groupon Customers
---
Since 1986, Brian Lutz has taught a panoply of tennis players how to improve their game and savor the sport's social aspect. Over time, he honed his teaching techniques and eventually devised his own tennis curriculum. In 2003, that curriculum inspired him to launch TennisTip, a program where experienced instructors help adults and teens improve their tennis game through self-discovery and fundamental skills.
TennisTip instructors work to provide hands-off guidance and gentle inspiration, letting students discover their best game through strategic practice. Combined with tennis-specific cardio exercises and an emphasis on social bonding, the regimen seeks to form independent, effective, and affable players out of every student. Since first starting up in the Big Apple, TennisTip has expanded to a second location, where pros instill students with courtside skills amid the warm Miami sun and attentive pelican ball boys.
1395 Brickell Ave.
Miami
Florida
The green-blue Floridian waters and deserted cays seem to call to Tropical Sailing's experienced crews in a sort of inescapable siren song, beckoning the sailors back to the Atlantic day after day. Tropical Sailing's team of seasoned mariners—composed of licensed Coast Guard-certified Master Captains as well as first mates certified in first aid and rescue—share their love of the sea with visitors via scenic cruises off the coasts of Miami and Fort Lauderdale. Crews pilot a meticulously maintained fleet of catamarans along aquatic paths, including the 78-foot Caribbean Spirit whose shaded lounge area shelters skin from intrusive sun rays and offers seating to passengers who haven't yet mastered walking in their mermaid costumes. Tropical Sailing's daily roster of adventures ranges from picturesque Full Moon Party Cruises in Fort Lauderdale to high-energy Ski and Splash Water Sports Adventures in Miami.
401 Biscayne Blvd.
Miami
Florida
305-328-9117
Manned by a U.S. Coast Guard–certified crew, a Thriller SuperCat 55 power catamaran safely whisks patrons away on Thriller Miami Speedboat Adventures' 45-minute voyages that trek all the way into the Atlantic Ocean. After shipping out from Bayside Marketplace, captains navigate the vessel through Biscayne Bay, South Beach, and the Miami Gold Coast, granting guests sweeping views of Fisher Island, Miami Beach, South Beach's Art Deco district, and the towering Miami skyline. Conversant guides narrate each excursion, pinpointing sites of historical interest as they pass by and helping visitors identify multimillion-dollar dwellings owned by celebrities such as Shaquille O'Neal, Gloria Estefan, and Count Chocula.
401 Biscayne Blvd.
Miami
Florida
305-371-3278
Every year, the Fort Lauderdale Home Design and Remodeling Show corrals home-design retailers, manufacturers, and professionals together for three days of domestic delight. Homeowners tote their personal decorating, landscaping, and remodeling ideas and dilemmas into the convention center and, after immersing themselves in the assembled knowledge of vendors, efficiency experts, and star designers, leave with the fresh ideas and innovative products they need to tuck-point the tree house or plan a new addition.
1901 Convention Center Dr.
Miami Beach
Florida
Wanting to share their love of water activities with as many people as possible, the staff at Miami Kiteboarding teach classes in English, Italian, Spanish, French, and Russian. This dedication is also revealed by the depth and diversity of programs offered, which include International Kiteboarding Organization (IKO) certification courses, boat-assisted lessons, and kids' clinics. Through years of practice and very scientific study, the staff have developed an effective method for getting beginners up on the water in about six hours of instruction. Located in scenic Crandon Park on Key Biscayne island, Miami Kiteboarding offers paddleboard rentals, which helps patrons hone balance, coordination, strength, and stamina. Customers looking for family-friendly activities can also opt to rent kayaks, paddling leisurely through the shallow lagoon located nearby. The shop, equipped with everything one needs to fly a kite while gliding on water, can outfit novices with wetsuits, water shoes, and harnesses.
4000 Crandon Blvd.
Key Biscayne
Florida
Drivers hunch over the steering wheels of their Technicolor cars, bearing down on the accelerator as wheels squeal in delight. Around the corner, a basketball thwacks on hardwood before swishing through the hoop. All of this seems to move in sync with the digital babble of arcade machines at GameTime, where a pantheon of video games tests hand-eye coordination and helps overcome fears of checkered racing flags. Players roll skee balls, drop coins, and spin wheels to earn tickets to redeem for a selection of prizes, including kid-size acoustic guitars and stuffed replicas of television characters such as Bart Simpson and SpongeBob Squarepants.
At the adjoining Arena Sports Bar & Grill, fans cheer on their favorite team or mascot trying to escape bath time as the action plays out on 20 flat-screen televisions. Plates of pasta, pizza, and sandwiches clatter, drowning out cheers from sports games that simulate the joy of athletic achievement.
5701 Sunset Dr., Suite 330
Miami
Florida
305-667-4263
---