Beauty & Spas in Kennesaw
---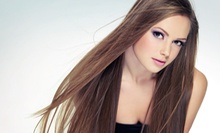 An invigorating conditioning treatment and face-framing haircut preface full highlights with a keratin complex to keep hair moisturized
Use Saturday 9:00am - 5:00pm
---
Recommended Beauty & Spas by Groupon Customers
---
With its plush leather couches and chairs, rich mahogany tables, antique-style lamps, and dark rugs embroidered with leaf patterns, the relaxation room at Invigo Day Spa resembles a cozy den. It's a place where guests waiting for a massage, facial, or body scrub go to unwind before their treatments and sip a cup of Octavia Tea Company's loose-leaf relaxation teas. Once visitors leave this calming room, they're led into the capable hands of one of the experienced massage therapists and aestheticians for further relaxation.
Using products from the all-natural Pevonia Botanica skincare line, the beauty experts perform 15 facials and peel treatments designed to treat issues ranging from dehydrated skin to clogged pores. They also shroud bodies in wraps infused with water lilies, green tea, mango, and aromatic Moor mud, and massage therapists knead tension from muscles using seven modalities. Each massage includes aromatherapy, hot towels, and at least three compliments about your hair.
2550 Sandy Plains Rd., Suite 125
Marietta
Georgia
US
The experienced aestheticians at Ageless Remedies zap away unwanted hairs with four laser hair-removal treatments. Fuzz-fighters can remove the filamentary hitchhikers anywhere from the eyebrows to the toes (see sidebar), henceforth foregoing the tedious tasks of shaving, waxing, plucking, or blowtorching body parts. Prices vary depending on treatment area, from $700 for a quad-pack of lower-back lasings to $243 for small areas such as the chin, lip, ears, and fingers. Ageless Remedies' spread of laser technologies can accommodate all skin types, ensuring that by the fourth treatment, all clients will be smoothed down and ready for Speedo Fridays.
625 Crossville Rd.
Roswell
Georgia
US
770-587-0101
Today's side deal to Renewed Image gets you three deluxe laser treatments for $184 (an up to a $1,795 value). Zap the hair from its hirsute hiding places on your otherwise aerodynamic body, rejuvenate your skin to reduce lines and discoloration, erase the inky mistakes you once thought permanent, and blast cellulite using the same laser light you use to blast Stormtroopers. Your Groupon can also be used for non-lasery treatments such as microdermabrasion, chemical peels, or mineral body wraps.
2359 Windy Hill Rd. SE, Suite 300
Marietta
Georgia
678-293-2639
• For $35, you get a spa facial (a $75 value). • For $45, you get a spa facial plus a hand-and-foot paraffin treatment (a $95 value).
440 Ernest Barrett Pkwy., Suite 22
Kennesaw
Georgia
Ever since he was a child, Dr. Michael Carter struggled with weight. It followed him all the way through medical school, where he became a board-certified anesthesiologist. Things changed in his 30s, however, when he opted for liposuction, and the success inspired him to shift his medical focus to cosmetic surgery. Since opening The Mesotherapy Center—now located in a new facility in Perimeter Town Center—Dr. Carter and his trained team have performed more than 7,000 aesthetic and wellness treatments.
True to the center's name, many of the treatments rely on mesotherapy—injections of vitamins, enzymes, and homeopathic medications. The injections help fade spider veins, ease arthritis and muscle pain, and alleviate insomnia more effectively than Sean Connery's soothing recitation of The Yellow Pages. The center also uses advanced laser technology to remove unwanted hair and fungus, and performs tumescent liposuction to contour physiques with less pain and downtime than traditional methods.
5180 Roswell Rd., South Bldg., Suite 45
Atlanta
Georgia
404-303-7979
Helping their clients have healthy hair is the number one concern at Milly's Dominican Hair Salon, but their team of Dominican hairstylists are most fluent in revitalizing Latin American and African American hair. They do this with an array of deep conditioners blended with aloe, cocoa, and garlic that aim to naturally hydrate and smooth rebellious locks. Alternately, they bestow easy-to-maintain hairstyles with formaldehyde-free keratin treatments, hair extensions, and styling techniques tailored to natural or steamed permed hair. Milly's team aims to ensure that clients can maintain their new 'dos at home by providing them with pro tips and tricks and by pointing them in the direction of the Inova, Baba de Caracol, Morrocanoil, and Aloxxi products that retail in their salon.
2198 Austell Rd. SW, Ste. 100
Marietta
Georgia
678-324-8969
---