Kennesaw, GA Indoor Activities
---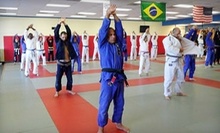 Veteran instructors lead classes that impart Brazilian jujitsu's ground-based grapples, joint-locks & chokeholds for sport or self defense
Use Tuesday 5:30pm - 7:30pm
---
Recommended Indoor Activities by Groupon Customers
---
For nearly seven decades, the Atlanta Symphony Orchestra has bridged musical gaps with an extensive catalog of Grammy-winning recordings that include symphonies, operas, and gospel and classical choral works. Once helmed by the chorale superstar Robert Shaw, the orchestra has produced six Grammy-winning releases in its 12 years under current director Robert Spano. Its allied institution, the Atlanta School of Composers provides training, support, and ear massages for hardworking contemporary artists.
4469 Stella Dr.
Atlanta
Georgia
The community-focused Theatre in the Square fetes playhouse enthusiasts with riveting tales from classic, modern, and local scribes. Bursting onto the 225-seat MainStage is The Little Foxes, a familial yarn about trickery surrounding a husband's fortune. Recommended for ages 14 and up, the story brims with deceit, humor, and the complicated trappings of family life, especially for siblings that have trouble sharing stage props. Meanwhile, Circle Mirror Transformation examines the inner workings of acting class participants as they delve into their created characters while excavating the artifacts of their own personality. An off-Broadway hit, the play provides theater-goers with an amusing peek into the intricately convoluted minds of scene crafters.
11 Whitlock Ave.
Marietta
Georgia
US
Housed in a 3,300-square-foot facility bedecked in comforting hues of lime green, white, and blue, Stability Pilates and Physical Therapy is an ideal place to extend the limbs, tauten the muscles, and purify the mind-matter. With an expansive class schedule led by a brood of friendly instructors, fitness enthusiasts looking to create creek-crossing backbend-bridges have one month of unlimited access to an assortment of yoga sessions, including Ashtanga and power flow, as well as any level of Pilates mat courses. Customers seeking solid cores can undertake the mat class for a challenging workout that uses the body as resistance against the tyrannical polished floor below, while a tender-footed yogi may wish to instigate more spiritual stress destruction in the basics yoga course, where an instructor leads a tranquil journey through breathing exercises and signature backbends and inversions.
5975 Roswell Rd., Suite C-333
Sandy Springs
Georgia
404-303-9153
Established in 1982, Kennesaw State's athletics program first competed in the National Association of Intercollegiate Athletics. In the mid-90s, the Owls migrated to the NCAA, where they claimed 7 Division II championships in activities as diverse as men's basketball, cheerleading, and women's soccer. Just as a real owl hones its night vision until it stops stubbing its talons on branches, the school continued its ascent until it joined the Division I Atlantic Sun Conference, netting two national tournament appearances in women's soccer as well as championships in men's track and field and women's cross-country.
1000 Chastain Rd.
Kennesaw
Georgia
The gorgeously renovated Strand Theatre is decorated in gold and crimson, with old-fashioned seats, a lobby chandelier, and retro plaster walls reminiscent of classic 1940s Hollywood theaters. Strand welcomes guests with its lit-up marquee, recalling the excitement our ancestors felt back when Chaplin vs. Kong was the biggest event of the year. Arrive 30 minutes prior to the 8 p.m. showtime for a pre-show organ sing-along, rousing the spirit of the silver screen. It's the ideal setting to see Tim Curry fight drag sharks.
117 N Park Sq.
Marietta
Georgia
Sacred Garden Yoga founder Cindy Olah discovered a love for nature growing up in Peru. She's fused that passion with yoga instruction by leading retreats in the mountains of North Georgia, North Carolina, and back home in Peru. Whether outdoors or within her pastel-green workout studio, Cindy and fellow instructors lead non-competitive sessions that foster lifelong friendships. Their group, private, and prenatal sessions emphasize proper body alignment and breath work. Students can also discover healing with reiki and reflexology treatments and workshops on subjects such as meditation and painless band-aid removal.
369 Campbell Hill St.
Marietta
Georgia
---