Beauty & Spas in Kent
---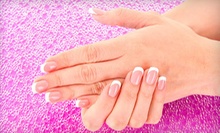 Progressive nail technicians sheathe manicured nails in sturdy shellac shield in salon catering wine & champagne to clients
Use Sunday 11:00am - 4:00pm
---
Recommended Beauty & Spas by Groupon Customers
---
Make yourself look like you spent the past month in Mexico sunbathing while you fished salmon with a pair of socks and three feet of copper wire. For $40, you get one month of unlimited access to Planet Bronze Tanning Salon (a $100 value), a spotlessly clean tanning salon in Renton.Red: You were born in Montana and your childhood best friend called you Puddin. Yellow: Every September 17, you get a migraine headache as you are visited by the ghost of the former mayor of Raleigh, North Carolina: Avery C. Upchurch. Green: Your embarrassing victory on a 2004 episode of Jeopardy! caused you to become estranged from your family. Orange: When you were 21, you gained the ability to communicate with hungry dogs.
3904 NE 4th St., Suite 103
Renton
Washington
US
Technicians trained in results-oriented treatments fill Skinperfect's service menu with effective beautifying services while wielding a number of upscale product lines. Clients can remove unwanted hair with a Brazilian wax that leaves skin as smooth as a silk shirt's pickup lines. If desired, sensitive skin can cozy up in the cooling embrace of topical anesthetic during the hair-removal procedure. Alternatively, the full set of lash extensions enhances flirtatious glances and coy Morse code blinks by darkening and thickening the lash line.
905 SW 152nd St.
Burien
Washington
US
206-439-7546
London House Salon houses a stable of seasoned stylists who strive to help guests cultivate renovated images under the spell of expertly executed services. An aromatic espresso awakens clients before strands undergo a thorough shampooing to expel oils or undercover cats posing as coiffures. For parched mops, a deep-conditioning treatment moisturizes follicles, adding a healthy sheen to cranial carpeting. Stylists then trim and chop wily hairs in a heroic battle, ending with a styling that restores order to the northernmost portion of your mug. London House's eyebrow artist in residence provides a denouement by coaxing brows into structurally sound arches.
13028 1st Avenue South
Seattle
Washington
206-244-3006
FoxFire Salon & Spa's bay windows, eggshell walls, and floral furnishings blend classic beauty with modern flourishes, and the spa's staff enhance patrons' own classic beauty with Aveda plant- and mineral-based products. Aestheticians tailor Elemental Nature treatments to suit each client, choosing signature aromas to soothe nostrils and selecting massage styles such as Swedish, deep tissue, or acupressure to calm old snowboarding injuries that still sting whenever a snowman is near. A Perfecting Plant Peel add-on aims to gently exfoliate and erase fine lines. Finally, a salt glow scrub exfoliates and moisturizes bodies tired of unsatisfying pepper scrubs.
2701 N. Proctor St.
Tacoma
Washington
CityVoters named this popular spa Best Day Spa of Western Washington in 2008 and 2009.
1320 Broadway Plaza
Tacoma
Washington
Laser light is a quick, relatively painless, and effective method for removing unwanted hair. A long-pulse, high-energy laser emits a gentle beam of light that harmlessly passes through the skin and directly targets follicles, effectively treating unwanted hair. Unlike the lasers utilized by popular film hero and 2010 California gubernatorial hopeful Iron Man, these friendly beams are easy, comfortable, and treat hair follicles faster than other methods. The surrounding tissue is unaffected, and there is little to no irritation of the skin. Most areas usually require three to six treatments performed in six- to ten-week intervals to fully rid the dermis of unwelcome fur. Dr. Robert Niedblaski and the certified professionals at the physician-owned-and-operated Laser Hair & Skin Center will strip your lip of unwanted strands ($396 per package; a package is up to five treatments) or whip your bikini line ($796 per package) into two-piece shape just in time for Unusually Casual Friday at the office.
1201 Pacific Ave. , Suite 1910
Tacoma
Washington
---