Kent, WA Outdoor Activities
---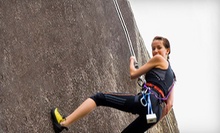 Learn to tie knots and belay in an introductory rock-climbing class or ski the Olympic Mountains for views of Vancouver Island and Mt. Baker
---
Recommended Outdoor Activities by Groupon Customers
---
The gridiron showdown will commence at the ShoWare Center in Kent. Redeem your Groupon at the stadium's will call for the best available seats in your chosen section. Check out the seating chart here.
625 W James St.
Kent
Washington
The buzz of motors rises and falls as bright-red blurs zip around the track at PGP Motorsports Park. Here, in the shadow of Mount Rainier, racers ages 15 and older loop around an 8/10-mile track at speeds of up to 48 miles per hour, leaning back in the ergonomic seats of Italian-built Birel N35 karts. The 30-foot-wide asphalt track can be altered to take on 12 different configurations and is centered in a velodrome, which puts spectators at an elevated angle so they get a good line of sight no matter where they sit.
For safety reasons, drivers should wear long sleeves and pants and closed-toe shoes. Drivers are equipped with helmets and driving suits, and since races take place rain or shine, they will also be provided with rain gear that includes waterproof gloves and booties.
31001 144th Avenue SE
Kent
Washington
253-639-7223
You and your golf pal will receive a wealth of feedback from Tacoma Firs' PGA- and LPGA-certified instructors over the course of each of your hour-long lessons. They tailor instruction to individual needs, so novices can learn the fundamentals of the game, and expert ball-swatters will season their swing, perfect golf posture, and hone alignment. The staff's careful instruction, observation, and friendly demeanor make it easy to make balls to soar more gracefully than an ultralight made of dreams.
4504 S. Tyler Street
Tacoma
Washington
The Dive & Adventure Travel Expo 2013 will connect scuba and snorkel enthusiasts with some of the industry's top experts, brands, and innovations. More than 50 seminars scheduled throughout the weekend will showcase the diving deftness of speakers from across the country, enabling attendees to net information on such topics as underwater photography and safety. ReefID founder and editor John Fifer will host two of these gatherings, sharing ways his online database of diver-captured photos is helping raise awareness for marine life. Fifer will also play host to the expo's signature Saturday Night Film Festival event at 7 p.m. alongside 3D photographer Mark Blum and other presenters.
In addition to engaging activities, the Dive & Adventure Travel Expo 2013 is also home to the best in dive-related gear and information. Approximately 140 exhibit booths connect attendees with purveyors of international adventure from global hotspots including Palau, Yap, the Virgin Islands, and Fiji. In addition to resort representatives, booths also house all of the equipment needed for undersea excursions, with new products ranging from snorkel and scuba innovations to travel accessories and luggage. During face-to-face conversations, dive skills clinics, or snorkel sword fights, expo-goers can get travel tips or plan dive vacations around the globe. While parents research, younger visitors can decamp to a youth section filled with interactive attractions designed for youngsters aged 8–12.
Attendees who come for the education should probably stick for the prizes; the expo plans to give away over $50,000 in door prizes, including a massive grand prize: a full set of dive gear including a drysuit, Weezle undergarments, ScubaPro G260 regulator, Aqua Lung BCD, a TUSA mask, fin, and snorkel set, an Oceanic dive computer, and trips including weeklong Philippine dive adventure from the Marco Vincent Resort.
1500 Broadway
Tacoma
Washington
360-240-1874
Sykart is an indoor karting company. We've got two tracks, one in Tukwila, Wa and one in Tigard, Or. Our facilities feature high tech European style karts capable of 40+ mph driven on fun and challenging indoor courses.
17450 W Valley Hwy.
Tukwila
Washington
Staffed by experienced professionals and computers who've sworn allegiance to the Three Laws of Golfing Robotics, GolfTec's syndicate of golf training centers grooms games with a five-pronged approach enhanced by technological refinements. Score-shaving wisdom resonates within the walls of the indoor facilities, where certified personal coaches point out flaws and strengths while providing golfers with tips to permanently improve their game from tee to green. By utilizing video swing analysis and motion-measurement software, instructors can assess pupils' abilities with objective data and a fact-based tact superior to traditional hearsay-oriented coaching strategies. To further enhance performance, GolfTec offers club-fitting services to match each swing profile with its ideal set of sticks.
406 Baker Blvd.
Tukwila
Washington
---