Shopping in Kernersville
---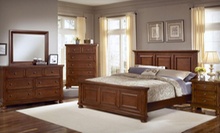 Beds, bar stools, sofas, rugs, and other home furnishings
---
Recommended Shopping by Groupon Customers
---
The specialists at Four Corners Framing and Gallery walk customers through the process of designing their own frames from mat to glass, keeping artwork and photographs safe by performing all services onsite. Custom framing ($50+ depending on size; most orders cost $100–$300) encases cherished collectibles or wily escape artists in a personalized fixture. Experts guide visitors through a selection of more than 1,000 moulding options and offer advice on mat selection. Adding a pane of reflection-control or conservation glass protects pieces by blocking more UV light than sunglasses coated in sunscreen. Between framing decisions, customers can peruse a gallery space that features new local artists every month.
112 S Main St.
Mooresville
North Carolina
704-662-7154
Runners are different. Different from non-runners and different from each other. Raleigh Running Outfitters' Jim Micheels understands this uniqueness. With more than 25 years of running experience and over 20 marathons under his belt, Jim is well versed in the art of motion. In return, Jim and his staff of running experts provide customers with the latest gear and technology to keep moving until someone completes the first Transatlantic marathon.
Inside the athletic outfitter, shelves brim with more than 60 styles of running shoes, along with racks of shorts, jackets, and shirts that keep body temperatures regulated. A video gait analysis system tracks customers' leg movement to analyze their stride, ankle motion, and foot strike.
2773 NC Highway 55
Cary
North Carolina
919-362-8282
With winter escaping like a bag of spilled gravy, now is the ideal time to throw open the windows and get home-care projects underway. Pick up a Steel Grip six-piece screwdriver set for $8.49, a VPT rip hammer for $6.29, and a whole bunch of screws, anchors, and bolts (prices vary), and you'll be ready to finally mount every buffalo nickel and steel penny in your coin collection. Illuminate the newfound décor with a 12-pack of Ace light bulbs ($21.48), the better to see by as you make use of a Wooster Painter's Choice roller kit ($10.49). If you need to match paint to a favorite coverlet or choose a hue that complements a pleather recliner, each store offers a paint-matching service free of charge. Get keys made, or clean a barnacle-encrusted carpet with the help of a carpet-cleaning machine.
3002 Randleman Rd.
Greensboro
North Carolina
Before stepping onto the ice or the baseball diamond, members of the Carolina Hurricanes and the Durham Bulls pay a visit to Drs. Michael Peters and Jason Price of Eye Care Associates, who have provided top-notch eyeglasses, contact lenses, and eye exams for nearly 35 years. The vision specialists help rid blurriness from pucks, balls, and signs held by adoring fans. When they're not gazing into the eyes of athletes, they and their fellow doctors at a network of clinics stay busy correcting the vision of seniors, children, and adults. The company topped Indy Week's 2012 Readers' Choice poll for best optometrists in the area and received a Standing Ovation award as the best eyecare center in the Triangle in 2012 from readers of Metro Magazine.
2835 S Church St.
Burlington
North Carolina
336-584-0505
When sports fans need to transform their house into a shrine devoted to their favorite team, Replay Photos is happy to oblige with high quality portrait photos and prints of every NBA team, every NFL team, and more than 130 college teams. Their framed and unframed prints capture thrilling moments and commemorate special events, including players standing around gabbing, slamming down a dunk, and the moment when teams win a national championship, and then stand around gabbing. They also sport unique wall art for 90 different college campuses, which is emblazoned with iconic landmarks and phrases unique to each school.
905 W. Main St.
Durham
North Carolina
877-421-2300
Although easily inserted into the name of, say, an ice-cream shop, the "32 flavors" in 32 Flavors Boutique represents something deeper than menu options. It's an expression of the boutique's diversity, and it's geared toward the modern woman. Inside the store, that diversity manifests itself in the form of the handmade jewelry, art, clothing, and other knickknacks that parade colorfully across the walls. The boutique's decor doubles as inspiration during jewelry-making classes, when groups gather to create their own earrings, pendants, and bracelets instead of planning a heist on local pyramids. Classes are offered in nonintroductory levels, too, such as advanced wire wrapping.
250 N Main St.
Mooresville
North Carolina
---