Restaurants in Kerrville
---
Recommended Restaurants by Groupon Customers
---
The customizable menu at the northwest San Antonio salad supplier allows you to design a personalized crunchy creation to satisfy your noshing needs. All of Salad Creations' fresh ingredients are delivered by a fleet of benevolent produce-gathering bluebirds almost every day, and are thrown together to order by the skillful salad sorcerers under your masterful direction. Choose a junior creation (starting at $4.99) and top your fresh lettuce mix with up to four "throw ins," or quell insatiable salad cravings with a full creation (starting at $7.49) for unlimited access to all of the salad emporium's offerings, excluding proteins ($2.50 and up). Color a fresh spinach mix with black olives, red onions, and green bell peppers, or gussy up a bowl of chopped romaine with artichoke hearts, chickpeas, and sunflower seeds. For a protein-packed salad, add a sprinkling of barbecue chicken ($2.50) or wild Alaskan salmon ($3.50), and top off your crunchy concoction with one of more than 15 varieties of dressings, most of which are exclusive Salad Creations creations.
5539 W Loop 1604 N
San Antonio
Texas
In 2006, New Orleans native Bernard McGraw stood in an airport with a decision to make—what city to call home. Then-Mayor Phil Hardberger professed on a nearby television that Hurricane Katrina victims were welcome in San Antonio. McGraw had lost virtually everything in the storm, but not his passion for Cajun cooking. So he boarded the plane in search of a new kitchen and a new path. Mcgraw's story, originally run by the Southside Reporter, has a happy ending.
Bernard now runs his own restaurant out of Baptist University of the Americas. In addition to providing food service to the student body, teachers, and feral university mascots, he has eight tables set aside for his own New Orleans–style Cajun and creole cuisine. Homestyle sides of collard greens and mac 'n' cheese give the assist to spicy gumbo, golden fried catfish, and stuffed po' boys. Diners can also enjoy a live jazz band on Thursdays and indulge in such housemade desserts as apple pie, sweet-potato pie, and pictures of pi cut from discarded textbooks.
8019 S Pan Am Expy.
San Antonio
Texas
210-921-1112
Since 1980, chef Francois Maeder has crafted artful European entrees in Crumpets Restaurant & Bakery's scenic, forest-surrounded dining haven, prompting accolades from Esquire, TripAdvisor, and OpenTable. A creek bustles beneath the bridge leading to the dining room's entrance, flanked by oak trees and a spacious patio for alfresco dining. Inside, exposed brick and tall, floor-to-ceiling windows inculcate elegance, and a painstakingly built menu of pasta, meat, and fresh seafood dishes highlights options that are heart-healthy, like running from a bear or running after a cardiologist. By request, cooks can poach or charbroil certain entrees with a nonfat Santa Elena sauce of vegetables in a cabernet reduction. Crumpets' lineup of delectable baked goods charms sweet teeth by feeding them croissants, cakes, flans, and pastries, and rotating wines from around the world arrive monthly, like new moons and new presidents.
Tunes played on the harp or keyboard during musical performances on Fridays, Saturdays, and Sundays fill the air with pleasantly sonorous vibrations to match the ambrosial cuisine scents wafting overhead. For more primal culinary outings, diners may be tempted to accompany Chef Maeder on gourmet rafting trips, which carry attendees through canyons and campsites with the promise of palatable rations and lessons in catfish calls.
3920 Harry Wurzbach Rd.
San Antonio
Texas
210-821-5600
At Just Wing It, platters are piled high with steaming-hot chicken wings bathed in a choice of eight different sauces, ranging from sweet honey barbecue to savory garlic parmesan. Sizzling bacon cheeseburgers and spicy philly cheesesteaks ally with fried pickles and onion rings, and weekly All You Can Eat Fish Fridays replenish plates with boundless servings of seafood. A kids' menu of chicken strips and burgers accommodates child diners or garden gnomes in convincing onesies.
7161 Hwy. 90 W, Suite 104
San Antonio
Texas
210-673-9464
The culinary ideology behind Max's Wine Dive lies in a simple slogan: "Why the hell not?" With the gourmand irreverence to unite fried chicken with champagne, chili dogs with an Australian shiraz, and grilled cheese with a French sauvignon blanc, chef James Moore's menu of eclectic and upscale comfort food has earned Max's a spot on Bon Appetit magazine's Top 10 Wine Bars in America.
Though the cuisine evokes the flavors of a rustic diner, the ingredients are all gourmet—chefs spangle dishes with fresh seasonal produce, piquant cheeses, and unique sauces such as chipotle aioli and wasabi crème fraiche. Meanwhile, an extensive inventory of world wines pours freely from a temperature- and humidity-controlled Enomatic wine dispenser, sending selections to tables by the glass even when the menu lists a varietal as bottle-only, thanks to the restaurant's two-glass commitment policy. On weekends, brunch bravely blends fried chicken and pancakes, available in traditional or red velvet, and the signature Max 'n cheese puts a twist on an original in a more critic-friendly manner than editing a high-speed chase into Casablanca.
340 E Basse Rd., Suite 101
San Antonio
Texas
210-444-9547
---
---
Restaurant Deals - Recently Expired
---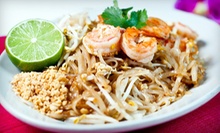 Native Thai couple folds fresh herbs and produce into menu of authentic curries, noodle dishes, and innovative specialties
---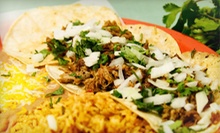 Chili rellenos, chalupas, flautas, and enchiladas served in a restaurant with a live mariachi band and views of the river
---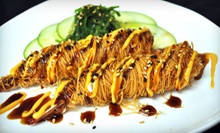 Contemporary Chinese and sushi dinners include an appetizer and two entrees served in a modern dining room
---
---