Things to Do in Key Biscayne
---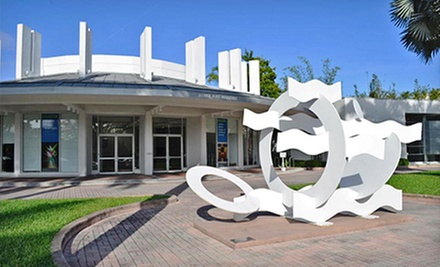 ---
Recommended Things to Do by Groupon Customers
---
Crouched behind a stack of tires, a player feels the incoming paintballs smack against the rubber as he plots his next move. Such a sight is common at Bigshot Paintball Field's outdoor field, a collage of upturned pallets, cable spools, and dirt mounds where combatants outmaneuver each other to find the best firing positions. Bigshot's staff acquaints every player, from beginners to those who have been living off field grass since 2005, with the rules of play and equipment operation before allowing them to enter the thick of battle. Between bouts, the staff also dispenses bottled water and soft drinks and can recommend nearby pizza joints that deliver. Barbecue grills are allowed as well, if there's room available. As a not-for-profit organization, Bigshot Paintball Fields donates a portion of its proceeds to the Police Officer Assistance Trust, a support organization for the law-enforcement community of Miami–Dade County.
27401 SW 127 Ave.
Homestead
Florida
786-268-9208
The Gold Coast Railroad Museum began in 1956, when train enthusiast William J. Godfrey chanced upon the miles of abandoned railroad track snaking through the pineland of University of Miami's southern campus. He imported a newly retired steam engine to the premises, and a tribute to railroading history began.
Now in a new location in Miami proper, the museum continues to honor trains' role in American history, with nine exhibits on locomotives, passenger cars, and the Richmond's Naval Air Station's fleet. Visitors can hop aboard a full-size diesel locomotive passenger coach, or take a ride a miniature children's railroad that's ideal for transporting shipments of Lincoln logs. Alternatively, they can run motorized or free-wheeling trains through a model railroad, which zips through mountain tunnels and circles around to-scale landscapes.
12450 SW 152nd St.
Miami
Florida
305-253-4675
Wind-leashed high-flier and Skybanditz founder Francisco Escudero has blown spectators away at such competitions as the Velocity Games and the Bahamas kite race. He is the North Miami Beach area coordinator of the Florida Kitesurfing Association and founder of Skybanditz, where he and his trained staff conduct all manner of surf- and sky-borne expeditions. They outfit maritime adventurers with all the proper kiteboarding, kayaking, and paddleboarding gear, as well as lead kayak tours through Marine Stadium and several small islands. They also give guests the option to explore the high seas on their own or with friends. Instructors, meanwhile, cover safety and proper techniques during kitesurfing programs that range from beginner level to Level X, an echelon they reserve for students who are ultra-advanced or genetically related to flying squirrels.
10084 West Bay Harbor Drive
Bay Harbor Islands
Florida
305-573-1399
A Lamborghini Gallardo roars down the asphalt, its driver taking an exhilarated gasp as it grips the road around each heart-pounding turn. Although this is a six-figure vehicle, the driver is no millionaire. He's simply getting a taste of extravagance in one of I-95 Exotics' luxury or exotic cars. The company's fleet of vehicles runs the gamut of the auto world's elite, encompassing makes such as Ferrari, Lamborghini, Rolls-Royce, and even a street-legal Formula 1 racecar. For daily rentals, I-95 Exotics wheels out luxury coupes and SUVs from makers such as BMW, Audi, and Mercedes Benz. If one ride isn't enough, customers can combine vehicles into an exotic tour. Tours join like-minded engine buffs in a trip to Key Largo, which lets them sample—thanks to pit stops every 40 minutes to trade rides—the horsepower of five cars from a list that includes the Ferrari 360, Lamborghini Gallardo, Dodge Viper SRT 10, and a Toyota Prius strapped to an airplane.
I-95 Exotics doesn't only deal in four-wheeled vessels: It also rents motorcycles and charters boats ranging from 18-foot Sea Rays to a 93-foot custom-made italian yacht that sleeps up to eight. It also embarks on private sunset cruises aboard a 34-foot yacht, which includes complimentary champagne to enjoy as passengers survey the iconic Miami skyline and its array of mansion-esque bounce houses.
1800 Sunset Harbour Dr. , Suite 3
Miami Beach
Florida
877-440-1444
It's easy to forget amid all of the concrete and neon, but Miami is an ancient place. Eons before the first modern residents began to move into the Coconut Grove cemetery, indigenous people were shielding themselves from the elements using the region's natural rock ridge and sunless tanning salons. Today, Ghost Tours Miami visits the restless spirits that have gathered here over the centuries, including the specters in the windows of the Coconut Grove Playhouse. Pirates, pilots, gangsters, and those too close to gangsters have all met their ultimate fate in this tropical cove, and the photographs and stories of spooked tour guests testify to their continued presence.
3500 Main Hwy.
Coconut Grove
Florida
786-236-9979
In the 1950s, Bayside Marketplace's Pier 5 was a hub of activity, bustling with fishermen, cooks, and gossiping locals. Nowadays, though, the pier is a hub for a more modern demographic: jet skiers. As the home base of Miami Jet Ski Rental, the pier hosts a fleet of 2009 Yamaha VX Deluxe jet skis and a team of CPR- and First Aid-certified staffers. Aboard their rental vessels, adventurers can zoom through Biscayne Bay or take to the Atlantic Ocean, catching glimpses of wildlife such as dolphins, manatees, and librarians.
401 Biscayne Blvd., Pier 5
Miami
Florida
305-457-1619
---