Things to Do in Key Biscayne
---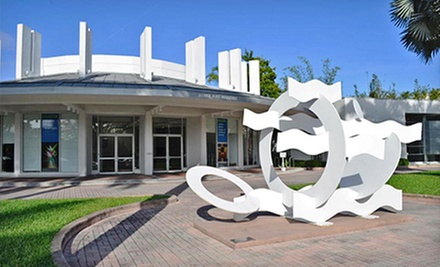 ---
Recommended Things to Do by Groupon Customers
---
Crouched behind a stack of tires, a player feels the incoming paintballs smack against the rubber as he plots his next move. Such a sight is common at Bigshot Paintball Field's outdoor field, a collage of upturned pallets, cable spools, and dirt mounds where combatants outmaneuver each other to find the best firing positions. Bigshot's staff acquaints every player, from beginners to those who have been living off field grass since 2005, with the rules of play and equipment operation before allowing them to enter the thick of battle. Between bouts, the staff also dispenses bottled water and soft drinks and can recommend nearby pizza joints that deliver. Barbecue grills are allowed as well, if there's room available. As a not-for-profit organization, Bigshot Paintball Fields donates a portion of its proceeds to the Police Officer Assistance Trust, a support organization for the law-enforcement community of Miami–Dade County.
27401 SW 127 Ave.
Homestead
Florida
786-268-9208
The Gold Coast Railroad Museum began in 1956, when train enthusiast William J. Godfrey chanced upon the miles of abandoned railroad track snaking through the pineland of University of Miami's southern campus. He imported a newly retired steam engine to the premises, and a tribute to railroading history began.
Now in a new location in Miami proper, the museum continues to honor trains' role in American history, with nine exhibits on locomotives, passenger cars, and the Richmond's Naval Air Station's fleet. Visitors can hop aboard a full-size diesel locomotive passenger coach, or take a ride a miniature children's railroad that's ideal for transporting shipments of Lincoln logs. Alternatively, they can run motorized or free-wheeling trains through a model railroad, which zips through mountain tunnels and circles around to-scale landscapes.
12450 SW 152nd St.
Miami
Florida
305-253-4675
Every year, the Fort Lauderdale Home Design and Remodeling Show corrals home-design retailers, manufacturers, and professionals together for three days of domestic delight. Homeowners tote their personal decorating, landscaping, and remodeling ideas and dilemmas into the convention center and, after immersing themselves in the assembled knowledge of vendors, efficiency experts, and star designers, leave with the fresh ideas and innovative products they need to tuck-point the tree house or plan a new addition.
1901 Convention Center Dr.
Miami Beach
Florida
After disembarking from Captain Asaad N. Masoud's yacht, the Ra, many guests record their experiences in the online ship's log alongside pictures taken by the captain and crew, which can be shared over the internet with friends and family . The full ship's log of passengers sporting smiles and wind-whipped hair hints at Captain Masoud's commitment to fostering a friendly, welcoming atmosphere aboard his dual-masted, 45-foot ketch.
Tours begin at Dinner Key Marina, the gateway to southeast Florida's largest estuary. From there, Captain Masoud charts a course to suit each group's desires. To ensure a comfortable voyage, Captain Masoud has furnished his yacht with dozens of amenities including a stereo system that pipes tunes through the speaker system on and below deck.
The vessel also showcases modern safety equipment, including personal flotation devices, GPS, autopilot, and radar. Passengers benefit from Captain Masoud's nautical experience, which extends back to his childhood in Egypt, where he sailed the Nile and the Mediterranean. He became a Coast Guard-licensed captain in 1983, and has been welcoming aboard guests ever since.
3400 Pan American Dr., Dinner Key Marina Pier 7
33133
Florida
305-989-3959
Miami Water Sports's esteemed crew helps guests to navigate the waters of Miami Beach with an armada of vessels ranging from party barges to kiteboards. Although experienced riders can rent their own watercraft, the staff hands out kiteboarding wisdom during beginner through advanced lessons for individuals or groups. They also host kiteboarding excursions, which travel to such faraway locales as the Dominican Republic. Alternatively, the company's paddleboard rentals are useful when trying to blend in with a pack of swimming dogs.
713 71st St.
Miami Beach
Florida
786-597-2462
Wind-leashed high-flier and Skybanditz founder Francisco Escudero has blown spectators away at such competitions as the Velocity Games and the Bahamas kite race. He is the North Miami Beach area coordinator of the Florida Kitesurfing Association and founder of Skybanditz, where he and his trained staff conduct all manner of surf- and sky-borne expeditions. They outfit maritime adventurers with all the proper kiteboarding, kayaking, and paddleboarding gear, as well as lead kayak tours through Marine Stadium and several small islands. They also give guests the option to explore the high seas on their own or with friends. Instructors, meanwhile, cover safety and proper techniques during kitesurfing programs that range from beginner level to Level X, an echelon they reserve for students who are ultra-advanced or genetically related to flying squirrels.
10084 West Bay Harbor Drive
Bay Harbor Islands
Florida
305-573-1399
---