Key Largo, FL Outdoor Activities
---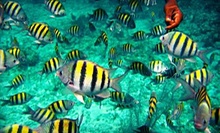 Catamaran shuttles guests to waters near John Pennekamp Coral Reef State Park and National Marine Sanctuary for hour of fun and instruction
---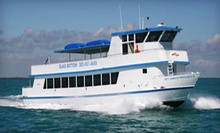 Enjoy views of the Florida Keys and offshore reefs teeming with living coral, sea fans, and colorful fish from a 70 ft. glass-bottom boat
Use Today 1:00pm - 4:00pm
---
Outdoor Activity Rewards Deals - Use Anytime
---
Recommended Outdoor Activities by Groupon Customers
---
Spend a day cruising around the briny blue in a variety of specialized watercrafts. Each is equipped with GPS and Sirius satellite radio, devices that will periodically gain self-awareness and argue with each other. This will keep you on track on an oceanic highway with no roads, while occupying your ears with noises other than seductive sirens and dolphin clicks. The radios are iPod ready, enabling you to provide your own soundtrack if the one beaming from outer space is too alien. PonTunes provides life jackets for everyone except minors, so either remember to bring preservers for your kids, or conveniently forget to bring your kids.
107690 Overseas Hwy
Key Largo
Florida
US
Like all dolphins, Elvis loves to chase fish, leap into the air, and paint abstract-expressionist artwork. He does, however, need a human to hand him a brush, which is where the Painting with Dolphins program comes in. This is just one of the initiatives at Dolphin Cove that reveals these marine mammals' fascinating behaviors. In a natural lagoon, trainers facilitate human-dolphin relations through encounters such as swimming with, snorkeling beside, or rubbing the belly of Elvis and his cohorts. The dolphins may also regale guests with antics such as sharing their favorite toys or showing off a new behavior. Dolphin Cove's additional services include the Trainer for a Day program and a live webcam, which was an idea Elvis brought from his background in IT.
101900 Overseas Hwy
Key Largo
Florida
USA
877-365-2683
Keys Skis and Adventures' fleet of wave runners speed across the water's surface, sending plumes of liquid into the air as riders uncover some of the area's most scenic destinations. On semiprivate tours, the personal watercraft coast along local canals, open waters, and mangroves. The Key Largo area sets the stage for these aquatic adventures, granting easy access to the Atlantic Ocean. Local wildlife such as manatees, dolphins, and aquatic birds make appearances in these areas, although they rarely sign autographs.
201 Ocean Dr.
Key Largo
Florida
US
305-451-0047
Hovercrafts are never short on usefulness. The US Navy uses them for transportation, captains in Australia, Asia, and England use them as ferries, and near Alaska they often glide over ice between oil rigs. For Captain Guven Sen, hovercrafts are useful for tours of Florida's coastal waterways. He pilots the sleek florescent-yellow Lady Hawke—powered by a 300-horsepower diesel engine, dual axial flow fans, and fixed-pitch duct propellers—at speeds up to 40 knots over shallow waterways and meandering sandbars. Sculpted from durable, lightweight fiberglass, an enclosed hull and cockpit keep passengers safe from getting hit by ocean spray and strongly worded messages in bottles as they glide on an air cushion over the water surface.
On each eco-friendly tour, Guven uses a PA system to explain the workings of the craft's engines, point out passing dolphins and protected alligators, and gleefully showcase his machine's tricks. He turns water into a wall of mist as he whips riders through spins and 360-degree turns. On some occasions, passing dolphins have even decided to play with the hovercraft, swimming alongside and under the air cushion and performing tricks in full view of passengers. When not leading tours, Guven leases out his services for private excursions or the occasional music video. Hover Tours' sister company, Dragonflight Hovercraft, recently built another larger, lightweight FRP composite hovercraft as a prototype to one day glide alongside the Lady Hawke.
104100 Overseas Highway
Key Largo
Florida
305-904-3833
---