Theme & Amusement Parks in Key Largo
---
Theme & Amusement Park Deals
---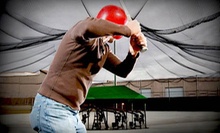 18-pitch rounds help baseball and softball players perfect swings inside cages where machines sling balls toward the plate at 40–80 mphs
---
Recommended Theme & Amusement Parks by Groupon Customers
---
Gymboree offers a bevy of baby-engaging classes in which parents and wee ones work together to build tots' creativity and encourage development through play. Offered in monthly sessions, weekly classes are available for every age from the freshly born sapling to the 5-year-young wise wanderer. This deal includes rhythm-building music classes, imagination-expanding art classes, and Gymboree's most popular class, Play & Learn. The one-month membership (a $75 value, plus $60 membership fee) allows you to take one class per week, with makeups available during enrollment if you miss a class. This deal also includes unlimited attendance at Gymboree's open-gym sessions (contact location for schedule). One Groupon must be purchased for each child, and each child must be accompanied by at least one adult (but more than one adult is welcome).
8530 SW 124 Ave., Suite 201
Miami
Florida
As they observe the vibrant exhibits of aquatic life inside the Miami Seaquarium, many guests don't realize that they are walking through a movie set and a hospital. In the onsite lagoon, bottlenose dolphins swim through waters once traversed by Flipper, who filmed several television episodes and films at the venue. The Seaquarium is also recognized as a manatee critical care facility. Its staff has accomplished several historic treatments, including monitoring the conception and arrival of the first manatee born under human care and conducting the first manatee neurological surgery.
These facets of the Seaquarium—along with its many conservation efforts, educational programs, and shows—underscore a united commitment to wildlife consciousness. The animal attractions enable visitors to witness the allure and fragility of oceanic fauna up close, whether they are petting the back of a stingray or washing a dress shirt on the rough back of an 8-foot nile crocodile. Special encounters decrease the distance even further, sending patrons on underwater Sea Treks through the reef display or helping them to lead marine-mammal training routines.
It's hard to pinpoint the biggest personality inside the Seaquarium tanks, but Lolita the killer whale—who performs daily alongside pacific white-sided dolphins—claims the title of heaviest, period. On the other end of the scale, macaws and cockatiels perch around the Tropical Wings section of the park, and endangered sea turtles lounge at Discovery Bay. Elsewhere, a watery playground and three-story ropes course keep legs from growing too wobbly after a trip to Shark Channel or a smooch from a sea lion.
4400 Rickenbacker Causeway
Miami
Florida
305-361-5705
Even before you climb inside, the GoCar is clearly a car with a personality. The petite, three-wheeled two-seater has a hood that slightly resembles an eager-to-please smiley face, and an open top that seems custom-made for letting the breeze ruffle your hair. Then the real fun begins: built with the company's own software and a compassion for the voiceless robots of America, a talking GPS system guides two-seater GoCars through the city streets of San Francisco, San Diego, Miami, Barcelona, Madrid, and Lisbon with cheerful, info-rich narration. Second only to having a knowledgeable local jog alongside your minivan, tours zip along at drivers' own pace and accommodate as many pit stops as time allows.
1655 James Ave.
Miami Beach
Florida
In the 1950s, Bayside Marketplace's Pier 5 was a hub of activity, bustling with fishermen, cooks, and gossiping locals. Nowadays, though, the pier is a hub for a more modern demographic: jet skiers. As the home base of Miami Jet Ski Rental, the pier hosts a fleet of 2009 Yamaha VX Deluxe jet skis and a team of CPR- and First Aid-certified staffers. Aboard their rental vessels, adventurers can zoom through Biscayne Bay or take to the Atlantic Ocean, catching glimpses of wildlife such as dolphins, manatees, and librarians.
401 Biscayne Blvd., Pier 5
Miami
Florida
305-457-1619
Though roller skating may be symbolic of life in the '50s, the staff at Super Wheels Skating Center has incorporated the tunes, TVs, and technology of today to bring this American pastime in to the 21st century. DJs spin a choice of more than 400,000 songs through the rink's digital sound equipment, serenading guests as they show off their moves and finally embrace their wheel transplant. In order to offer more than just skating, the staff created a super arcade filled with interactive games and sprinkled the facility with 20 high-definition TVs and five giant screens that broadcast entertainment as well as live texts from guests and overprotective mothers.
Outside of open-skate hours, the rink puts on a range of events, including private parties, beginning and pro skating lessons, and special times for skaters 11 and younger. The facility's concession stand offers food for all ages, including futuristic Dippin' Dots, fried appetizers, Latin pastries, and pitchers of O'Doul's.
12265 SW 112th St.
Miami
Florida
Inside Jump A Roos' 19,000-square-foot inflatable fun house that boasts eight inflatables and five party rooms, kids 12 and younger can bounce, slide, and wiggle through a variety of supervised play areas. Eight inflatable obstacle courses stand beside slides and bounce houses in the open-play area. In nearby adult seating areas, guardians can watch TV or use free WiFi, comfortable in the knowledge that kids are enjoying activities that are as safe and engaging as a game of Duck, Duck, Naptime. For special occasions, the center's five party rooms anchor birthday party and playdate packages, both of which include open-play access and a plethora of food options.
20505 S Dixie Hwy.
Cutler Bay
Florida
305-238-5867
---