Golf in Kilgore
---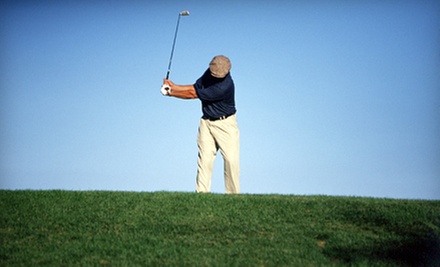 Broadmoor, Anderson Island, Shreve Isle
---
Recommended Golf by Groupon Customers
---
A nominee for Gulf States Teacher of the Year four years in a row, Class A PGA member Pete Lockwood brings more than 12 years of teaching experience to each and every lesson. Pete came to the United States to play college golf at age 19, leaving behind his native Australian landscape and its score-crushing inverted gravity. After spending years in the States, he's learned to eschew trendy swing theories in favor of providing lessons tailored to the golfer's physique and real-world habits. Potential lesson-takers can schedule their instruction time at Querbes Park Golf Course driving range on Monday–Saturday.
2812 Benton Rd.
Bossier City
Louisiana
318-934-3313
Designed with the input of former US Ryder Cup team captain and 1983 PGA Championship winner Hal Sutton, Olde Oaks Golf Club's 27-hole golf course weaves through 34 acres of wooded terrain teeming with ponds and streams. All three 18-hole combinations span more than 7,000 yards from the farthest tees, though the course's open fairways offer plenty of space for golfers to unsheathe their driver or airdrop golf balls from remote-control helicopters. Though all three nine-hole layouts showcase plenty of natural hazards that add challenge to rounds, the Cypress and Meadow courses prominently feature ponds and streams, including difficult forced carries on both Meadow's seventh and eight holes and Cypress's fourth.
Before rounds, golfers can warm up at Olde Oaks Golf Club's recently revamped driving range and head to The Grille at Olde Oaks after the round's final putt and strut to enjoy the social trappings of a full-service bar, burgers, and two televisions.
Course at a Glance:
27-hole course designed with collaboration of former US Ryder Cup captain Hal Sutton
Nine-hole Oak measures 3,622 yards from the farthest tees
Nine-hole Cypress measures 3,638 yards from the farthest tees
Nine-hole Meadow measures 3,681 yards from the farthest tees
Course rating range of 75 to 75.2 from the farthest tees (Cypress and Oak 18 features lowest rating)
Slope range of 136 to 143 from the farthest tees
Five tee options available
60 Golf Club Dr.
Haughton
Louisiana
318-742-0333
Culled from the noggin of course-crafter John Sanford, the Dogwood course at Garden Valley merges Champion bermuda greens with Lake Butler's lapping shores to forge an unforgettable 6,840 yards of play. Towering pine trees blanket golf carts in shadows, cooling players as they ponder the best methods to evade the course's many water hazards and rolling hills, where distracted golfers often sacrifice games, stopping to paint the picturesque East Texas landscape.
Guests may also admire the scenery from the onsite restaurant, which serves house-made omelets and crisp salads. The eatery resides below the clubhouse's vaulted ceilings, in addition to a fully equipped pro shop and an outdoor terrace overlooking the 18th green. Across the street lies the Garden Valley Sports Complex, a 24-hour facility filled with fitness machines and free weights that help patrons to burn fat beside an indoor basketball court and a refreshing pool relatively free of feral manatees.
22049 FM Rd.1995
Lindale
Texas
800-443-8577
The ridges and swales of Outlaw Golf Club's recently renovated bentgrass greens get balls spinning and players cursing. These difficult patches of grass await golfers at the end of the nine-hole course's bluegrass fairways, which undulate through the craggy terrain overlooking Jordanelle Lake. The course's bite doesn't just come from elevation changes, though: three lakes and two streams tempt balls to take a dip, and the par 3 and 4 fairways demand frequent club changes by vacillating in length from 65 to 465 yards. Despite these challenges, novices can enjoy the course by choosing a more forgiving tee from the six that cluster in front of each fairway, including all-weather surface tees.
The club's outdoor short-game-refining center invites players to practice their putting and chipping as they aim their balls up to 100 yards away. The center also serves as PGA Professional Dave DeSantis's classroom, where he teaches players how to break free from sand traps without digging a hole they will eventually fall in.
990 Longview Dr.
Park City
Utah
435-901-4227
---