Golf in Killeen
---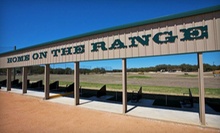 Dripping Springs-Wimberley
Large bucket of golf balls provides club-wielders fodder for perfecting swings on range with targets, putting area & practice bunker
Use Today 9:00am - 9:00pm
---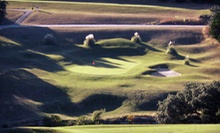 The 18-hole, par 72 course stretches across the north shore of Lake Travis and challenges golfers with its championship-level obstacles
Use Today 1:00pm - 7:00pm
---
Recommended Golf by Groupon Customers
---
A majestic, 18-hole course encircles the stately grounds of Balcones Country Club, whisking golfers to an elysian landscape of dense tree lines and large, rippling waterways. The Balcones Course, features the club's signature hole, a 155-yard par 3 where tee shots must clear a vast water hazard and a central fountain that spews the liberated souls of drowned golf balls. The club prepares greenhorn golfers with a bevy of classes offered through their golf academy, which range from typical private lessons to fitness programs offered by Titleist Performance Institute–certified trainers. A classroom equipped with video swing-analysis technology hosts intense investigations into corrupt swings, and a double-sided, lighted driving range fosters late-night reflections on whether or not golf balls are simply fallen stars.
A more frenetic pace of competition takes stage on the 10 courts that billet Balcones Country Club's tennis program, and scampering tykes and weary adults can retreat to the club's two outdoor pools for a more relaxing setting. Guests can fuel up for a day of recreation with a quick bite at the onsite grill or engage the community in the elegant, 250-capacity banquet hall.
8600 Balcones Club Dr.
Austin
Texas
512-258-1621 x224
Hemmed by 35 acres of lakes and the watery tentacles of Williamson Creek, Jimmy Clay and Roy Kizer Golf Courses band together to form a 36-hole golf complex with two distinct, relatively flat 18-hole layouts. Opened in 1974, Jimmy Clay Golf Course predates its sibling by two decades. Measuring 6,914 yards from the back tees, the tree-lined par 72 is the longer and tougher of the two courses, with large, elevated greens that befuddle golfers of all stripes and inspire fandom in wide-eyed mini-golf courses. Though most holes begin with tee shots into wide, forgiving fairways, water hazards loom on the edges of 9 holes to test players' accuracy.
Stationed just south of its counterpart, Roy Kizer Golf Course weaves through 22 acres of wetlands and lakes that pinch the fairways and greens of nearly every hole. The 6,819-yard course emulates the links-style layouts of coastal Britannia with wide fairways, a significant water presence, and a population of migratory waterfowl that squawks with a heavy cockney accent.
Jimmy Clay Golf Course at a Glance:
18-hole, par 72 course
Total length of 6,914 yards from the back tees
Course rating of 72.3 from the back tees
Slope rating of 124 from the back tees
Five sets of tees per hole
Scorecard
Roy Kizer Golf Course at a Glance:
18-hole, par 71 course
Total length of 6,819 yards from the back tees
Course rating of 72.2 from the back tees
Slope rating of 125 from the back tees
Five sets of tees per hole
Scorecard
5400 Jimmy Clay Dr.
Austin
Texas
A nationwide swing-honing syndicate, GolfTEC attacks ineffective golf techniques with a patented Five Factor approach that harnesses technological resources to boil golf's subtle motions into an objective, data-based science. GolfTEC Austin's staff of PGA-certified aces stays true to the mission in each lesson, as they assess swings with video analysis and compare them to a database of the swing profiles of more than 150 Tour players, which provides a sounder frame of reference than simply swinging in front of a mirror or seeking wisdom from a cardboard cutout of Jack Nicklaus. Pros then pinpoint areas for improvement and build on them in video-based sessions, reinforcing effective motions while helping clients better understand the mechanical elements of the golf swing. GolfTEC even helps their charges bolster their swing out of the studio with their online Player Performance Studio, which contains each players' golf lesson history, past swing videos, and custom-tailored drills that pupils can access 24/7 to prepare for an upcoming outing or seek comfort after slicing the ball repeatedly into the waters of chaos in a vivid nightmare.
10001 Research Blvd.
Austin
Texas
512-231-9797
The golfing gurus at Edwin Watts Golf Academy diagnose and correct their students' poor swing and putting habits in an effort to help them improve their shots and lower their scores. In one-on-one swing-analysis sessions, students learn a repeatable swing that eliminates tendencies they may have to slice, hook, push, or pull the ball. A special laser attaches to the end of the player's club and tracks the swing path while JC Video swing-analysis software records the session from two separate angles, lest analysis be thrown off by only looking at the golfer's good side. Putting analysis employs Tomi technology to measure eight separate parameters of the putting stroke, from clubhead orientation at address to swing path and tempo. After swing and putting lessons, students may access the recordings on a password-protected website, so they can forward videos to friends or sports-documentary filmmakers.
3107 I-35, Suite 700
Round Rock
Texas
512-244-1800
Ranked in Golfweek's Best Courses You Can Play in Indiana, the course at Prairie View Golf Club is situated on 206 acres of environmentally protected land along the White River with scenic prairieland and five lakes. The Robert Trent Jones, Jr. design features natural wetlands with a rushing stream that comes into play on four holes, forcing players to demonstrate deft control or gilled golf bags. On the front nine, the prairie setting invites harsh winds to blow across bentgrass fairways, often knocking shots off course. As players make the turn onto the back nine, they notice a marked difference in the environment, as open prairies give way to tall sycamore, oak, beech, and cottonwood trees lying just beyond the Kentucky bluegrass rough. Across the river lies Conner Prairie, a historical re-enactment village whose elegant, 1830s-era style was adopted for the design of the course's 15,000-square-foot clubhouse.
Course at a Glance:
18-hole, par 72 course
Total length of 7,073 yards from the back tees
Course rating of 74.5 from the back tees
Course slope of 138 from the back tees
Four sets of tees per hole
15201 Falconhead Blvd.
Austin
Texas
512-402-1558
---