Museums & Galleries in Killeen
---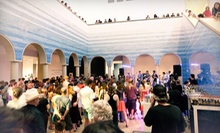 The University of Texas at Austin
Families receive 1 year of free admission, discounted purchases in the Museum Shop and Blanton Café, and two tickets to any "B scene" event
---
Recommended Museums & Galleries by Groupon Customers
---
To avoid last year's embarrassment of inventing modern art 90 years after the fact, it might do you good to visit an art museum and see what art movements already exist. Marvel and muse among the aesthetically astute with today's Groupon: for $30, you'll get a yearlong household membership to both locations of the Austin Museum of Art. Benefits include:
823 Congress Ave.
Austin
Texas
US
The tale of the Austin Children's Museum begins in 1983, when a band of parents and teachers started setting up educational exhibits and children's activities throughout the city. This "museum without walls" stretched into schools, parks, and malls, delighting children and families with a sense of whimsy and a place where play was rewarded. In the years that followed, the museum shed its nomadic beginnings and found a permanent home inside the pleasant green walls of the Dell Discovery Center. Firmly rooted, its exhibits have entertained and enlightened more than 800,000 youngsters and their parents while earning praise from the writers of Little Austinite.
Today, the sprawling 12,500-square-foot facility is a kaleidoscope of color and lights, where whippersnappers play with giant building blocks, cobble recycled materials into crafts, and marvel at golf balls as they soar through loops and shoots. Others explore the miniature Global City, where they take on roles such as veterinarians in the pet clinic, cooks in the diner, or stray raccoons hiding in the grocery store.
Throughout the week, a team of educators leads Discovery Time, guiding lads and lasses through kid-friendly science experiments that launch paper helicopters and make slime. The museum also hosts Storytime, where grownups read playful stories aloud to encourage creativity and instill a love of literature in young readers.
201 Colorado St.
Austin
Texas
---