Restaurants in Killeen
---
Recommended Restaurants by Groupon Customers
---
In early 2010, small business owners David Ansel and Matt Shook both happened to grab a midday bite at the same local bakery, according to the Austin Chronicle. As David lamented the summer lags at his soup shop, Matt commiserated with recollections of wintertime dry spells at his smoothie business. The solution suddenly became clear: they would combine their seasonally oriented enterprises and together enjoy thriving business year-round.
Matt and David's joint enterprise, Juicebox & Soup Peddler, launched in a small, rehabbed shed. There, the duo began to dispense their largely vegan, gluten-free, and dairy-free soups and sandwiches through a food window, as well as appease patrons with fruity juices and smoothie blends that are easier to throw in rivals' faces than wet cement. In June of 2012, their venture expanded to include a storefront splashed with an orange hue and a mural of veggies, as well as a booming delivery branch that drops ready-to-heat soups and sandwiches on doorsteps or down chimneys.
2801A S Lamar Blvd.
Austin
Texas
512-444-7867
Chef John Haug knows that Louisiana culture is more defined by its food than by all of the region's jazz, Mardi Gras beads, and Huey Long bumper stickers combined. He showcases the tasty fruits of Cajun living at Cypress Grill, spotlighting the classic New Orleans dishes such as étouffée and jambalaya that help the restaurant consistently place as one of Austin's top 35 restaurants in the Austin Chronicle's readers' poll. On Thursdays, live Cajun or jazz swing music enlivens the funky neighborhood joint, which is more than likely already filled with the aromas of the fresh Gulf seafood that populates plates of barbecued shrimp and crispy oysters. Chef John also brings his down-home touch to weekend breakfasts, which combine Creole influences with locally-sourced organic eggs plucked from pasture-raised chickens. The restaurant also celebrates seasonality; during the spring and early summer, cooks haul in 300 pounds of fresh crawfish for the restaurant's weekly boil.
4404 W William Cannon Drive, Suite L
Austin
Texas
512-358-7474
An old blue trailer has been parked on First Street for days. Instead of arousing suspicion, the aromas of frying pickles, chicken, and smoked beef alert passersby that this trailer is not the site of some crime investigation scene, but rather a place where chefs create delicious comfort fare for the masses. SoCo To Go's kitchen, located inside the trailer, draws inspiration from the people, scenery, and traditions of Austin. Eatery staff, headed by owner Sam Rhodes, pays homage to downright good food with chicken fried chicken, tilapia tacos, and tortilla and chili bowls. After picking up dishes at the trailer's side window, guests can sprawl out at garden picnic tables, where red umbrellas shelter from the sun and hungry skydivers. This same seating area transforms at night into a glowing hangout with holiday lights wrapped around trees and strung above the tables. SoCo To Go's deliverers can bring fare to various locations throughout the city, under the banner of the eatery's confidently smiling mascot, Daisy Mae.
1209 South 1st Street
Austin
Texas
512-970-8646
Trace
Valerie Broussard's purpose as Trace's forager is to source fresh ingredients from local farms and to track down the best cheeses, cured meats, jams, and hot sauces from artisan producers. Working in tandem with Broussard, Chef Ben Hightower evokes the personality of Austin, crafting a menu with a conscience that complements the W Austin Hotel's pledge for sustainability and eco-friendly practices. Black lacquered tables cradle sharable plates of charcuterie and fresh oysters as waiters round up ranch strip steaks and all-natural FreeBird chicken breasts, accompanied by accents such as organic rainbow chard and Springdale Farms winter squash.
If the entire restaurant's décor was born from a single burst, the burst must have come from the dining room's modern chandelier, which features silver rods that erupt from a central point and teardrop lights that cast a dim glow through the interior's thin, sprawled boughs. Wide-set stone columns sit nobly against steel-hued drapes, leading eyes to the walls' mirror mosaics and out into the equally stylish W Austin Hotel.
200 Lavaca St.
Austin
Texas
512-542-3660
Formerly World Beat Café, Wasota African Cuisine specializes in vegan-friendly, gluten-free West African fare. Plates buckle under the large portions of fried plantains, jollof rice, and yam fu-fu typically discovered in the eatery's entrees, and Wasota's staff likes to say the veggie burger is "out of this world" because they import the patty's carrots and potatoes from hydroponics centers on Mars.
1209 South First Street
Austin
Texas
512-565-3864
As visitors walk toward Petty's BBQ's storefront, they're surrounded in the aromas of slow-cooking meats and classic southern-style barbecue. At the origin of these scents stands the restaurant's grill master, who wields a pair of tongues and watchfully controls the outdoor smoker's flame using only his mind. The experienced cook works culinary magic on beef, pork, and chicken, bathing the meat in custom blends of sauces.
Inside the eatery's casual dining space, servers load the slow-smoked meats onto plates or follow architectural blueprints to construct them into sandwiches. They also serve up classic sides such as corn bread and green beans.
1104 Kathey Drive
Killeen
Texas
254-432-7388
---
---
Restaurant Deals - Recently Expired
---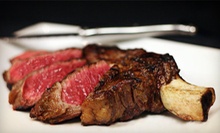 Empanadas filled with spiced beef and raisins, housemade cinnamon-pumpkin gnocchi, and jumbo shrimp wrapped in prosciutto
---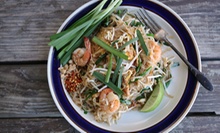 Small, hands-on classes teach guests how to craft papaya salad, curries, and other Thai dishes from sustainable ingredients
---
---