Restaurants in Kingman
---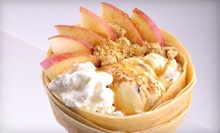 Fill folded crepes or top crispy waffles with fruit, ice cream, and other candy bits, or enjoy a prechosen combination of sweets
Use Sunday 9:30am - 10:00pm
---
Recommended Restaurants by Groupon Customers
---
Eclectic tapas abound at the Southern Highlands eatery. On the tapas cold front, there's a chilled gazpacho ($4), marinated olives ($5), or tuna tartare ($9). Toastier small plates include veggie empanadas with mushrooms, carrots, spinach, and garlic cream cheese ($5); ravioli bathing in a savory cream sauce ($5.50); and fried goat-cheese nuggets ($6.50). Meat-focused dishes such as chicken cakes (topped with multi-colored onions, peppers, cilantro, black beans, and corn salsa, $6) and seafood plates, including grilled octopus and steamed mussels ($9.50 each), mind the gap between main dish and dessert. Barcelona also serves a variety of entrees ($15–$20) such as grilled salmon and Spanish paella. Desserts ($4–$9.50) such as chocolate tres leches à la mode sweeten sips of festive mojitos and sangria.
10690 Southern Highlands Pkwy. , Suite 100
Las Vegas
Nevada
Zagat Rated "Good to Excellent for Food"
8975 S. Eastern Ave.
Las Vegas
Nevada
Black Bear Diner's griddle and grill gurus plate up hearty helpings of casual comfort food for breakfast, lunch, and dinner. For the most important meal of the day, served all day, options include sweet-cream pancakes ($5.49–$5.99), a henhouse of three-egg omelettes and two-egg scrambles ($8.29–$8.99), and Bigfoot's chicken-fried steak and eggs ($9.99), which satisfies even Sasquatch-sized appetites. Riding on a french roll, the tri-tip dip ($8.99) mingles among the selection of specialty sandwiches, while the old-fashioned meat-loaf dinner peddles by on an original penny-farthing ($9.99).
1751 Hwy 95, Suite 25
Bullhead City
Arizona
At Match, the cuisine world's curious couple—Korean barbecue and tapas—are united in menu matrimony. Chilly nibbles from Spain, Korea, France, and Hong Kong pepper the cosmopolitan tapas menu. Try seared tuna or salmon with spicy garlic sauce ($6), Spanish olives ($3), or pork belly with chef's sauce and garlic ($5). Fans of fried fare will appreciate the Belgium-based frites with choice of dipping sauce (mayo, aioli, or sauce andalouse, $3), Singaporean dragon balls (spicy battered bits of tuna, chopped onion, and peppers served with eel sauce, $3.50), and cheese wontons ($3). Or, keep it simple with a cheese plate with three Spanish, French, or American selections ($12).
1263 E Silverado Ranch Blvd.
Las Vegas
Nevada
Josie's glacial treats don't include high-fructose corn syrup or any artificial sweeteners, and a do-it-yourself spirit gives enterprising sweet-seekers free rein over the composition and measurement of their yogurt compound, which costs $0.36 per ounce. A cavalcade of flavors dances before eager eyes and taste receptors. Flavors cover the gamut from basics such as chocolate and vanilla to out-there tastes such as cappuccino and root-beer float. Mix and match flavors and toppings to create one-of-a-kind masterpieces that will forever remain a mystery once all the evidence is gastronomically destroyed. Adorn a chocolate-cheesecake treasure with almond for a nut-tastic treat, or sample the pumpkin pie with splotches of margarita to honor the pilgrims' first Cancun Thanksgiving.
351 E. Silverado Ranch Blvd.
Las Vegas
Nevada
Temptation will fill your belly's brain to the brim as you gaze longingly at Pizzeria Enzo's menu of seductive Italian savories. Take a first bite of fried cheese ravioli ($6.95) to get your meal started, then take as many bites as you need to finish it. Specialty pizzas range from the fresh, vegetarian-friendly flavors of the classic margherita ($15.95 for 18") to the protein-packed Enzo special, loaded with pepperoni, meatballs, sausage, peppers, onions, and mushrooms ($20.95 for 18"). Customers can also create their own masterslices by selecting from Enzo's long list of pie toppings. If you prefer your toppers on the inside, opt for an Italian grilled-ham-and-fontina-cheese panini ($6.95) or tangy buffalo-chicken roll ($5.75), both sprinkled with a tasty touch of finger licking. Pasta favorites such as linguini with clams, mussels, and shrimp ($14.95) proudly tango with taste buds in the elegant dance of eating, while entrees such as chicken marsala ($13.95) and veal piccata ($14.95) put patrons in a state of bliss, like Hawaii.
9500 S. Eastern Ave., Suite 180
Las Vegas
Nevada
---