Restaurants in Kings Park
---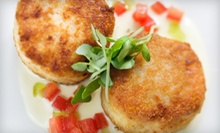 12 cozy tables are set with plates of light, flavorful Italian seafood, chicken, and pasta dishes
---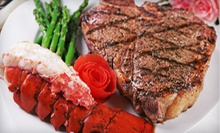 Modern takes on classics from around the globe such as kimchi-infused meatballs and New Zealand green mussels
---
Recommended Restaurants by Groupon Customers
---
Husband-and-wife team Ali and Nazifa acquaint American palates with Afghan flavors through accessible fusion fare—with many vegan options—that has caught the printed eye of the New York Times. Cushion-covered benches grant comfort, and glasses of wine complement entrees. The eatery's framed art hangs on exposed-brick walls instead of over an art museum's embarrassingly outdated Chuck Norris poster.
255 Main St.
Huntington
New York
631-421-2933
Whether beneath the thatched roof of the tiki hut or at an intimate table surrounded by bamboo shoots, Papaya Thai and Asian BBQ's tropical themes pervade the eatery's confines. The barbecue bar grants diners a front-row seat to watch chefs expertly grill marinated meats and veggies on wooden skewers, wielding the power of fire like Prometheus to cook beef to its tender best state. A variety of Thai tasting plates and main dishes include classics such as pad thai, sizzling chicken in a thai barbecue sauce, and skewered chicken satay. From the tiki bar, bartenders pour tropical drinks such as papaya thai-ritas made with sweet mango and nutty monkeys, an almond-rum-banana concoction the staff delivers to tables by way of swinging through the rafters.
24 Marshall St.
South Norwalk
Connecticut
Seated on red leather bar stools, guests at Silver Star Diner sip on fresh-brewed coffee and peruse a menu of comfort cuisine such as half-pound burgers, deli sandwiches, and breakfast skillets. In addition to hearty diner staples, guests can sample a rotating selection of pastries, which are baked on-site daily. Diners can order anything off the menu regardless of the time of day or lunar cycle.
210 Connecticut Ave.
Norwalk
Connecticut
Little Thai Kitchen's chefs decorate porcelain canvasses with a menu of marinated Thai edibles presented in harlequin medleys beneath sprays of decorative bamboo. Stone and dark-cherry walls sprawl behind symphonies of silverware that clink gently like a robot with a rock in its shoe. Sticky sweet rice, veggies, and a variety of meats and seafood bask alongside spicy curries, including a green-chili concoction that the New York Times called "fierce and delicate at the same time." Frosted glass and brushed-steel lights spill warm light onto diners as they chat amid pastoral accents and artwork with Eastern influences.
4 West Avenue
Darien
Connecticut
203-662-0038
Avocados, jalapeños, and tomatillos. These staples of traditional Mexican cuisine take center stage at Tacos Mexico, where the dishes' rustic simplicity lets their flavors shine through. Chefs nestle tender morsels of steak, carnitas, or chorizo into corn tortillas to create their signature tacos, and they also turn out more complex entrees, such as cubes of pork loin blanketed in a rich mole sauce or vegetarian options that spotlight portabella mushrooms and cacti.
As guest conclude their meals with sweet nibbles of tres leches cake or coconut flan, they can listen to the ebb and flow of a soccer match broadcast on the flat-screen television hanging over the bar. Nearby, a belt of cornflower blue wraps around the dining room's bright, yellow walls, which bear paintings of traditional Mexican pueblos rather than Mexico's newest moon colonies.
82 Fort Point St.
Norwalk
Connecticut
203-866-6256
American Roadside CEO Rich LaVecchia is the happiest when he's biting into a Roadside burger––mainly because his children, at ages 8 and 13, helped perfect the recipe. Each tender patty is constructed of Sterling Silver premium grain-fed beef, aged for a minimum of 21 days to maximize tenderness. But the eco-conscious burgers are only the beginning of Roadside's green pledge. To complement exposed brick and nostalgic advertising signs, Roadside outfits each restaurant with sustainable bamboo floors, recycled countertops and chairs, and picnic tables whittled from the driftwood of naturally floating picnic tables. The walls are also decorated with reclaimed barn siding and the names of diners who have successfully completed the eatery's famous quadruple Roadstar cheeseburger challenge.
Below hanging lights like scoops of vanilla ice cream, diners slurp up creamy milk shakes, such as Oreo and cremesicle, and two-hand signature burgers with slaw or chili, and a portion of those profits are donated to charities, such as the American Red Cross. After finishing off a hot Philly cheese steak, patrons can add a boost to their evening with a glass of wine or beer, or add a boost to everyone's evening by drinking the biodiesel fuel crafted from Roadside's recycled fry oil.
80 East Main Street
Smithtown
New York
631-382-9500
---