Restaurants in Kings Point
---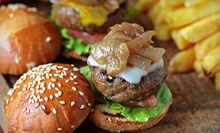 Villages of Palm Beach Lakes
Homemade potato chips & crab cakes precede plates of steaks, burgers, & fried chicken at a country bar and grill with great concerts
---
Recommended Restaurants by Groupon Customers
---
Hand-select one dozen bagels from The Breakfast Joint's 32 varieties. Bagels are freshly baked in house and come in all the traditional varieties, as well as interesting flavors such as french toast, jalapeño, olive, apple pie, banana split, and pumpkin. Though not included in this Groupon, The Breakfast Joint also offers many classic and creative cream-cheese toppers, from vegetable to cinnamon ($1.99).
5781 Coral Ridge Dr.
Coral Springs
Florida
Chef Fritz Cassel constantly imagines up creative dishes to complement his eclectic, ever-changing menus. Servers transport his small plates and inventive gastro-pub dishes—such as mussels, gourmet sandwiches, and cheesy grits—to tables already supplied with complimentary baskets of housemade potato chips. Beneath a lofted ceiling lit by artistic pendant lamps and chandeliers, bartenders pour craft beers and mixed drinks as well as concoct potent adult milkshakes that pair perfectly with a copy of the latest _ Hardy Men_ mystery novel.
125 Datura St.
West Palm Beach
Florida
561-833-5300
"It took them five years before they would let me handle the fish," says sushi chef Jo Clark about his extensive training. He began his culinary journey at 13 years old and spent a decade in an apprenticeship at the Japanese restaurant Yama. There, he honed an ability to prep rice and sauces, wield a knife, and select sushi-grade fish while shadowing chefs from different regions of Japan. In his spare time, Jo enjoys paddle-surfing and once skillfully maneuvered alongside a lively school of sharks.
At the restaurant, however, he deftly manages cuts of salmon, flounder, hamachi yellowtail, and shellfish to craft more than 40 inventive sushi rolls. He toys with the traditions of sushi, wrapping some rolls with thin slices of European cucumber and creating a sashimi pizza on a tortilla crust. The aromas of ginger, eggplant, and garlic wander from pots of Thai-style dishes in the kitchen and out into dining rooms. Though each location has distinct decor, diners mingle among elements such as exposed-brick bars, hardwood floors, and hanging Japanese paper lanterns in the exciting bright colors of a furious traffic cop viewed through a kaleidoscope.
640 E Ocean Ave., Suite 4
Boynton Beach
Florida
561-737-0606
Carrying a pita, a diner approaches a salad bar brimming with pickled condiments, crunchy vegetables, and sauces. Without paying or even speaking to someone behind the counter, the diner lifts the spoon and festoons the pita with a pile of fresh toppings, ready to start the meal anew. At most restaurants, this could get you kicked out, but at Maoz Vegetarian, it's not only overlooked, but also encouraged. After choosing from such vegetarian and vegan-friendly options as gluten-free falafel and fried eggplant, pita wraps or salads head to the stainless-steel salad bar. Belgian fries—a thick-cut version of their french cousins—and mounds of sweet-potato fries complement sandwiches and salads along with green-chili sauce, tahini sauce, and salsa for dipping and boosting the self-esteem of napkins.
While feasting, diners sit atop benches at long, shared tables that emulate the communal lunch joints of old in the unabashedly modern chain of restaurants, founded in Amsterdam two decades ago. Mirroring the eatery's fresh, stylish food, the interior at Maoz features green tiled walls and steel fixtures illuminated by hanging lamps and baby pictures of supernovas.
6000 Glades Rd.
Boca Raton
Florida
Orchids are, in general, delicate and colorful flowers, concepts appreciated by Japanese and Thai chefs. Orchids of Siam brings the two schools of cuisine together under the flower's banner, serving colorful curries, stir-fried medleys with noodles, and, of course, sushi. The chefs draw flavors from all over the map, though, in their quest to create memorable dishes, infusing shrimp tempura sushi with the flavors of roasted garlic or enriching pad thai with eight ounces of fresh lobster.
3027 Forest Hill Blvd., Suite A1
West Palm Beach
Florida
561-969-2444
microbrews to complement its Italian-American bistro-style menu. Brewmaster Fran Andrewlevich—whose past work has won gold and silver medals at the Great American Beer Festival—whips up lagers, pilsners, and seasonal beers right onsite. In the open kitchen, chefs feed flatbread bruschetta and hand-stretched pizza dough to a hungry brick oven, and craft ranch burgers filled with Angus beef, bacon, monterey jack cheese, and dreams of running away to join the circus concession stand.
2222 Glades Rd.
Boca Raton
Florida
561-986-2739
---