Kings Point, FL Spa and Massage
---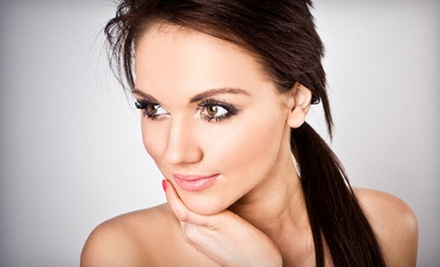 ---
Recommended Spa & Massage by Groupon Customers
---
Fluctuations in stress levels and health often go often hand in hand, and addressing one without the other can mask but not eliminate problems. Knowing this, the staff of licensed massage therapists and aestheticians at Absolute Wellness Spa works to cultivate a tranquil environment in which relaxing treatments address both bodily and mental health at the same time. Those treatments, which include massages, healing acupuncture, facials, and mud wraps, draw on Western medical practices and Eastern philosophy to better approach wellness issues from a variety of angles. In the studio, quiet music plays to relax patrons, and fountains burble softly like a scuba diver trying to tell a secret.
330 Clematis Street, Suite 114
West Palm Beach
Florida
561-833-9226
Former Londoner Vivien Henderson spent four years working on chiropractic patients dealing with pain and dysfunction before she opened the doors to her own massage studio. In addition to modalities such as gentle Swedish massage and therapeutic deep-tissue massage, she practices treatments such as craniosacral therapy, a gentle, powerful light-touch approach that acts through the central nervous system to assist in improving function in the whole body, and hot-basalt-stone massages with essential oils induce relaxation.
1691B Forum Pl.
West Palm Beach
Florida
561-328-7532
Within the tranquil, spa-like atmosphere of Fleur de Paris Skin Care Institute, aesthetician and native Frenchwoman Sylvie Sevrain is working with serious science. The skincare expert has a PhD in skin biology and cosmetology and has done research on the effects of hormones on skin-aging prevention. Sevrain has worked for major cosmetic firms. She's also a member of the Dermatology Skin Care Specialists and the Society of Cosmetic Chemists. But upon listening to her French accent in an atmosphere that, according to Palm Beach – Live Work Play, is "painted a soft, robin's egg blue with beautifully hand painted floral décor," guests are more likely to think of Juliette Binoche than Marie Curie.
Sevrain continually draws on her expansive knowledge while caring for the complexions of men, women, and teens. She performs classic French facials or specialized treatments with products such as Environ, a plastic-surgeon-developed line that nourishes the skin with vitamins and alpha-hydroxy acids. Sevrain can diminish wrinkles as a certified Bellanina-facelift massage specialist, and offers advanced treatments including chemical peels and ultrasonic therapy. She and her team pamper bodies with fragrant scrubs, hot-stone massages, and waxing services that are ideal for clients heading to the beach or American werewolves heading to Paris.
320 S Dixie Hwy.
West Palm Beach
Florida
561-653-1319
Many people work hard to earn recognition for having a PhD. For more than 15 years, P.H.D. Salon & Spa has worked hard to help clients get recognition for having a beautiful appearance. Stylists trim, color, and perm hair or add Mega Hair human-hair extensions. The salon and spa also whitens teeth, spray tans bodies, and removes evidence of wrestling on a freshly tarred road from skin. Clients who prefer one-stop beautifying stops will enjoy a selection of packages that pamper heads, hands, and feet with a variety of services, including facials, massages, or waxing treatments.
888 E Coast Ave.
Lantana
Florida
US
561-585-8888
Named Best Overall Spa 2011 by Spa Week, Eden Day Spa focuses on providing tranquil experiences for its clients. Featured in magazines such as Marie Claire, Vogue, and Shape, the boutique spa's elegant interior is accented by flickering candles. The lengthy treatment menu includes waxing, microdermabrasion, holistic treatments such as reiki, and more than 15 types of massages that take place on heated tables. Aestheticians beautify the skin of women, men, and teens during more than a dozen facials, and manicures and pedicures refresh digits with Shellac, french tips, and organic polishes. As nails are painted, aromatherapy swirls around the mani-pedi room, where only the sounds of spa music and the chattering of one's inner child will be heard.
213 E Palmetto Park
Boca Raton
Florida
US
561-447-7700
Owner and experienced massage therapist Michael Church organizes his business around the belief that the difference between giving a good massage and a great massage is "asking the right questions and customizing [the massage] to the customer's needs." His therapists begin each new-client relationship with a review of the client's grievances, lifestyle habits, and professional wrestling history, and then they check in with their patients throughout each treatment to better understand where to focus pressure.
Each massage style is priced the same, freeing people to mix and match modalities such as deep tissue, Swedish, and trigger point within single sessions. The therapists also add hot stones to massages, and the team plans to grow its repertoire of treatments that utilize healing laser and light therapies.
Upon arrival at the cozy studio, which resembles a living room with antique furniture and a painting that represents the four elements, patrons can snack on a complimentary chocolate or mints from the front desk. Soothing instrumental music is piped throughout the space, although patrons can control the volume from their individual rooms.
5030 Champion Blvd.
Boca Raton
Florida
US
561-241-6690
---