Bowling in Kingsgate
---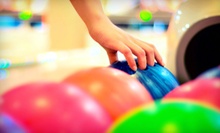 Compete for a high score, a personal best, or the most hilarious pratfall on more than a dozen well-oiled lanes
---
Recommended Bowling by Groupon Customers
---
Bowlers at Narrows Plaza Bowl sling spheres down 40 synthetic lanes, each trimmed with automatic scoring and optional bumpers. After duos slip into their respective rental kicks and lace up their throwing arms, players draw orbital weapons and set to work mowing down pins in back-to-back bouts. Players leave point tallying to a computerized network that festoons 40-inch LCD screens with scores converted into the Xs and /s commonly taught in American math classrooms. Lanes can also be bumperized, enabling bowlers of any experience level to competently compete while balancing the fickle forces of geometry and physics. Between rounds, bowlers can slide over to the re-energizing food court full of pizza and libations (not included in today's deal).
2200 Mildred St. W
University Place
Washington
Pat Johns may have earned a spot in Seattle's Bowling Hall of Fame, but that doesn't mean his work is done. These days, he runs Hiline Lanes, which welcomes casual bowlers and Junior Gold competitors alike in a fun and friendly atmosphere. Visitors can revel during Rock-n-Bowl sessions on Friday and Saturday nights, when glow in the dark balls ease on down the center as top-40 tunes and classic rock croons blast on the sound-system. Nearby, the 11th Frame Restaurant cooks up classic club sandwiches, milkshakes, and Italian sodas. Shoppers in the Hiline shop might even spot a TV-bowling celebrity, stopping by to get Pat's insight into next season's bowling shoe trends.
15733 Ambaum Blvd. SW
Burien
Washington
206-244-2272
Lynnwood Bowl and Skate has sprung from a history so illustrious that the city of Lynnwood awarded its owners with a certificate officially recognizing its impact on local culture. That history began in 1956, when Lynnwood Lanes first opened. Two years later came Lynnwood Roll-A-Way, which was a separate endeavor until Lynnwood Bowl and Skate's current owners merged the businesses in 2006 with a major revamp. In August of that year, a renovation team resurfaced the lanes and roller rink, updated the computerized bowling system to accommodate the entirely new post-Y2K numeric system, and installed a glass door between the bowling alley and skating rink.
In addition to structural renovations, a fresh staff worked out the kinks that previously plagued the Bowl and Skate; they abolished leagues in lieu of exclusively open bowling hours and further diversified the center's activities by erecting the Asteroid climbing wall, a space-themed expanse of glowing handholds. Once visitors have exhausted their energy stores at the climbing wall, bowling lanes, or skating rink, they can gear up for round two at The Roll Bar, where cocktails flow alongside burgers and pizzas and skate-clad visitors flatten out too-thick crusts by rolling over them.
6210 200th St. SW
Lynnwood
Washington
---