Museums & Galleries in Kingsland
---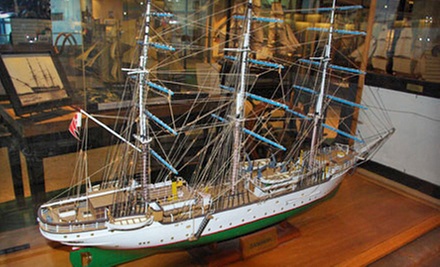 ---
Recommended Museums & Galleries by Groupon Customers
---
A year before her death in 1959, Ninah Cummer—an art collector, garden enthusiast, and civic leader—donated her riverfront home and art collection to the community, imploring her fellow citizens to help support the foundation of an art museum. In less than 10 years, the board of trustees transformed the abode into the verdant Cummer Museum of Art & Gardens, adding to Ninah's original gift of 60 pieces until the collection included nearly 1,000 works of art.
Today, the permanent collection holds pieces that span more than four millennia, from 2,100 B.C. to the 21st century. An ancient Egyptian stone tablet intrigues viewers with cryptic hieroglyphs and stylized portraits while, nearby, Peter Paul Rubens' The Lamentation of Christ epitomizes the colorful, sweepingly histrionic style of the Baroque painters. American treasures include Gilbert Stuart's iconic portrait of George Washington—one of over 100 he painted in an attempt to perfect the likeness of the first president and design a killer mask for the White House Halloween party.
After getting their fill of indoor beauty, guests can head to the open air and vibrant scenery of the museum's gardens. Begun more than a century ago, the gardens crisscross with winding paths that take guests under the canopies of majestic oaks and alongside the Italian garden's shimmering reflecting pools.
829 Riverside Ave.
Jacksonville
Florida
The Amelia Island Museum of History is the fortuitous result of circumstance. In 1975, a committee from the Duncan Lamont Clinch Historical Society gathered to found a history museum for Fernandina Beach and Amelia Island. Meanwhile, local collector William Decker was studiously acquiring historical documents and artifacts from the area—a lot whose pieces numbered in the thousands. When Decker died, the collection passed on to his son, a noted altruist, and just like that the Amelia Island Museum had its bones.
Today, the museum's exhibits examine local culture of the Timucua Native American tribe, Spanish and French explorers, pirates, and Victorian-era residents. Curators have assembled the Women of the Port photography display to highlight women working in the local maritime industry.
Museum guides are not restricted to the grounds, and often helm tours of the island's haunted locales, historic Centre Street, and Fernandina Beach's north end—with a focus on history from the mid-18th to 19th centuries.
233 S 3rd St.
Fernandina Beach
Florida
Culled from samples found in her own backyard, Madge Wallace exhibited her first small naturalist collection in her New Riverside School classroom in 1910. Her museum relocated to a Victorian mansion in the decades to follow before settling on its current location on the south bank of the St. Johns River. Known as Museum of Science & History since 1988, the facility currently hosts changing and core exhibits that feature towering marine skeletons and interactive stations strewn through a mock digestive tract where visitors learn about bodily functions. At Currents of Time, history buffs can amass nuggets of local knowledge as they trace Jacksonville's history to more than 12,000 years ago. Elsewhere, The Bryan-Gooding Planetarium's 35,000-watt sound system enthralls guests at Cosmic Concert laser shows every Friday night, and monthly MOSH After Dark sessions educate adults with hands-on workshops and scientific lectures.
1025 Museum Cir.
Jacksonville
Florida
Known locally as MOCA, the Museum of Contemporary Art Jacksonville boasts a collection of almost 800 works of art in media ranging from paintings and prints to sculpture and photography, spanning the decades from 1960 to the present. Members of MOCA enjoy free admission to the museum as well as previews of temporary exhibitions and special promotions from interest groups, and more than 200 North American museums reciprocate benefits, offering members free admission and teaching them their unique secret handshakes. The curators of the museum harness their artistic expertise to help educate kids on the pros and cons of finger-painting on dogs, and infuse local classrooms with art-education programs with the help of a long list of volunteers and docents.
333 N Laura St.
Jacksonville
Florida
904-366-6911
For more than 25 years, the experienced art and design consultants at Framing Establishment and Fairfax Gallery have been guiding customers as they select from a collection of more than 5,000 frames. Hand-carved, leafed, and metal picture huggers come customized to fit any image or memento, all of which the gallery picks up, delivers, and installs for free throughout the continental United States. Customers can give cherished images the treatment they deserve with custom mouldings from a variety of manufacturers, plus trimmings such as gold and wooden frames, mat accents, and foam-core backings.
Visiting customers can peruse the store's gallery of local and Florida artists, gorging eyes on a feast of contemporary and traditional landscapes, still-life works, and sculptures. Artists can also be commissioned to craft custom artwork, helping gussy up a drab wall or take the place of a broken windshield.
4216 Herschel St.
Jacksonville
Florida
904-384-7724
---