Restaurants in Kingsland
---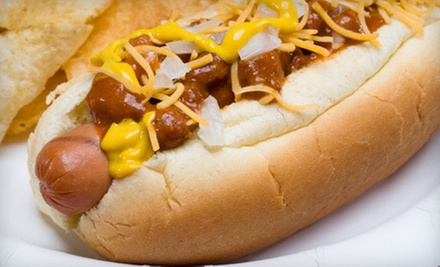 ---
Recommended Restaurants by Groupon Customers
---
You're probably thinking, "That sounds great, but I've never bought a car or a computer without first reading the Wikipedia definitions for car and computer—I'm not about to buy a Groupon either without a briefing." Well, neither would we, and since this is everyone's first Groupon, allow us to briefly explain how it works.
725 Atlantic Blvd.
Atlantic Beach
Florida
North Beach Bistro is more than a restaurant—it's a legacy. The upscale eatery was the vision of renowned chef Tony Pels, who trained with culinary giants such as Wolfgang Puck and Michel Richard, and chef David Seavey, whom Pels mentored for 15 years at the Sawgrass Marriott Golf Resort & Spa. Pels passed away only two months before the restaurant's opening in June of 2008, leaving executive chef Seavey to carry on his tradition of culinary creativity and generosity.
Spurred on by this responsibility, Seavey combines the freshest ingredients with a genuine love for his fellow Floridians. The Jacksonville native crafts hearty and flavorful surf 'n' turf entrees such as the bistro bouillabaisse with Mayport shrimp, sea scallops, mussels, calamari, and fresh fish or chargrilled Black Angus filet mignon with sauteed mushrooms and port wine sauce. Reddish-gold fixtures in the bar emanate light that's as warm and welcoming as the chef himself. DJs and live music keep the space vibrant, and the dining room's wood floors and spot-lit art give it an air of sophistication. Weekly trivia nights arm guests with knowledge that makes an ideal conversation starter or helps pass the time while stuck in an elevator with Ken Jennings.
725 Atlantic Blvd.
Atlantic Beach
Florida
The Grape was voted first place best wine bar by CityVoters. Eighty-five percent of Urbanspooners recommend the restaurant. Six Yelpers give it a four star average:
10281 Midtown Pkwy.
Jacksonville
Florida
Though Brucci's Pizza owner Bruce Jackson was born in Syracuse, New York, his grandparents hail from Italy, and he grew up feasting on Italian recipes that had been passed down through generations. At his restaurant, the chefs follow the same timeworn recipes as his grandparents when dishing up Italian favorites with a New York–style flair. They whip up lasagna layered with meatballs and italian sausage, grill paninis, and hand-toss housemade dough for pizzas, strombolis, and calzones. Their specialty pies include the Brooklyn—topped with diced tomatoes and fresh basil—and the Syracuse Stuffer—laden with sausage, beef, pepperoni, and ham, as well as green peppers, onions, and mushrooms.
But Brucci's Pizza is more than just an eatery—it's also a gathering place. In addition to weekly specials, the three locations host regular events. The Ponte Vedra and Fruit Cove locations host a Monday kids' night, and the West Beaches location facilitates live music twice a week, played by bands that are not made up of animatronic rodents. The chefs also issue a standing challenge: if any guest can devour a double-thick, 16-inch Fuhgeddaboudit pizza—smothered in seven toppings and gobs of extra cheese—within an hour, it's on the house.
13500 Beach Blvd.
Jacksonville
Florida
The Augustine Grille supports locally grown food by working with an array of local farmers, regional farmers, and artisans to source the freshest and highest quality of sustainable, seasonal food. The menu of local seafood, naturally raised chicken, and house dry-aged prime steaks satisfies any craving. Start with truffled white-cheddar and lobster mac 'n' cheese ($14), or the blue crab with watermelon, cucumber, and cilantro ($14). Specialty seafood dishes include Mayport shrimp with grit cakes, spinach, and tasso gravy ($28) and a whole fish with jasmine rice, baby bok choy, and red thi curry (market price). A dry-aged, prime, natural ribeye with parmesan frites and asparagus is a delectable entree option ($39), or opt for a three-course prix-fixe meal and savor the flavors of course after course of scrumptious dishes ($39).
1000 PGA Tour Blvd.
Ponte Vedra Beach
Florida
Ancient City Subs' creative menu features old-world flavors infused with contemporary twists such as Segways and pickles. One of Ancient City's house specialties, the hot-pressed Cuban sandwich, layers freshly sliced pork with baked ham, cotto salami, and your choice of swiss or American cheese ($6.99 for whole); the classic Italian sub is stuffed with baked ham, pepperoni, genoa, cotto salami, and provolone and is doused in a roasted-garlic balsamic vinaigrette ($7.19 for whole). Grapes, pecans, and a tiny bit of minced onion delicately sweeten the chicken-salad croissant ($4.99), and vegetarians perk up for the spicy, jalapeño-topped veggies and cheese sandwich ($4.99 for whole). For some lighter fare or as a nice complement to your sandwich, enjoy a fresh mandarin-orange and chicken salad ($7.99 for whole), a sweet three-bean salad on the side ($1.49 for 8 oz.), or a 12 oz. bowl of homemade soup ($3.49 with sandwich or croissant purchase).
10950 San Jose Blvd.
Jacksonville
Florida
---