Kingston, NY Spa and Massage
---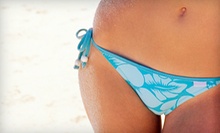 Strips of melted wax handcrafted by spa workers ensnare and uproot hair, leaving delicate regions smooth and stubble-free
Use Tuesday 10:00am - 7:00pm
---
Recommended Spa & Massage by Groupon Customers
---
Namaste Organic Spa is a full-service holistic health spot that uses natural products to perform a bevy of body-care, skin-care, and alternative health treatments. A detoxifying body wrap or exfoliating body scrub will help you say sayonara to the stress that makes millions of Americans eat dry spaghetti every night before bedtime. During a 15-minute reflexology massage ($22.50), Namaste therapists stimulate and energize key pressure points, programming internal playlists to the looped, soothing sounds of gentle waves. Upgrade today's Groupon to treat yourself to a two-hour Namaste herbal detox, which rids cluttered interiors of impeding impurities.
30 Franklin Ave.
Ridgewood
New Jersey
201-857-3646
Hot stones and aromatherapy oils gently glide across the body inside private rooms at @ease Spa, unwinding tight muscles and calming tense minds. Aromatherapy is also used during facials to rebalance the complexion and make sure clients don't leave with their faces smelling like regular old skin. Other relaxing services at the spa include a full-body sugar or Dead Sea mud rub and Jin Shin Jyutsu, an ancient technique where light pressure is applied to 26 specific points on the body to relieve aches and improve respiration. No matter the treatment, the spa's massage therapists are glad to customize pressure to each guest's liking, and afterward, a complimentary sauna and shower await.
142 Broadway
Hillsdale
New Jersey
After a year of living in the corporate-communications world, Sabita knew she needed to change paths. Like a baseball player who runs to first every time he swings, she felt herself becoming too aggressive. In order to reconnect with her inner empathy and sense of place in the world, she decided to commit herself to taking care of others. With that desire in mind, she became a massage therapist and holistic-health counselor and opened the Sabita Holistic Center in 2003 to surround herself with like-minded professionals.
Celebrating their 10th year of business, Sabita and her staff heal guests of all ages and needs with holistic techniques, such as guided meditation, massages specifically tailored to elderly guests, and self-esteem workshops. In addition to leading the classes and workshops, doctors meet with guests to prescribe holistic treatment plans that incorporate Western and Eastern methods. The center even purveys its own beverage: Sabita Tea. It's a kosher-certified organic line that comes in varieties such as peppermint white tea, nutmeg white, and anise—which comes from the eponymous seed-producing plant.
3519 Post Rd.
Southport
Connecticut
203-254-2633
Canji Healing Touch owner Jennifer Graves grew up in a culture that emphasized touch. But when she came to the United States, she realized people were more physically distanced. She decided to become a massage therapist and bring the calming, comforting power of touch to more people. Her business's name pays homage to both her birthplace of Canje, Guyana, and her belief that touch can heal.
Before each of her massages, Jennifer fills the room with the soothing aromas of lavender and sage oil, then turns on relaxing music. She's skilled in a variety of therapies, including Swedish massage—whose relaxing strokes banish stress and increase circulation—and trigger-point massage, which helps relieve the pain of tight muscles. Prenatal and postnatal massages help women's bodies as they handle the added stress of pregnancy. Jennifer also performs sports massages to release tension and soreness from being too awesome at football. Her therapeutic integrative massages aim to not only help bodies feel better but also rejuvenate clients emotionally and spiritually to nourish their whole being.
300 Federal Road, Suite 205
Brookfield
Connecticut
203-648-8839
Salon Shahin owner Shahin Farzam opened his salon with a steadfast pledge to devote time and attention to both clients and the environment. The team of hairdressers uses plant-based Phytologie products, and each stylist brings his or her own unique touch to the styling chair, delivering customized classic and cutting-edge haircuts alongside coloring services that use ammonia-free European products.
The staff also provides skincare services using the Jan Marini system. A slate of facials for men and women, along with nourishing body treatments, renders clients' skin as smooth as a lounge singer's request for a raise.
66 Broad St.
Stamford
Connecticut
203-323-7256
The certified massage therapists at Harmony Within Massage Therapy aim to reduce pain and improve range of motion with a number of massage modalities that range from classic Swedish massage to four-handed massage work. Raindrop therapy uses essential oils and acupressure to help treat pain, and Reiki aims to channel energy, bringing balance and harmony to the body. Meanwhile, the Isabell Gatto method uses the therapist's fingertips to apply pressure to 50 specific points on the body, opening blocked energy pathways. Two private massage rooms provide a tranquil setting as candles flicker and warmth streams from a heated massage table equipped with a blanket, and heated neck and eye pillows.
189 Kinderkamack Road
Westwood
New Jersey
201-819-2953
---