Kingston Health and Fitness
---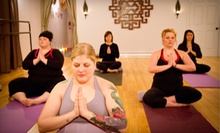 Vinyasa flow, restorative yoga, and various cardio classes are taught in a studio with spa-inspired shower rooms
---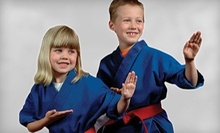 Ten classes in various martial-arts disciplines such as karate, judo, jujitsu, and MMA
---
Recommended Health & Fitness by Groupon Customers
---
Dr. Paul Given and Dr. Sheldon Cook of King's Town Chiropractic employ spine-tuning savvy to help calibrate off-kilter physiques with chiropractic and acupuncture treatments. Sessions kick off with a consultation that allows patients to point out aches and pains, followed by a thermal scan to detect misaligned spines and spot frayed nervous systems. Like a radiographic paparazzo, an x-ray stealthily captures images of eye-eluding bones to help the chiropractors identify wayward discs intent on imitating Pangaea's drift. Once bodyscapes have been thoroughly scrutinized, a report detailing the exam's findings is whipped up along with a plan for treatment designed to help alleviate individual ailments including headaches and sciatica. Chiropractic adjustments then unsnarl tangled spines, gently coaxing errant vertebrae back into place to help restore suppleness to over-taxed dorsal planes. Alternatively, acupuncture treatments utilize strategically placed needles to deflate tension and imbue bodies with a sense of balance and tranquility. Patients emerge from sessions feeling as relaxed and agile as a cheetah raking a zen garden.
3-111 Princess St.
Kingston
Ontario
613-542-5802
Dedicated to heightening pupils' senses of respect, confidence, discipline, and self-defense, Shaku Family Martial Arts professionally trained instructors guide students of all ages through rigourous fitness programs held in a 4,500 square foot space full of heavy bags and training equipment. Instructors helm classes that employ moves from martial arts modalities including Muay Thai kickboxing, ju-jitsu, and kung fu, giving humans a diverse edge over toe-stubbing door jambs.
Women's kickboxing classes relieve tension with an intense cardio regimen designed to bolster abs and self-defense, and an MMA class fuses kickboxing and submission grappling into a potent combat cocktail. Teachers use a principle-based approach to self-defense, addressing the physics and philosophy behind each technique for hand-to-hand combat. Among other strategies, fighters learn to use leverage to overwhelm an opponent and master striking angles that are difficult to block. The house style draws techniques from kung fu, kempo, kickboxing, and Brazilian jiu-jitsu, arming disciples with a comprehensive methodology unique to Shaku.
496 Discovery Ave.
Kingston
Ontario
613-544-3434
When people hear the phrase "water aerobics," they might envision a dull scene of swimmers lifting buoyant weights and doing the "YMCA" at sloth speed. At Progress Fitness & Aquatic Centre, however, the 25-metre pool acts as a stage for nine high-intensity classes, in which students battle water's relentless resistance. Students can slip into suspension belts to rehearse deep-water running, or groove to swing-dance tunes as they twirl against the H2O molecules. The gym embraces the entertainment afforded by variety outside of the pool as well—its group studio hosts workouts that range from cardio-kickboxing drills to Hatha yoga stretches. In the equipment area, cycles, treadmills, and rowers whir beneath mounted televisions and free weights challenge muscles at squat racks and benches.
The centre's personal trainers and veteran swim coaches take on clients of all ages and abilities. They teach Red Cross swimming lessons for children—who progress from AquaTots to AquaQuest and, finally, AquaLawSchool—and craft custom programs for adults. An on-site massage therapist and a travel agent endorse relaxation between exercise bouts.
745 Progress Ave.
Kingston
Ontario
Candles, plants, and flowing curtains channel a warm, relaxing vibe in Samatva Yoga's custom-built studios, where students of all skill levels practice ancient poses with a modern twist. To expose pupils to a range of yogic styles, more than a dozen seasoned instructors build an interdisciplinary class lineup that fosters experimentation and self-growth. The studio's signature classes stem from classical traditions such as Hatha and Ashtanga, whose poses and breathing exercises cultivate strength, flexibility, and focus. Many sessions take place in muscle-loosening 105-degree temperatures, which help pores eject body-bound impurities and books on tape lodged in the subconscious. In addition to teaching backbends and arm stands to groups, staffers guide individuals through assisted poses during Thai massages and dissolve energy blockages with reiki treatments. At the downtown Kingston location, a sauna invites students to unwind and detoxify after they stretch and balance in classes and workshops.
397 Princess St.
Kingston
Ontario
613-548-7685
Omega Fit Club's amenities evoke scenes from science fiction movies. The facility is lined with Technogym cardio and strength equipment, and a futuristic Kinesis wall challenges fitness seekers with more than 250 distinct exercises centred around working against gravity's resistance.
For all its high-tech toys, however, the gym is neither cold nor robotic—its team of trainers support members as they sweat through group exercise classes and one-on-one sessions. Members can also find relaxation inside an infrared sauna or on a hydrotherapy bed, which buoys physiques on a dry membrane while water jets stamp out muscular knots.
767 Bayridge Dr.
Kingston
Ontario
613-634-3484
Sacred Journeys Healing Arts Centre's Cheryl Hiebert, M.Div. believes all humans have the potential to lead empowered and healthy lives by looking inward. In addition to doling out wellness tips on television, the lifelong holistic coach is certified as a practitioner of a variety of energy-based modalities, including Usui and Karuna reiki, Emotional Freedom Technique, and angel therapy. Her clients report to Sacred Journeys for both workshops and one-on-one sessions, seeking the clarity and guidance she has gained working with such spiritual heavyweights as Wayne Dyer, Deepak Chopra, and Jiminy Cricket.
In addition to supporting the lowered stress and well-being of clients, the Centre directs energy toward charitable causes such as Sandy Pines Wildlife Centre, Girls Inc.—an organization dedicated to the empowerment of young women—and Sheba's Haven Rescue, which rescues palliative-care dogs and teaches them to bark meditative mantras.
654 Barnsley Cres.
Kingston
Ontario
613-634-8220
---