Things to Do in Kinnelon
---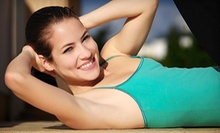 Use Saturday 8:30am - 9:30am
---
Recommended Things to Do by Groupon Customers
---
A HPA–charged Tippmann 98 marker in hand, paintballers in pursuit of their opponents' flag race among the wooden spools, barrels, and bunkers gracing the fields of Paintball Depot's wooded outdoor arena. As colors fly through the air, Helix goggles with antifogging helix lenses and face masks shield players' faces against the rainbow barrage. In addition to offering open play, Paintball Depot accommodates corporate team-building events, group outings, and airsoft games that often run on one field as paintball sessions commence on other courses.
1202 Union Valley Rd.
West Milford
New Jersey
973-584-2220
My Gym, which currently has more than 200 international locations, was founded more than 20 years ago as a structured place for children to safely play, acquire new skills, and romp off a sugar buzz. Tots as young as 6 weeks can take a month or two of weekly classes, all designed to incorporate the latest physiological, psychological, and meteorological research. One-hour Waddlers sessions for babies and parents introduce tots aged 14–22 months to mobility, agility, and social skills as they build block towers and participate in puppet shows. Other classes include Tiny Tykes, a class for parents and babies that focuses on movement, as well as Mighty Mites and Whiz Kids, classes for more independently mobile children aimed at mastering motor skills to build strength, balance, and agility.
For older kids, independent gym classes such as Champions and Cardionastics build self-esteem, fitness skills, and muscles for future speed-texting showdowns. My Gym's energetic instructors are experts at using music, dance, and gymnastics to develop youngsters' strength while stimulating their giggle-plexes—carving out a place for creativity and face-to-face engagement in the face of technological temptations and giant robotic faces.
286 US Highway 46 W
Parsippany-Troy Hills
New Jersey
973-227-2004
When Francesca Piotrowsky and Amy Sahagian, each mother to a trio of little ones, met at a stay-at-home mom's group, they discovered a shared vision for an interactive place where their kids could frolic and socialize in a structured environment. The enterprising duo brought their dream to life with Monkeydoodles Playroom, a spacious facility stocked with toys, cushioned geometric shapes, and climbable structures. The playroom hosts 45-minute classes that help youngsters develop age-appropriate skills, such as balance and coordination, taking turns, or the ability to use trigonometry to pin the tail on the donkey. Open playtime sessions summon tykes aged 6 months to 5 years for independent escapades in the ball pit or astride a rocking horse.
Progenitors can prepare snacks in the playroom's kitchen as their offspring mimic their actions in a pretend kitchen. The life-size kitchen lets parents tuck away a birthday cake during parties, for which Monkeydoodles Playroom can provide pizza and balloons for guests to gather into bunches and ride home on the breeze.
832 Rte. 15 S
Lake Hopatcong
New Jersey
973-810-2522
During her more than 15 years in the fitness industry, studio owner Andrea Powers has obtained certifications in yoga, spinning, personal training, and lifestyle coaching. Now with her own studio, Andrea, alongside husband and fellow instructor John, leads an experienced group of staff members who specialize in varied practices such as yoga therapy, Pilates, and Zumba. Steeped in the studio's welcoming, judgment-free atmosphere, the staff strives to help patrons of all shapes and sizes to achieve their fitness goals.
Andrea's yoga classes range from beginner-friendly sessions to vigorous Vinyasa flows that build strength and flexibility while banishing calories to sweat towels. With the aid of props and a ballet barre, Pilates classes tone firm tummies and lithe limbs. Zumba sessions enlist energetic Latin beats that are as confidence-inspiring and as easy-to-follow as a flowchart for making toast.
1614K Union Valley Rd.
West Milford
New Jersey
US
973-728-1486
Gatherings blossom into full-blown galas under the ministrations of Fun-4-All Entertainment's party accoutrements, such as balloon artists, live bands, and cotton-candy machines. The party supply service's portable miniature golf courses let putters perfect their strokes anywhere, and its vast inflatable screens hook up to DVD-players or gaming consoles to furnish outdoor movie nights or gaming tournaments. Further party accessories nestle in Fun-4-All's supply shop, which includes a range of items from noisemakers and rainbow-hued hats to sunglasses ideal for the best party activity of all, safely staring into your favorite lamp.
4 Barbara Dr.
Fairfield
New Jersey
973-227-3864
Green Flag Driving Experience deals in adrenaline. At its racetrack, novice drivers and advanced rubber burners alike get to feel the heady rush of epinephrine as they reach speeds in excess of 90 mph while manning the cockpit of a racecar. Drivers choose their rides from a fleet of Winged TQ Midgets or a selection of Legends cars, 5/8-scale replicas of autos from the Golden Age of American engineering when men were men and cars were powered by miniature locomotives. Before sliding behind their chosen wheel, each driver goes through an introduction and orientation that cover safety skills and handling basics. Then the Green Flag Driving Experience instructors keep watch as their pupils don provided helmets and suits, buckle up, and hit the pavement. Afterward, the instructors provide a thorough critique that helps the budding Andrettis maneuver with even more finesse on their next time around the track.
267 Fairfield Ave.
West Caldwell
New Jersey
973-808-1129
---