Things to Do in Kinston
---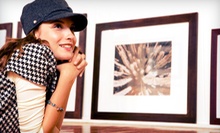 On-site custom framing with hundreds of mats & Larson-Juhl mouldings, including advice on matching frames with decor
Use Tuesday 12:00pm - 3:00pm
---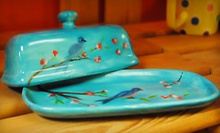 Clay pots, plates & mugs line walls, ready to soak up pigments, carry stenciled designs or custom artwork
Use Monday 10:00am - 4:00pm
---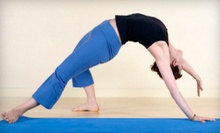 On the whorls of polished, wood floors, instructors introduce yoga basics or poses for seniors and expectant mothers in a range of classes
Use Tuesday 6:00am - 9:00am
---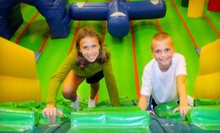 Wee ones caper about the inflatable playground, as guardians monitor playtime while sipping Seattle's Best coffee in the adults' lounge
Use Monday 10:00am - 6:00pm
---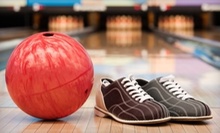 Up to six players obliterate pins during starlight bowling Friday & Saturday from 11 a.m. to 1 a.m. at 32-lane bowling center
Use Today 10:15pm - 11:45pm
---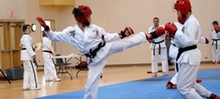 Use Monday 1:00pm - 4:00pm
---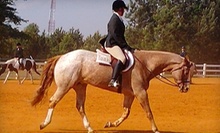 Equestrians guide horse-straddling neophytes through riding basics during private lessons
Use Today 9:00am - 7:00pm
---
---
Recommended Things to Do by Groupon Customers
---
At Raleighwood Cinema Grill, mid- and second-run movies flicker across a full-size CinemaScope screen, brought to life with enhanced Dolby surround sound. Yet what sets the theater apart is the experience off the screen. Instead of stacking seats into rows or demanding patrons stack into human pyramids to cram as many bodies in as possible, Raleighwood cultivates a relaxed atmosphere. Patrons lounge on cushioned, swiveling chairs at cabaret-style tables with a beer or glass of wine while servers lay out a menu of burgers, pizzas, and barbecue. Comedies, dramas, and family films enhance the flavor of dishes and the calendar of special events and food specials.
6609 Falls of Neuse Rd.
Raleigh
North Carolina
919-847-0326
The sound of swooshing nets fills the rafters of the PNC Arena as the NCAA women's basketball tournament shuffles into the Sweet Sixteen and Elite Eight rounds, pinning the Raleigh Division's top remaining teams against each other in a do-or-die sprint toward the Final Four. Rather than getting pelted with constant shots while reclining in the backboards' cozy round hammocks, hoops fans can perch in 100-level seats to witness the on-court madness, which has already seen the 13th-seeded Marist Red Foxes bust brackets by ousting fourth-seeded Georgia in the opening round. The Elite Eight game on March 27 will crown a regional champion, sending them on a trip to the national semifinal in Denver, where the Kingston Region's own victor awaits the chance to play rock-paper-scissors for a coveted spot in the title game.
5400 Trinity Rd., Suite 407
Raleigh
North Carolina
In 1947, the North Carolina Museum of Art made its initial acquisition, hauling in 139 works of European and American art purchased with state funds. In the 65 years since, the museum's collection has continued to balloon, and today features pieces that range from Egyptian funerary art to sculpture and vase paintings from Greece and Rome. The 164-acre campus surrounds visitors with creativity around every corner, including across the museum park, where more than a dozen works showcase inspirations that were culled from the natural world or extracted from the brains of scarecrows who donated their bodies to science.
During summer months, the Arts in the Museum Park festival series organizes week after week of music and film events. On the weekends, rather than sewing their socks together, siblings can get closer with Family Fun Saturdays. Free guided tours weave guests through the museum's halls daily. Visits can be capped off with a stop at the museum gift shop or at the elegant Iris restaurant, which dishes out contemporary American cuisine with regional and international twists.
2110 Blue Ridge Rd.
Raleigh
North Carolina
Formed in 2010 by merging the region's best opera talent into a single company, the North Carolina Opera pairs an internationally acclaimed cast with a full orchestra in its engaging, modern rendition of Gounod's Faust. Director James Marvel's innovative staging sets the stage aflicker in original video projections, which incorporate English supertitles that immerse audiences in the meaning of the French libretto. Tenor Dimitri Pittas, who has sung key roles with the Vienna State Opera and Metropolitan Opera, plays the eponymous scholar who trades his soul for the promise of youth, riches, pleasure, and unlimited soda refills offered by the devious Mephistopheles, devilishly embodied by Lyric Opera Center alumnus Christian Van Horn. The impassioned music and tragic action swirl around Mary Dunleavy as poor maiden Marguerite, who'll sing with formidable sopranic power. Meymandi Concert Hall's orchestra-level seats and warm, clear acoustics throughout afford prime views and excellent ear-views of the sweeping symphonic action.
2110 Blue Ridge Road
Raleigh
North Carolina
As a young girl, Boni Arendt was rarely found not fiddling with pencils, paintbrushes, and canvases. Her enthusiasm for creating inimitable works of art was brought into focus when she began honing her skills with formal education in the '80s, focusing her studies on painting and drawing techniques before earning a Bachelor of Fine Arts degree from East Carolina University. Arendt's journey to find her artistic voice led her to the U.K., where she tried her hand at interdisciplinary design, photography, and faking an English accent. Since then, she's showcased her works at numerous exhibitions around the globe and opened Red Rooster Gallery in 2007.
At her homey studio and gift shop, Arendt shares the knowledge she gained throughout her many travels with aspiring artists of all ages during her private painting and drawing lessons. She also curates a selection of decorative items and art supplies for sale and produces highly realistic pencil drawings for commission.:m]]
306 S White St.
Wake Forest
North Carolina
919-741-0818
Start by selecting any plate, bowl, vase, mug, jug, or spittoon from Bisque Art's collection of more than 800 finely crafted artifacts (pieces start at $2.50). After you make a sketch and pick out paint colors, carefully direct your brush in tune with your dreams and wishes, letting your creative juices flow wildly onto the dinnerware of your choosing and spill onto the floor that is thoughtfully provided. Once you're finished, leave the mess and masterpiece on the table. Bisque Art will clean up the mess, then glaze and fire your piece in a kiln; it'll be ready for pick-up in a week or less. Bringing some grub and guzzle for artistic motivation is fine; short of bringing in a keg or a fondue pot, you can make this a dinner theater of arts and crafts.
7440 Six Forks Rd., Suite 9
Raleigh
North Carolina
---