Concerts & Events in Kirkland
---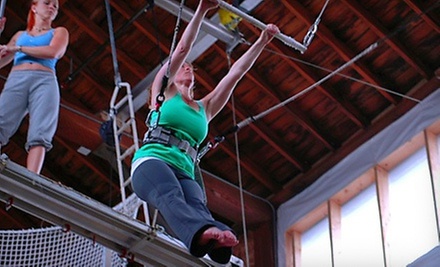 ---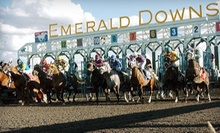 Horses bolt toward glory around the track during afternoon and evening races as fans follow from the grandstand and bet on outcomes
---
Recommended Concerts & Events by Groupon Customers
---
The show itself, the biggest on the West Coast, offers a boater's paradise of boaty boating boatitude with more boats than you can shake an oar at. You'll get to see, and shop, more than a thousand recreational watercraft, including inflatables, tugs, yachts, and the somewhat impractical flying cruise liner. Exhibitors include the 13th Coast Guard District, Alaska Series Inflatable Boats, Blue Water Yachts, Harbor Marine, Mastercraft Boat Company, Viking Life Saving Equipment, and Yachtcare, LLC. Seminar topics, will cover all of the ins and outs of fishing, boat maintenance, first aid, picking up mermaid hitchhikers, and other maritime concerns.
901 Fairview Ave. N
Seattle
Washington
US
The gridiron showdown will commence at the ShoWare Center in Kent. Redeem your Groupon at the stadium's will call for the best available seats in your chosen section. Check out the seating chart here.
625 W James St.
Kent
Washington
Choose from one of four dates:
Columbia City
Seattle
Washington
Bonza Bash began when two Australian transplants living in Seattle decided to throw a combined birthday bash in Seattle. They drew inspiration from one of their homeland's signature parties, an annual event that finds comandeering busses, planes, and choppers for an all-night party under the stars of the rugged outback. Since the initial party in 2005, Bonza Bash has grown into a staple of Seattle's social scene, hosting bashes at venues including EMP, The Seattle Aquarium, Fremont Studios, and the Space Needle.
PO Box 2934
Kirkland
Washington
425-605-4542
Since the 1950s, the Seattle University Athletics program has been all over the collegiate athletic landscape, leaving their post as a vaunted member of the NCAA Div. I for the NAIA in the 1970s, where they stayed until the fall of 2002, when they entered the NCAA Div. II. Though the school's history chronicles periods of turbulence, it also encompasses a laundry list of indelible athletes; basketball Hall of Fame inductee Elgin Baylor led the Redhawks to an NCAA Championship game in 1958, and tennis star Tom Gorman was twice selected as an NCAA All-American, paving the way to a pro career in which he attained a top-10 worldwide ranking. In its relatively brief time in the NCAA Div. II, the Redhawks have won two NCAA titles in men's swimming and one men's soccer championship, for which the team was awarded rights to the Seattle Space Needle.
305 Harrison St.
Seattle
Washington
The Dive & Adventure Travel Expo 2013 will connect scuba and snorkel enthusiasts with some of the industry's top experts, brands, and innovations. More than 50 seminars scheduled throughout the weekend will showcase the diving deftness of speakers from across the country, enabling attendees to net information on such topics as underwater photography and safety. ReefID founder and editor John Fifer will host two of these gatherings, sharing ways his online database of diver-captured photos is helping raise awareness for marine life. Fifer will also play host to the expo's signature Saturday Night Film Festival event at 7 p.m. alongside 3D photographer Mark Blum and other presenters.
In addition to engaging activities, the Dive & Adventure Travel Expo 2013 is also home to the best in dive-related gear and information. Approximately 140 exhibit booths connect attendees with purveyors of international adventure from global hotspots including Palau, Yap, the Virgin Islands, and Fiji. In addition to resort representatives, booths also house all of the equipment needed for undersea excursions, with new products ranging from snorkel and scuba innovations to travel accessories and luggage. During face-to-face conversations, dive skills clinics, or snorkel sword fights, expo-goers can get travel tips or plan dive vacations around the globe. While parents research, younger visitors can decamp to a youth section filled with interactive attractions designed for youngsters aged 8–12.
Attendees who come for the education should probably stick for the prizes; the expo plans to give away over $50,000 in door prizes, including a massive grand prize: a full set of dive gear including a drysuit, Weezle undergarments, ScubaPro G260 regulator, Aqua Lung BCD, a TUSA mask, fin, and snorkel set, an Oceanic dive computer, and trips including weeklong Philippine dive adventure from the Marco Vincent Resort.
1500 Broadway
Tacoma
Washington
360-240-1874
---