Kirkland, WA Health and Fitness
---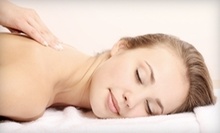 Massage therapist treats postural & injury-related conditions as nimble fingers glide skillfully over stressed backs
Use Today 10:00am - 6:00pm
---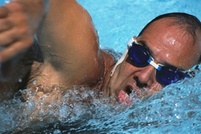 Use Thursday 7:00am - 9:30pm
---
Recommended Health & Fitness by Groupon Customers
---
After playing as the starting running back for the University of Washington—and contributing to the team's 2001 Rose Bowl victory—Braxton Cleman began a career as a personal trainer. Two of his then-clients, Bill Plummer and his wife, told him about a new workout they'd discovered called CrossFit. Braxton went with them, tried it out, and loved it. He started using CrossFit techniques in his clients' workouts as well as his own, and soon, he saw his clients improving faster than he'd ever seen them improve—and he was hitting personal bests he hadn't achieved since his football days.
Inspired by his success, Braxton, Bill, and a group of friends banded together to open CrossFit 425. Trainers Braxton and Brent Davidson (also a professional personal trainer) tap into about three decades of combined experience as they lead groups through CrossFit's varied workouts. Their experience has helped earn a nod from Evening Magazine, which named the program Best CrossFit in Western Washington. The trainers time each workout to foster a "spirit of camaraderie and competition," said Bill, adding that in the end, "you're competing against yourself." Every day there's a new routine, which Braxton and Brent thoroughly explain before groups get to work jumping rope, lifting kettle bells, and pretending to ferry wealthy spice merchants across moats with the rowing machine.
All CrossFit workouts are "scalable," Bill said, recalling a member who could only do one pushup when she started coming about a year and a half ago. Today? "I'm sure she could do well over 100," he said.
1820 130th Ave. NE, Suite A
Bellevue
Washington
425-885-4466
Though he once dreamed of becoming an astronaut, Christopher Hagedorn instead found his passion on the Earth; he's worked as a national forest hydrologist, oceanography-engineering consultant, and mountaineering-and-wilderness-leadership instructor. After roaming the country on more than 30 extended wilderness trips, he came to rest in the North Cascade Mountains where he leads adventure day trips and wilderness-skills classes. He and his team of experienced guides lead explorers of all ages on Family Adventure Backpacking trips to secluded and mostly unknown destinations, tackling rocky beaches, mountain hillsides, and coniferous forests.
On mountaineering trips, Get In The Wild shows groups how to traverse North Cascades National Park's rugged peaks, roaring waterfalls, and glaciers without having to arm-wrestle bears for passage. Canyoneering trips explore the Dirty Devil River and Capitol Reef National Park, navigating historic sandstone cliffs, rocky domes, and winding canyons; and give photographers the chance to focus their lenses on the wilderness of Southern Utah. Throughout their adventures, the guides keep their charges fueled with gourmet camp food, preparing vegetarian, vegan, and kosher options upon request.
They also lead classes in hiking, glacier climbing, snow camping, canyoneering, and wilderness navigation to help adventurers blaze their own trails.
13110 NE 177th Pl., Suite 342
Woodinville
Washington
US
360-391-0124
Redmond Athletic Club stands as a ziggurat built in honor of fitness. The 7,500-square-foot space resonates with music, vibrant colors, and natural light as personal trainers walk the spacious floors helping exercisers zero in on fitness goals. The open layout inspires exercisers as they gaze over rows of Precor ellipticals and exercise balls, stretch in the warmup area, or jog on treadmills. A strength-training room teems with equipment such as plate-loaded machines and free weights. Dry saunas and complimentary towel service soothe sore muscles after adventures in sweating and sculpting. From a childcare staff that watches over kids at the Kids Club while parents work out to the group of trainers, RAC's crack team of employees dehassles the gym experience.
8709 161st Ave. NE
Redmond
Washington
US
---