Kirkland, WA Outdoor Activities
---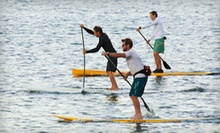 Skiing, kayaking, paddleboarding, and fishing excursions thrive, equipped with gear from brands including Necky, Atomic, and Rossignol
Use Today 10:00am - 7:00pm
---
Recommended Outdoor Activities by Groupon Customers
---
Poking the water with long, stringy lines is the easiest way to access the rich fecundity of the underwater realm. Emerald Water Anglers teaches pupils what it takes to establish a quiet communion with beautiful aquatic bodies by instilling the basics of various casting methods and how to assemble a rod and reel. The two-hour single-handed group casting clinic provides students with all the equipment required and an instructional guide whose friendly nature embodies the calm serenity of this maritime sport. Small classes of up to six people give participants plenty of individualized attention as they learn the techniques behind overhead casting and roll casting, teaching their limbs the maneuvers required for future competent fishing ventures.
7710 28th Ave SW
Seattle
Washington
Craig Willemsen wears a lot of hats at Silent World Diving Systems. The instructor certifier, tech instructor, and store owner has spent the last 40 years swimming with schools of fish all over the world. After his first trip in 1972, Craig developed a passion for diving, exploring international waters and teaching others advanced techniques that they use to follow in his flippersteps. With more than 6,000 dives under his belt, his dedication to diving and education has earned him one of the highest SSI instructor ratings and the SSI Platinum Pro 5,000 Diver and Instructor Award.
Craig leads Silent World's team of certified instructors who strive to teach students the art of underwater exploration and also broaden their knowledge on a variety of related subjects. At any given moment, they may be leading students in open-water dives, pointing out local diving sites that match their skill levels, or matching newcomers with the right gear and Zodiac-themed wetsuits.
13600 NE 20th St.
Bellevue
Washington
While it's impossible to know what Seattle's skyline will look like in the future, the Seattle Architecture Foundation hopes that citizens at least have some input and interest in the developments. To do this, the organization arranges a slew of architecture- and design-related walking tours, lectures, youth workshops, and volunteer opportunities throughout the city. Ideally, the activities help people become more informed and enthusiastic about great design and more willing to become involved when the city finally launches into space.
1333 Fifth Avenue
Seattle
Washington
206-667-9184
At its core, Adventura is a "jungle gym built for grown-ups." But more than that, it provides visitors with an escape from the everyday drudgery of stuffy offices, boring paperwork, and tedious leg-walking. For the park's creators, the lush Pacific Northwest countryside that stretches out around the park is the office. They're a band of adventurers themselves, and they designed Adventura as a way for others to experience the growth, laughter, and connections that seem to bloom naturally outdoors.
Of course, Adventura puts its own spin on spending time outdoors by filling Woodinville Wine Country with a series of sky-high exploits. With the park typically booked 45 days in advance, visitors can be found leaping from decks, balancing precariously on cables 45 feet off the ground, or scaling cargo nets throughout most of the year. In 2013, the park plans to expand by adding up to 40 new elements, including four new ziplines, in an effort to up the ante on adventure.
14300 NE 145th St.
Woodinville
Washington
425-868-7972
The Electric Boat Company harbors a fleet of trusty, battery-powered boats that glide leisurely on the placid waters of Lake Union. Up to 10 passengers may board the 21-foot Duffy boats and lounge on their leather seats. Renters can take turns steering the boat in the cabin area, which can be kept open to invite in the breeze or fully closed to avoid being poked by an airborne marlin. Each boat is decked out with a table to hold snacks and drinks, along with a CD player and iPod jack that feeds into an integrated sound system.
2046 Westlake Ave. N, Suite 102
Seattle
Washington
206-223-7476
From camps to charity events to standard rentals, Northwest Paddle Surfers' watersport professionals help create laid-back adventures with a fleet of stand-up paddleboards. Atop Lake Washington's placid waters, the company's instructors teach pupils how to balance on boards and use paddles to stir giant cups of cocoa. Pine trees and lakefront vistas backdrop the on-water classroom, beckoning each student to explore aquatic locals such as Juanita Bay. Elsewhere, YogaTone classes held on paddleboards challenge participants to stretch and breathe deeper
25 Lakeshore Plaza Dr.
Kirkland
Washington
---