Restaurants in Kirkland
---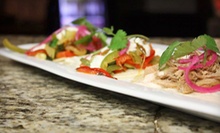 Three samples of 100% agave tequila wash down contemporary Mexican-style appetizers
---
Recommended Restaurants by Groupon Customers
---
Soybeans that make the journey to Hosoonyi Korean Restaurant have a tasty future ahead of them. The young beans, once matured and fermented, are infused with hot pepper, pulverized into paste, or strained and aged to make soy sauce. Not many restaurants make their own soy sauces in-house, but Hosoonyi's team prefers to individually monitor the flavors to ensure that they retain their beneficial nutrients and pair perfectly with the eatery's specialty Korean cuisine. The flames of a Korean-style barbecue fire pork, rib-eye steak, and chicken, and a cushion of steamy rice supports the vegetables, beef, and egg that comprise classic bibimbap. Pancakes veer from their traditional breakfast role by incorporating stalks of green onion, slices of squid, and refusing to get out of bed until lunchtime. The restaurant's authentic selection has caught the eye of media outlets such as Sunset Magazine, the Seattle Times and Seattle Met, which lauded the popular sundubu jjigae—a soft-tofu soup brimming with seafood and kimchi—as "pungent, filling, and satisfying."
23830 Hwy. 99, Suite 44
Edmonds
Washington
US
425-775-8196
After graduating from the Culinary Institute of America, pastry chef Anita Ross moved to Seattle and began selling crepes out of farmers' markets. The year was 2004. Over the next four years she built up a following with her sweet and savory crepes stuffed with roasted duck, apple confit, wild mushrooms, and a variety of other seasonal items. In that time, Anita also forged strong bonds with local fishermen and farmers that have served her well since opening Anita's Crepes in 2008. She's able to use the finest organic ingredients in her crepes, many of which are made with the traditional Britanny blend of buckwheat and bread flours. And several of her meats and cheeses are imported from countries that have fertile soil for growing beef plants and mozzarella ball trees. Anita channels France specifically when catering to special events, preparing her crepes on the spot much like the street vendors of Paris.
4350 Leary Way NW
Seattle
Washington
206-838-9997
Though lunchtime showcases classic Mexican dishes such as flautas, enchiladas, and quesadillas, Las Brisas' dinner menu features a whole new level of inspiration and taste. For more than two decades, the kitchen—under the direction of Chef Ricardo—has churned out inventive Latin-fusion cuisine that draws on flavors from the Mexican coast, as well as Spain, the Caribbean, and the Mediterranean. He concocts a cavalcade of entrees, ranging from swordfish enchiladas to saffron-infused Spanish paella and fresh Mediterranean salmon. Friday and Saturday nights are as special as a puppy's first words, with his crew flooding the dining room with the smoky aromas of slow-roasted baby-back ribs and succulent Spanish prime rib. Though many of their menu items are wheat-free by nature, Las Brisas caters to dietary restrictions with a special gluten-free menu that's available upon request.
120 W Dayton Street
Edmonds
Washington
USA
425-672-5050
On the sign that denotes the entrance to Rain Modern Japanese Cuisine, twisting neon lights outline a blue fish with a cartoonish grin and an orange umbrella. This colorful introduction extends inside to the dining room, where Rainbow rolls, golden tamago nigiri, and ruby-red salmon roe add pigment to each stark white plate. Sushi dominates the menu, which boasts nigiri by the piece as well as maki wrapped in soy-paper or bundled with tempura and glazed with sauces such as avocado salsa and housemade teriyaki. Chef Takashi Ogasawara and his staff's other handcrafted creations include the namesake Rain roll—shrimp tempura capped with creamy scallops—and the Sasquatch, a meaty morsel of shrimp, tobiko, and tuna nestled in seared salmon. In addition to sushi, diners can sample beef-short-rib appetizers or play cat's cradle with hungry spirit animals via udon and yakisoba noodle dishes.
2208 N 45th St
Seattle
Washington
US
Twisted Lime Island Pub's interior—filled with pineapple pendant lamps, surfboards, and tiki masks—emanates the spirit of the tropics. Their island-minded chefs crown meaty burgers with pineapple and coddle key limes until they willingly take up residence inside of a pie shell. A team of bartenders shakes up tropical classics such as tequila sunsets and margaritas. The dulcet tones of live bands and karaoke flood the tropical pub on select nights.
3916 148th St. SE , #200
Mill Creek
Washington
425-948-7882
The chefs at Racha Noodles & Thai Cuisine wok-fry and sauté Thai and Asian-fusion dishes awash with spicy sauces and tender noodles. The dining room envelops patrons in vibrant hues and touches of nature, from planters filled with living greenery to winding floral sculptures that reach from floor to ceiling like Stretch Armstrong during a yoga class. The decor also enchants the eye with a colorful backdrop of murals depicting scenes from Southeast Asian lore and culture.
23 Mercer St.
Seattle
Washington
---