Shopping in Kirkland
---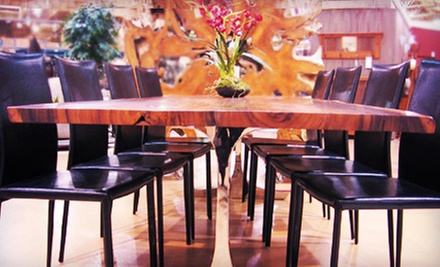 ---
Recommended Shopping by Groupon Customers
---
Originally designed to mask the toe-prints of jewel thieves, shoes have since evolved into crucial fashion statements. Complement your stolen necklaces with sleek new footwear from Edie's Shoes in Capitol Hill or West Seattle. Today's Groupon gets you $80 toward your choice of regular-priced shoes and accessories for $35.
319 E Pine St.
Seattle
Washington
US
Wardrobes enjoy new tenants even more than the most excitable landlords enjoy watching back-alley boxing matches. Turquoise Boutique's garment citizens range from button-down wool coats ($59.50), mock print dresses ($29.99), reverse-stitch skinny jeans ($39.50), and a fleet of accessories such as belts, handbags ($30–$45), jewelry, scarves, gloves, and more.
4730 University District, Suite 101
Seattle
Washington
The Copper Vine, unlike most metallic foliage, blooms with the life of fresh nature, which makes an indelible impression on any living space. Arranged within a charming two-tiered shop with a dark wooden stairwell and natural accents, a lush variety of attractive plants sit and hang for the admiring eyes of all customers. A very friendly and knowledgeable staff is happy to help patrons prepare for a new season of garden paparazzi with the aesthetic aid of pretty plants for all spaces and lighting conditions (ranging from $2.50 to $64). Sleek petals and leaves are grown sustainably and without pesticides ($2.50 to $8), along with a full stock of seeds and bulbs for customized plant arrangements.
1315 E Pine Street
Seattle
Washington
As one of Seattle's premier purveyors of high-quality apparel, Butch Blum lets customers play dress-up with top-notch threads without the hassle of sneaking onto the runways of Milan or forcing one's body to spin its own silk. Butch Blum showcases original European designer products for men and women from designers such as Giorgio Armani, Luciano Barbera, Ermenegildo Zegna, Moschino, and Alberta Ferretti, among others. Prim ladies can take their maternal units on a Mother's Day shopping spree and see what they'd look like (in 30 years) wearing designer jeans ($150–$200), cotton cardigans ($185+), French linen T-shirts ($125+), and solar-powered skirts that hypnotize passersby into opening doors and tipping their hats, even if they're not wearing one. Dudes, meanwhile, can dapper themselves with a wide range of designer jeans ($150–$200), organic-cotton sport shirts (under $200), dress shirts (under $200), and silk ties ($125+). If you were born blessed with orangutan arms or giraffe legs, Butch Blum's made-to-measure suits, shirts, and formal wear will be tailored to provide the perfect fit—the kind you haven't experienced since your black costume revealed itself to be an alien symbiote and tried to take over your body.
1408 5th Ave.
Seattle
Washington
The Mill Creek framery has been offering customized framing treatments for your favorite artwork or collectibles for 18 years. The friendly and experienced staff perform all work on-site, ensuring a personalized experience and quick turnaround time. Frame an 11"x14" picture of your poodle with a custom rag mat of your choosing ($100), or pin a portion of Omar Vizquel's jersey into a readymade 16"x20" frame with custom mat ($100) to remember forever. Custom framed art or memories impact a room's décor as much as its furniture, so put your prized possessions into the hands of the professionals with today's deal. Call ahead to schedule a consultation.
800 164th St. SE
Mill Creek
Washington
Gotta Have Shoes! brims with an extensive collection of one-of-a-kind footwear, sleek handbags, and chic accessories from more than 30 American and European designers, earning rave reviews from the local press. Give yourself an added boost while dancing the night away or attending a rock concert filled with Abe Lincoln impersonators in a pair of sequin-studded pumps from oh…Deer!, or stylishly attack a zebra-print couch in leopard-print high heels from Jessica Bennett. A glossy handbag ($55–$199) from Isabella Fiore or Helena de Natalio stylishly totes ladylike accessories ($15–$250), including a pair of 1950s-style Prada sunglasses. Gotta Have Shoes! often hosts glamorous events, such as fashion shows and anniversary celebrations, complete with bubbly beverages, hors d'oeuvres, and premium air molecules free for the breathing.
10047 Main St., Suite 101
Bellevue
Washington
---