Things to Do in Kirkland
---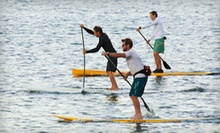 Skiing, kayaking, paddleboarding, and fishing excursions thrive, equipped with gear from brands including Necky, Atomic, and Rossignol
Use Tuesday 10:00am - 7:00pm
---
Recommended Things to Do by Groupon Customers
---
At Swing Doctors, PGA-certified instructors use state-of-the-art video-analysis software to improve each golfer's swing mechanics and overall skill set. A camera captures swings and divides them into freeze frames to pinpoint weaknesses in posture, technique, and color coordination of clothing.
Swing Doctors is also home to more than 100 virtual golf courses. Links including Firestone and Pinehurst unfurl on 10'x13' screens, simulating surfaces such as fairway, green, and sand bunker.
12815 NE 124th St., Suite M
Kirkland
Washington
425-823-2100
More than 2,000 years ago, while Hannibal and his elephants were havocking through Italy with Roman machetes, a cadre of Roman patricians invented a holiday to boost the spirits of the disheartened populous. Saturnalia, dedicated to horseplay, buffoonery, and painting animals, grew to be the Eternal City's 18th most popular festival. If you've ever been to a proper churrascaria, you probably know something about the living legacy of this pagan feast day: Carnival.
2521 1st Ave
Seattle
Washington
US
This Groupon gently stretches your muscles and joints, a pleasant sensation sought after by bungee cords, Laffy Taffies, and Stretch Armstrongs the world over. For $35, you get 10 yoga classes at Rain City Yoga, a clean, spacious studio in the University District that teaches several yoga traditions; with this Groupon, you can take Prana Vinyasa, Bikram yoga, and meditation yoga. A 10-class card usually costs $105 at Rain.For the next 400 years, there were no safe methods to practice Hot Yoga, until modern technology allowed practitioners to exercise without danger of catching on fire. Today you get all the benefits of being on fire with none of the drawbacks.
5014 Roosevelt Way NE
Seattle
Washington
US
From its birth more than 80 years ago, The 5th Avenue Theater has grown into a cultural leader in the Northwest, enlightening eager audiences with performances both elegant and entertaining. The three-show package grants eyes and ears admission to a series of family-friendly productions served course by course, like a fancy meal or a day of binge golfing. Begin with an appetizer of laughter, friendship, and premeditated workplace revenge in 9 to 5: The Musical from April 5–April 10. Follow three unlikely friends through a plot to conquer their company, while they sing along to the Grammy-nominated score penned by Dolly Parton. Then, satisfy gambling glands May 17–May 22 with Guys & Dolls, a tale of gangsters, gals, love triangles, and suspense quadrilaterals, set to the music of Frank Loesser. Finish the tuneful trifecta July 12–July 17 with Aladdin: The New Stage Musical, a sweet tale of courage and friendship based on the animated film. Relish new and treasured melodies by Alan Menken as acclaimed director Casey Nicholaw offers spectators a magic carpet ride in his '83 Ford Taurus.
1308 5th Ave.
Seattle
Washington
In 1979, a job repairing and restoring church windows illuminated Richard Heath's passion for glass art, which is now embodied in his design and teaching studio, Glassique. Working with the church's leaded glass spurred Heath to earn a certificate in the restoration of Tiffany works and delve into other fabrication methods such as fusing and foiling. Thereafter, he opened Glassique's first incarnation in San Diego and announced the event by making the stained-glass sign that still decorates the shop.
Missing family, Heath relocated Glassique to be with his four children in Seattle, settling the business in a 2,000-square-foot showroom with a studio for the creation of original commissions and custom reproductions. He and a small team of artists also hold comprehensive 2-D glass art classes. Heath's intricate commissioned work—including a glass portrait of John Wayne—proves that he thinks big. "We don't teach little things," Heath told Maple Leaf Life in 2011. "We teach the real art of stained glass."
10509 Aurora Ave. N
Seattle
Washington
206-963-4400
Tucked into a two-story loft space, Mind Unwind is both an art gallery and a happening events space with a sweeping view of the glistening skyline. Visitors can peruse the rotating art that cascades across the long stretch of walls or join classes such as cartooning or painting. Though only recently established, Mind Unwind holds fast to its vision of becoming a collective for local artists, a community outreach organization, and a space for all types of performances, as evidenced by its current open mic nights.
2206 California Ave. SW, Suite A
Seattle
Washington
US
206-849-7222
---